Don't the model's sheer bodysuit and silk pants make her look almost naked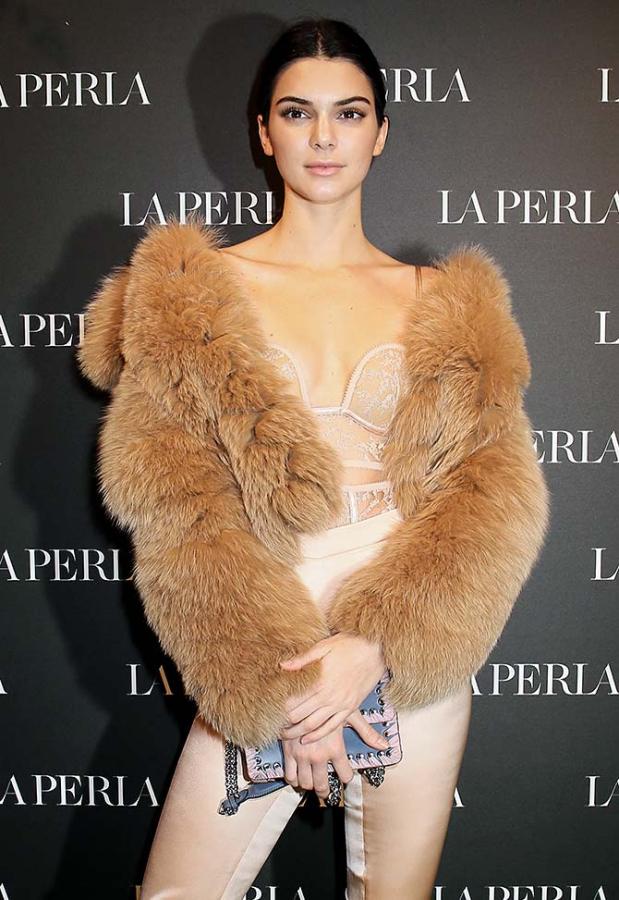 IMAGE: A neutral-tone bodysuit. See-through lingerie. Plunging neckline... Erm, is there a neckline? Kendall Jenner is all about oomph!
Photographs:

Elisabetta Villa/Getty Images
Victoria's Secret model Kendall Jenner likes to be in the eye of the storm, it seems.
She made headlines last year for flashing her pierced nipples beneath a sheer top.
Earlier Jenner caused a little storm online for posting risque pictures of a nude woman stretched out atop a horse on Instagram.
Check out the story here: Whoa! Kendall posts racy pic, causes flutter
At a party celebrating lingerie biggie, La Perla's Fall 2017 ready-to-wear collection in Milan, Kendall showed up in this sexy sheer-lace bodysuit in embroidered tulle, matched with silk-satin skinny leggings.
She finished off the sultry look with a colour coordinated fur coat and two-tone leather sandals.
IMAGE: Zero make-up. Zero accessories. Doesn't the model look flawless?

While some said there was a 'near-naked feel' to the outfit, fashion critics felt the model looked incredible.
Her fans tended to agree.
With its low neck and the generous cleavage on show, the model sure made a lot of heads turn and flashbulbs pop.
Like Kendall's outfit? Take the poll.