People in the know tell Avantika Bhuyan that it's going to be all about sparkling sequins, micro purses and other such exciting fripperies.
All that glitters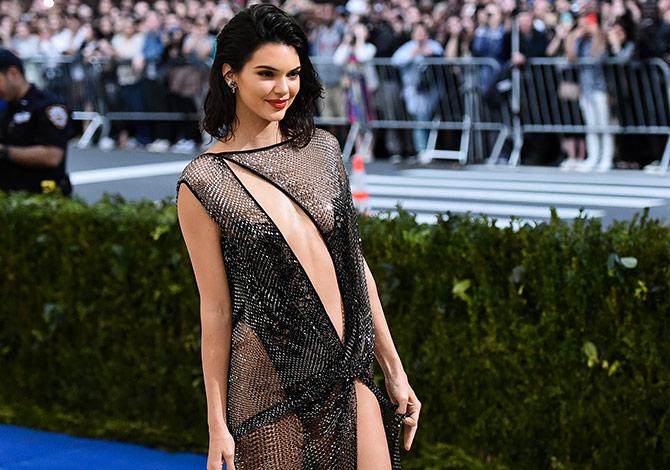 Glitter, sheer, reveal: Kendall Jenner checked all the boxes with this one.
Photograph: Mike Coppola/Getty Images.
Why bother with understatement when you can sparkle, shimmer and shine instead?
Sequins are being touted as the next big thing on the international runway, with Gucci and Chanel using it in a big way in their new collections.
Indian designers, too, are going for bling -- arguably their favourite territory anyway -- with the use of sequin patches and sparkle on sheer and opaque fabrics.
Kavita Bhartia's Spring Summer 2018, for instance, makes use of sequins on silk organza, translucent tissue, chiffon and georgette; or Jade, which reinterprets the sequin in statement pieces. Then there's the playful route ahead with a wonderful sequin sheer bomber by LoveGen, a fun mix of delicate chiffon and a sporty rib.
In keeping with the recent trend to 'speak out', reveal rather than conceal is also a fashion mantra for 2018: sheer is emerging as a big trend for the approaching summer. Designers are swinging between adding just a touch of sheer in garments to going all the way by creating sheer coats and dresses, which reveal lacy undergarments, shorts, and more, underneath.
---
The big print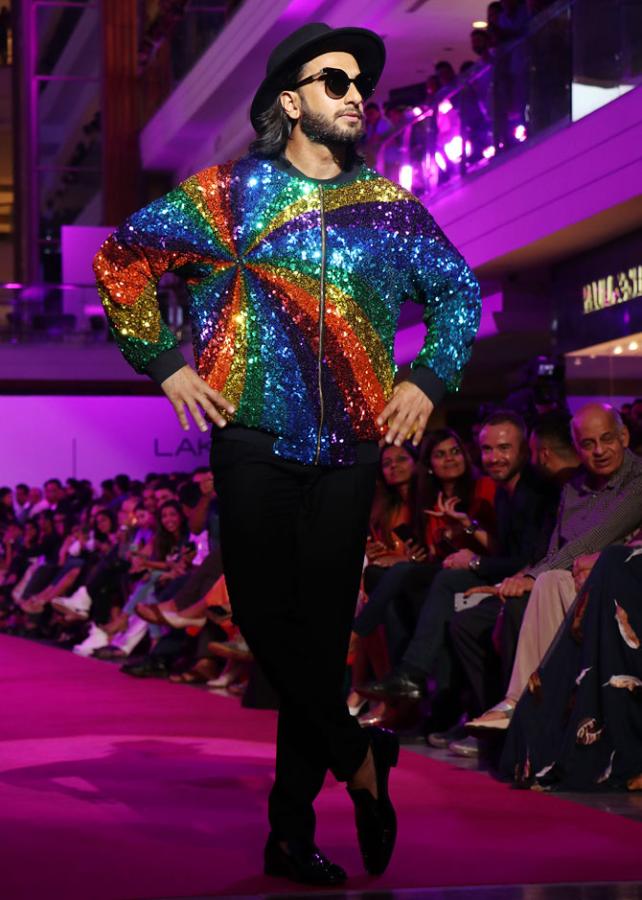 Florals-on-florals, art prints and laser-cut acrylics are livening up the Spring Summer collections for 2018.
One can see them splashed across Manish Arora's 'Cosmic Love' collection (pictured above).
Photograph: Hitesh Harisinghani/Rediff.com.
"Mashed-up prints are the new shocking pink," writes Steff Yotka of Vogue in her fashion predictions for 2018.
And truly, florals-on-florals, art prints and laser-cut acrylics are livening up the Spring Summer collections for the coming year.
One can see them splashed across Kavita Bhartia's 'Diary of Flowers', along with '60s florals, as also in Manish Arora's 'Cosmic Love' collection, in which he uses peacock and galactic prints. At Lovegen, too, one can see mash-ups make an appearance with the bull print, in which stripes have been combined with the motif of a brightly coloured bull.
Don't be surprised if this trend spills over into bridal couture as well. "We have started the trend of using laser-cut acrylics in bold shapes, such as hearts, and polka dots even in Indian lehengas and saris," says Shubhika Davda of Papa Don't Preach.
Print-on-print stories are being seen in menswear collections as well, with lettering and graphics being used extensively. "The combination of solids with prints is quite interesting. For instance, you can have a printed summer jacket with shorts," says Nil of Kolkata-based label, Dev R Nil.
---
Plastic fantastic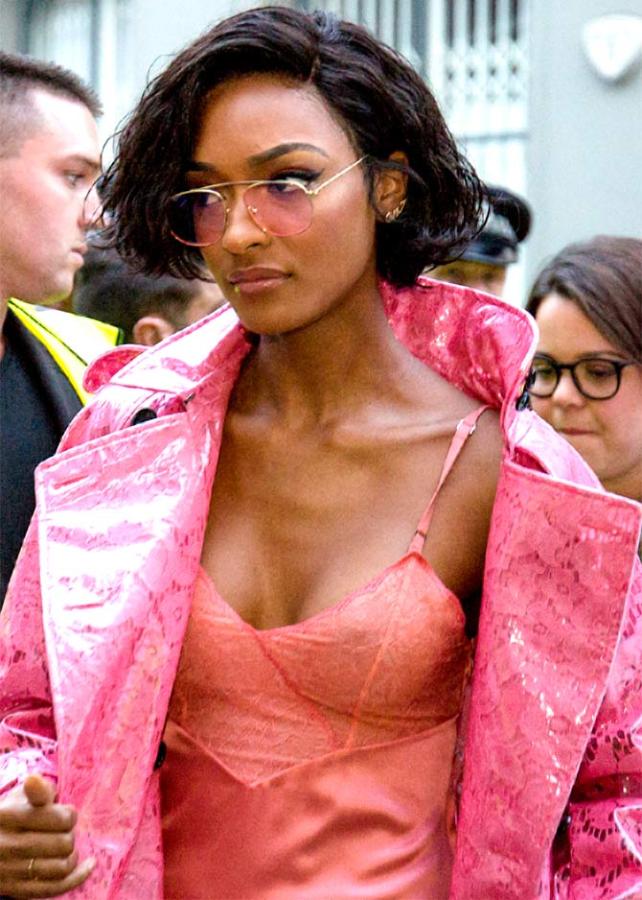 Jourdan Dunn in Burberry's look of the year.
Photograph: Rebecca Lewis/Getty Images.
Burberry loves it; Fendi and Marant love it. Why not you?
Plastic is the material of choice for most major fashion houses around the world, for experimentation in their creative labs.
Easy to clean and easy on the eye -- what's not to like? It's no wonder then that designers are playing with it to create innovative styles in myriad hues in their upcoming collections.
"They've found their way everywhere, from coats and dresses, to shoes and accessories. PVC coats and vinyl trousers have indeed become wardrobe staples," says fashion commentator and designer-entrepreneur, Pernia Qureshi.
Designers such as Sonaakshi Raaj, Rahul Mishra and Manish Arora have been leading the way in this trend.
"We have used plastic for the neckpieces, cuffs and handbags for the 'Cosmic Love' collection," says Arora.
Meanwhile, Shubhika Davda of the young fashion label, Papa Don't Preach, is seeing the use of plastic in laser-cut, big sequins in bright pops of colour and shine. She has used it extensively in the western collection, "Icons", to embellish red carpet gowns.
---
Loving lavender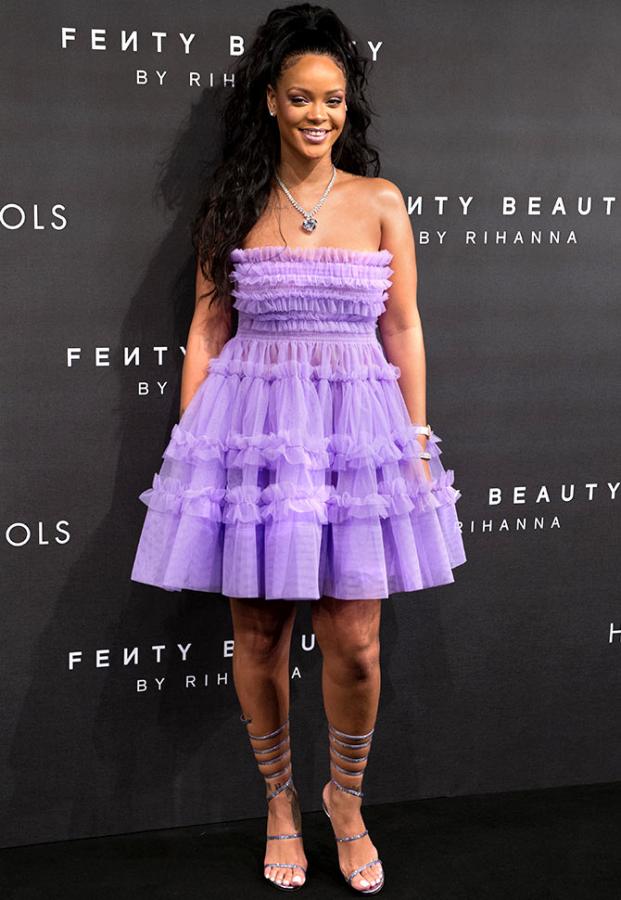 Trust Rihanna to embrace the 'it' colour way ahead of everyone.
Photograph: Chris J Ratcliffe/Getty Images.
Lavender is the 'it' colour for 2018 -- in prêt and couture.
At Ritu Kumar's studio, hints of lavender can be seen in several garments. However, for her prêt collection, she has expanded her palette and used this delicate colour with a melange of sorbet hues like peach, canary, yellow, minty melons, interspersed with bright pops of calico blues and reds.
Lavender is also no longer confined to dainty dresses and bridal collections -- shades of it are making inroads into menswear as well.
For instance, at Raghavendra Rathore's studio, the colour palette for 2018 is driven by ultraviolet. He is also working with deep, dark jewel tones, especially for winter. Also, the usual wine reds, browns and blacks are being shunned in favour of exciting colours, when it comes to wedding collections for men.
"This wedding season, we were surprised by the gravitation towards colour -- from mustards and soft pinks to cobalt blues. This will continue in the coming year. Shopping is now no longer the domain of women in the family. Men are making their own choice, based on what they see on social media," says Nil of Dev R Nil.
---
Rockstar meets sportstar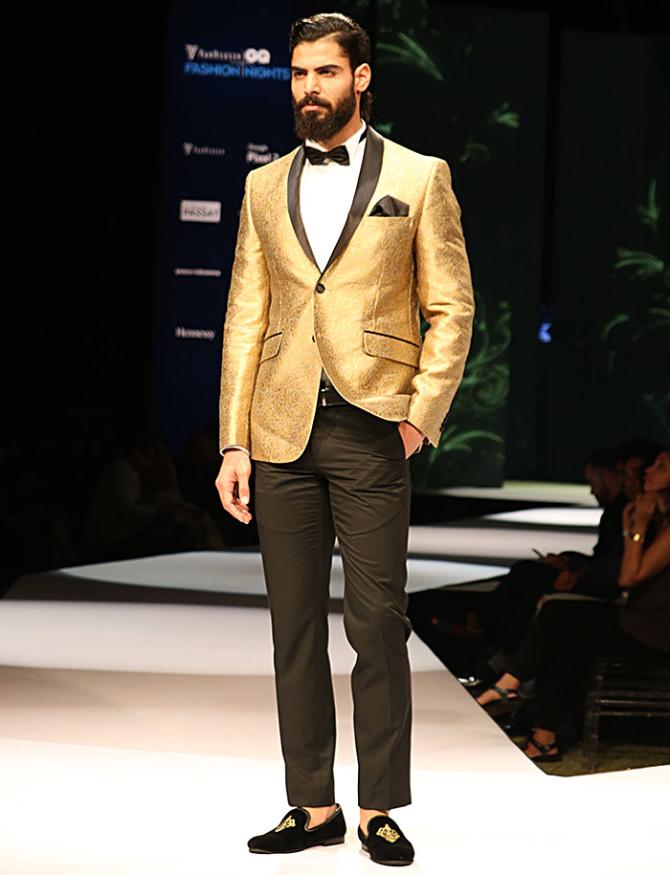 These are exciting times for menswear.
Photograph: Satish Bodas/Rediff.com.
Menswear has never been more exciting. Experiments with materials, silhouettes and colours are pushing the boundaries in this space.
"Fabrics that are coated, sheen-based, light-weight wool and cotton blends, pique knits, woven jacquards, organic and sustainable will be utilised predominantly. Sheer, flat and subtle 3D surface treatments will be the main focus," says Raghavendra Rathore about the upcoming trends, as can be seen reflected in his collection.
One will see a vibrant play of colour and a '70s influence in garments that are sporty-chic and inspired by tropical opulence and the spirit of outdoor adventure.
Graphic references to rock-n-roll and pop are serving as major influences, too, as is evident in Rajesh Pratap Singh's collection for NEXA. Featuring garments for both men and women, this line is architectural in shape and form, and plays on opposites -- black-and-white, high-tech and handloom, transparent and opaque.
---
Past forward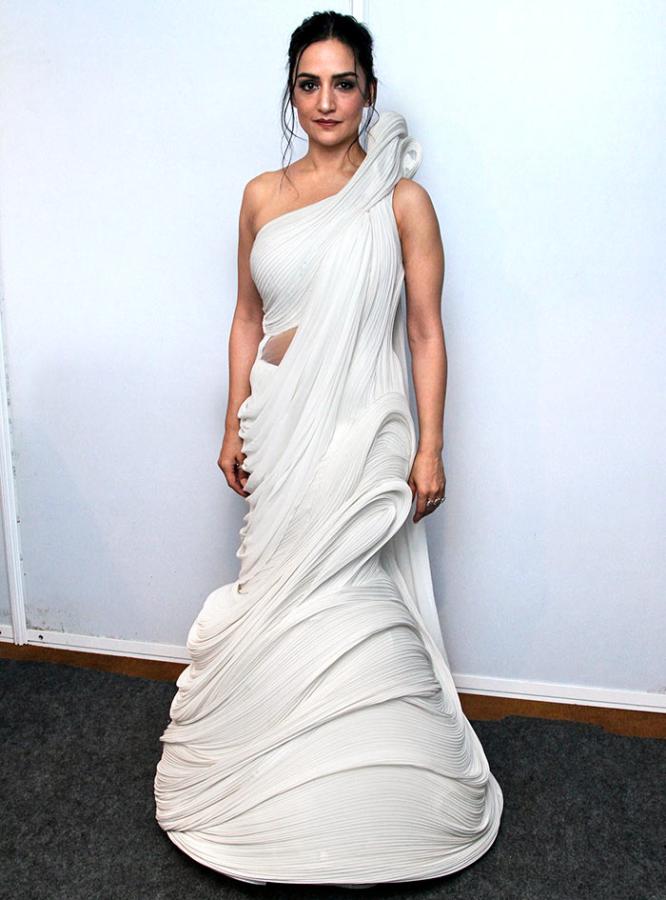 Archie Panjabi in Gaurav Gupta's artificial intelligence sari, created in collaboration with IBM.
Photograph: Courtesy Vogue India.
Leading designers are working on creating a design language that draws on past legacies and addresses the future as well.
For instance, Gaurav Gupta evokes fairy tales, complete with magical forests and enchanted castles, in "Moondust", while also creating the world's first artificial intelligence sari in collaboration with IBM. He recently came up with "Melt", a 90-95 per cent zero-waste collection.
The confluence of technology and craft is something that Abraham & Thakore have been working on for the past 25 years, and will continue to do in 2018.
"We are looking at how hand-block printing can be used in limited production. Working essentially with black-and-white, and a few floral motifs, we are creating simple shapes in clothes that are as well-engineered as possible," says David Abraham.
One can see the same ethos in Sabyasachi's new jewellery line, which consists of fine jewellery (diamonds and coloured stones), heritage jewellery (jadau and vintage India lines) and men's jewellery.
Style file
A snapshot of the drapes, necklines and fabrics to watch out for, while styling your look in 2018
Double denim: Taking a cue from the style trends of the 1980s-90s, brands such as Tom Ford and Chloé are working with dark tailored denim to create a contemporary look. "Indian designers are picking up international trends like these. Dhruv Kapoor and HEUMN are personal favourites," says designer-entrepreneur Pernia Qureshi.
Extreme style: Classics will be styled with high-street separates. Embellished slip dresses will be worn with sheer tops/shirts or easy jackets. Tailored pencil skirts with slits, drapes and fabrics teamed with easy, baggy textured tees and bralets worn with kitten heels will be in vogue. Designer Shubhika Davda says that sheer and embellished corsets will make a comeback, teamed with high-waist shorts.
Be yourself: According to Ritu Kumar, a sense of purpose is rising in fashion, while vanity is being discarded. To cater to this sensibility, maximalist influences, fluidic silhouettes, exaggerated volumes, origami details and athleisure-inspired clothing are being incorporated.
Take the plunge: Teasing hemlines and bold use of metallic will remind you of the '70s -- only, reinterpreted. "Experiment with unconventional and daring necklines," says designer Nandita Mahtani. Opt for plunging dresses that define your collar bones.
Accessorise this: Pair your apparel with micro purses, the rage of the day. Accessorise further with layer-on pieces of jewellery such as long station necklaces and baroque pearls. "Layered jewellery pieces bring together imagination, drama and fun," says jewellery designer Pallavi Foley. "Also, dramatic pieces, such as a maang teeka, can be worn like a hair accessory or a body piece."