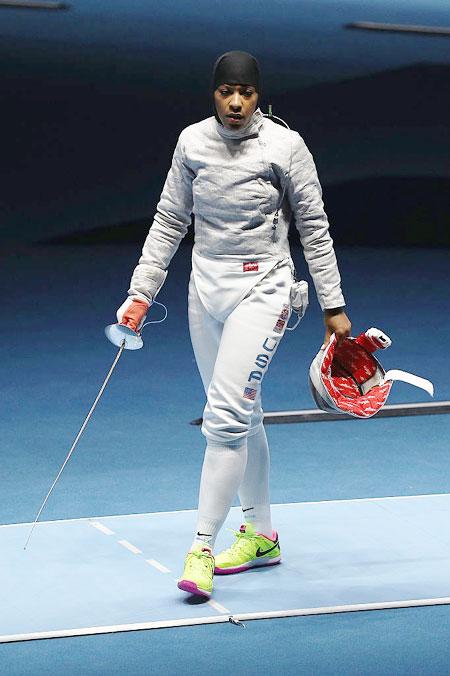 Ibtihaj Muhammad looked like all the other fencers when she stepped on the piste, save for the non-descript black scarf covering her head.
With that small gesture, she made history.
Muhammad became the first American athlete to compete in the Olympics with a hijab, which she wears to adhere to the tenets of her Muslim faith.
Ranked eighth in the world in sabre, she beat Ukranian Olena Kravatska 15-13 in her first match before falling to France's Cecilia Berder 15-12 in the round of 16.
She will compete again on Saturday in the team sabre event.
"I feel like it's a blessing to be able to represent so many people who don't have voices, who don't speak up," Muhammad said.
"It's just been a really remarkable experience."
Muhammad, a New Jersey native and three-time NCAA All-American from Duke, became an instant star when she qualified for her first Olympics earlier this year.
Muhammad embraced the spotlight, which helped make her an unlikely face of the US team given how little publicity fencing typically receives.
"It represents who she's been her entire life. Ever since she was a little girl, she never let anything hold her back. She never set limits. She's always striving to be the very best," said Ibtihaj's brother Qareeb, who was overcome with emotion when he saw his sister compete.
"Despite the adversity she's faced; being a Muslim, being an African-American, being a female, she's still confident in her ability to be successful. She's my hero."
Muhammad's siblings, parents and friends came from as far away as Los Angeles and New Jersey to cheer her on, giving Muhammad a standing ovation ahead of her first match.
Muhammad got off to a shaky start against Kravatska, but she rallied with a string of points that put her over the top. But Berder, ranked ninth, took control of their round of 16 match midway through and rolled to victory.
Muhammad was so frustrated by her performance that she needed over an hour to compose herself before meeting reporters.
"In a sport like fencing, you're your own biggest opponent. If you can control yourself and your nerves and your emotions and execute the actions that you want to execute in the way that you want to execute, you'll always be successful. I failed to do that," Muhammad said.
IMAGE: Ibtihaj Muhammad of the United States look dejected after losing to France's Cecilia Berder during the women's Individual Sabre on Day 3 of the Olympic Games, in Rio de Janeiro.
Photograph: Patrick Smith/Getty Images