Pressured to get married at 14, Gunjan Raghav turned to modelling.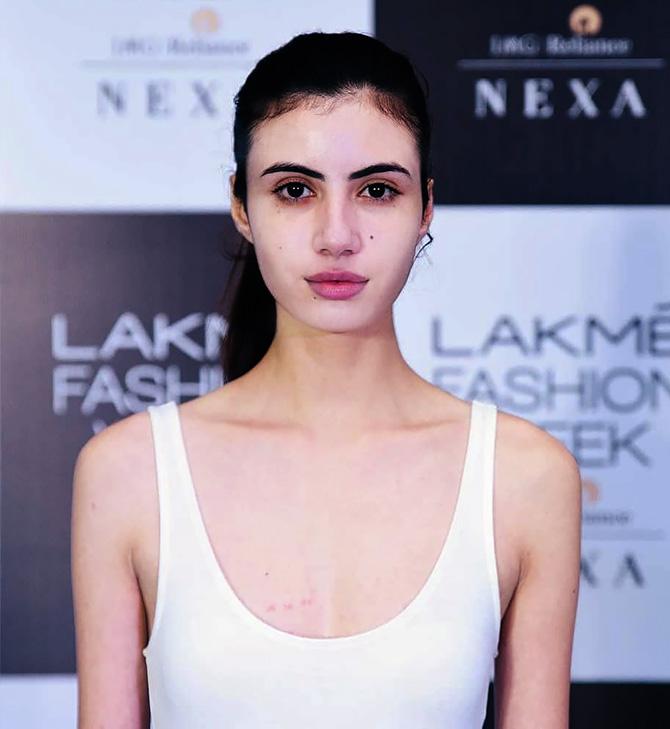 Unlike girls her age, Gunjan Hada didn't get a chance to go to school.
She lost her father at an early age and at 14, she was pressured by her joint family to get married.
However, she beat odds to win the Jaipur chapter of Lakme Fashion Week's model auditions.
As she prepares to make her debut at the fashion week, she talks to Anita Aikara/Rediff.com about modelling, why she considers her mother as her God and mentor, and how she plans to cope with stress at LFW.
Why did you choose modelling?
Necessity is the mother of invention. A small-town girl like me had to reinvent herself.
At a young age, my mother and I were left to survive on own after my father's demise.
It was also one of the steps we had to take to save me from teenage marriage at 14 years of age, when I was pressured by my joint family.
I never went to school as education was not acceptable for girls in my village.
It was my mother, who helped me clear my private exams.
With my mothers' support, I realised I had what it takes to be a model.
I shall be ever grateful to my mother, who I consider as my God and mentor.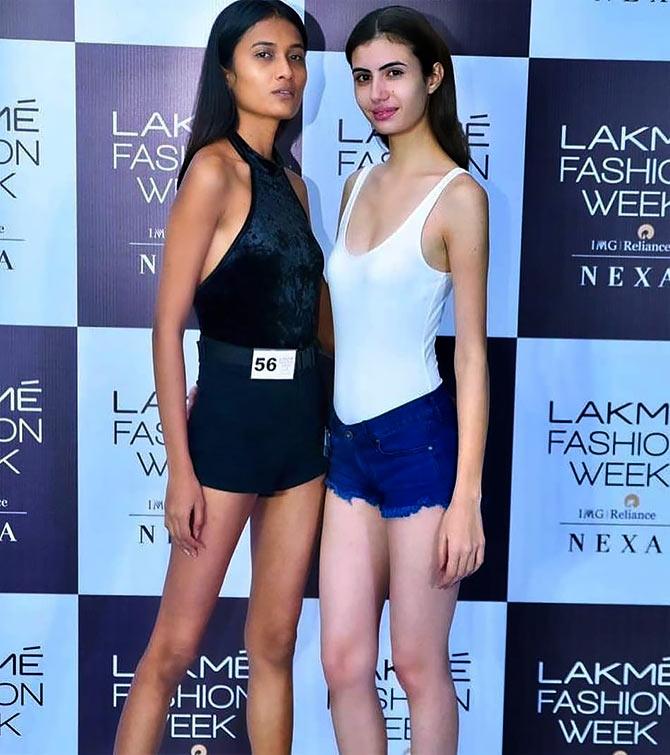 What's your personal style like?
It is about keeping up with the latest trends and owning that trend.
I like drapes and materials which accentuate my curves and make me feel confident.
My fashion mantra is: Dress up for yourself and your happiness, and the world will tune into that vibe.
Workout and fitness regime
God has been kind to bless me with good genes.
I make sure that I dedicate two hours every day to yoga and meditation.
It not only keeps me in shape, but also takes care of my mental health.
I incorporate a lot of veggies and fruits in my diet and drink plenty of water.
Staying hydrated is very essential for a glowing skin and a healthy body.
On cheat days, I love giving myself the freedom to eat anything and everything that can be delivered to my doorstep.
Challenges of modelling
The competitiveness of this field is the biggest challenge.
You need to be different and better at every point.
One designer you'd like to walk for
I want to walk for all the designers at Lakme Fashion Week.
I am like a child in fairy land, who has always dreamed of this fashion platform.
For me, each designer is special as their garment will add to my experience.
It would teach me how to showcase the look in the most creative way.
Coping with stress
I do yoga everyday. It helps me stay centered.
Also, to be honest, my excitement levels keep all the stress away.
Advice for aspiring models
A model is a model. I dislike it when models are categorised.
Society needs to break stereotypes of sizes, and celebrate the human body in all its forms and glory.
My only advice is to have a solid foundation and stand by your mentors who have set that foundation for you.