Her husband struggles with mental illness and Tess Holliday had no qualms accepting that on social media.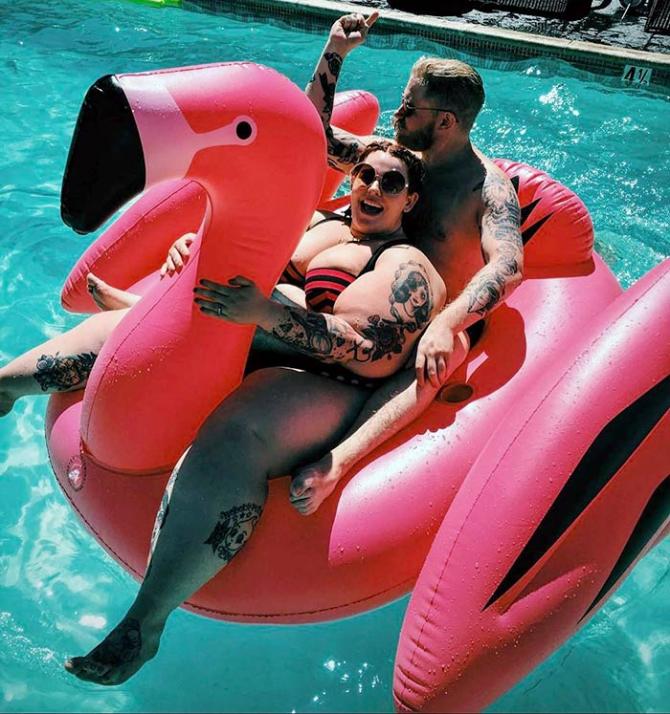 All photographs: Kind courtesy Tess Holiiday/Instagram
Plus-size model Tess Holliday has been inspiring women to embrace their curves.
She recently walked the ramp at the London Fashion Week to embrace body positivity.
Last week, Tess also shared a sultry selfie of herself as a reminder to her followers that plus-size women too have a right to feel attractive.
In a recent post on Instagram, the plus-size model wrote an adorable letter to her partner, Nick Holliday who struggles with mental illness.
She opened up and spoke about his struggle with mental illness. Tess and Nick are raising their one-year-old son Bowie.

'I'm proud of my husband @nickhollidayco for #breakingthestigma and using social media as a tool to help others by talking about his life with mental illness.
'Globally, more than 300 million people suffer from depression, and 260 million suffer from anxiety disorders -- many of whom live with both conditions.
'I'm not gonna lie, before we got together, I didn't know much about depression, BPD, or the numerous other things that so many people we love, live with everyday.
'While I still don't fully understand it all, I can tell you what I do know:

'People who have mental illness aren't failures.
'You are not lazy...
'You are not a burden...
'There is no shame in taking medication if you see fit... You are loved and YOU matter.
'My life and our children's lives are so full because we get to share it with you Nick.
'They will see that families are whatever you make them to be and we love your tender bear heart."
'As someone who has mental illness, being a Dad isn't always easy for him,' she wrote.
'He isn't perfect, and we have good and bad days but he shows up when I need him, when our boys need him.
'Not a day goes by where he doesn't tell us he loves us (something I didn't get growing up from my Father), or go out of his way to make us smile.
'He has dance parties with Bowie, draws and plays Uno with Rylee, makes us snack plates and rolls his eyes when we all annoy him. We all love you so much Nick.'