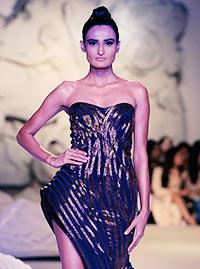 A look at how ace couturiers celebrated fashion at the India Couture Week 2016.
Get ready to feast your eyes on these magical weaves!
Showcasing the latest trends in haute couture, eminent designers -- Gaurav Gupta, Rohit Bal, Reynu Tandon, Varun Bahl, Rahul Mishra, Rimple & Harpreet Narula, Manav Gangwani and Anamika Khanna -- presented some eclectic designs that are sure to leave you spellbound.
Here's a sneak peek into the best designs showcased at the show. Take a look!
ALSO SEE
Pics: Bhumi Pednekar makes a STUNNING modern bride!
Take a bow: Deepika is a true Indian Goddess!
Scape Song by Gaurav Gupta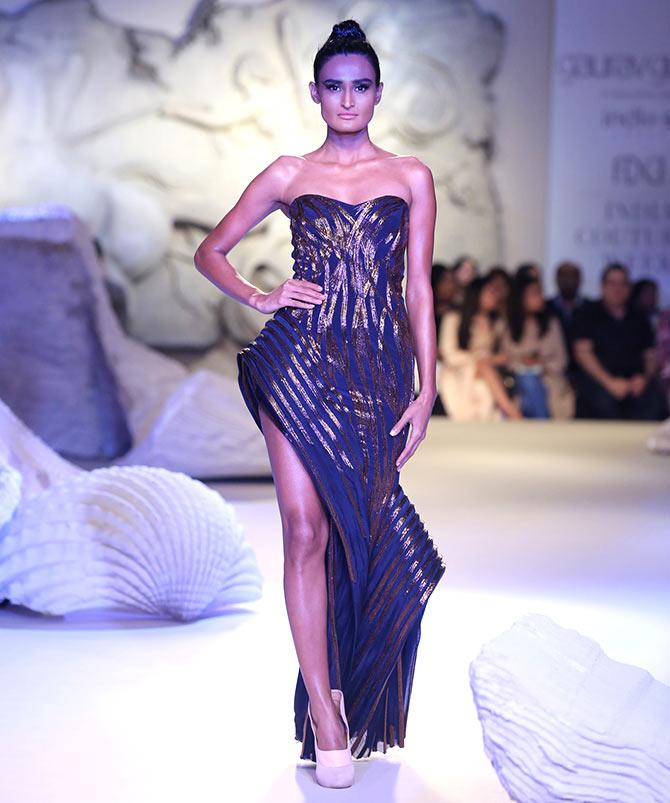 IMAGE: It's time to experience new-age, progressive designs. Look how aptly designer Gaurav Gupta melded unusual silhouettes with fluid drapes. Here, model Rachel Bayros parades the ramp in a thigh-high cutout structured gown with gold embellished sequin strips all over. Photograph: Kind Courtesy W Five Communication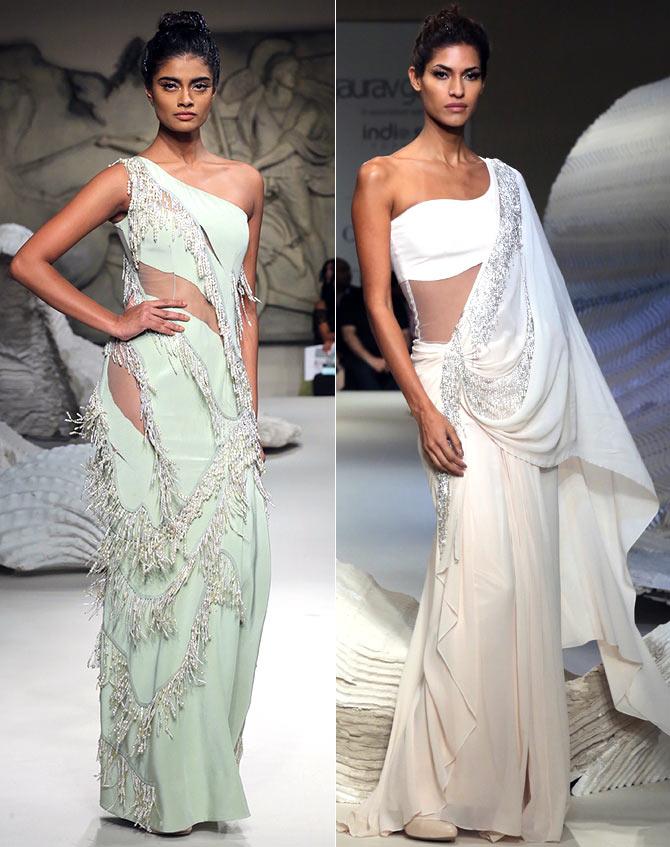 IMAGE: A dash of shimmer on pastel hued outfits were in the spotlight too. Take your pick -- Archana Akhil Kumar's layered one-shoulder cutout gown (left) or a sari gown with smooth flowing lines? Photograph: Kind Courtesy W Five Communication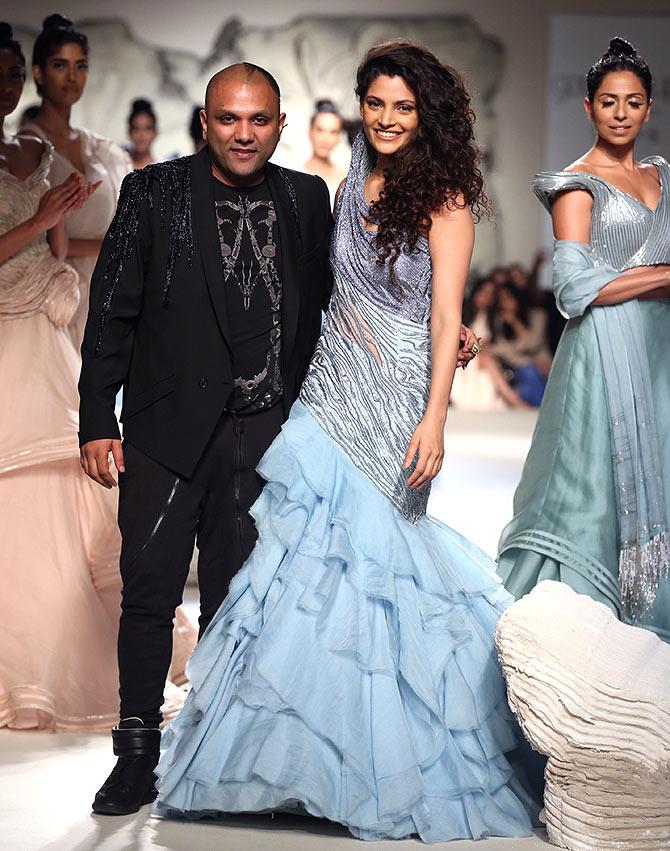 IMAGE: Say cheese! Designer Gaurav Gupta posed with his showstopper Saiyami Kher, who made her debut on the runway in a sky blue sculpted gown with ruffles. She will be seen in Rakeysh Omprakash Mehra's upcoming film Mirzya. Photograph: Kind Courtesy W Five Communication
---
'KEHKASHAAN' The return of the opulence by Rohit Bal
IMAGE: Featuring Rohit Bal's creations, these male models looked fiercely grand in embroidered ethnic wear. The jewelled crowns and the hand carved walking canes took us back in time to the era of the royals. Like it? Photograph: Kind Courtesy W Five Communication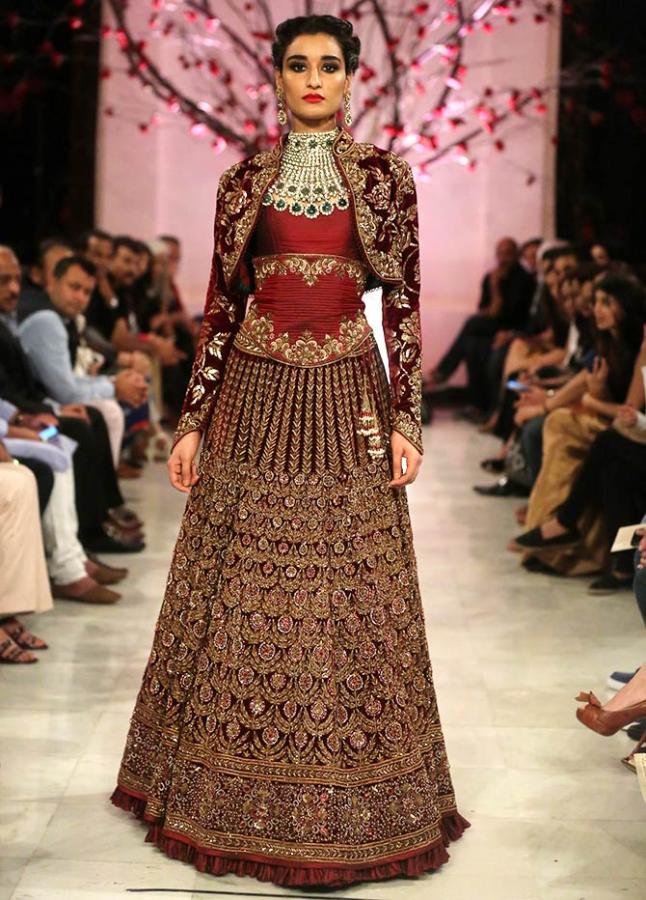 IMAGE: Kanishtha Dhankar embodied elegance in a heavily embroidered red gown with a jacket thrown over. That maharani necklace by Shri Ram Hari Ram Jewellers looked spectacular! Photograph: Kind Courtesy W Five Communication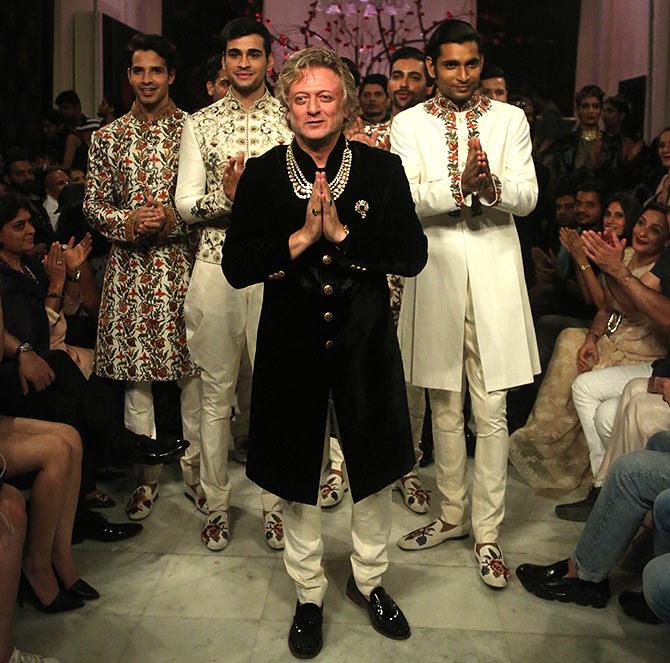 IMAGE: Rohit Bal -- who was inspired by the grandeur of The Czarist Regime of Russia -- greeted the audience with folded hands. Photograph: Kind Courtesy W Five Communication
---
Kamangari by Reynu Tandon
IMAGE: Want to give your Indian look a modern twist? Wear a block printed flared kurta on chanderi fabric over a pair of dhoti pants, just like Arshia Ahuja. Photograph: Kind Courtesy W Five Communication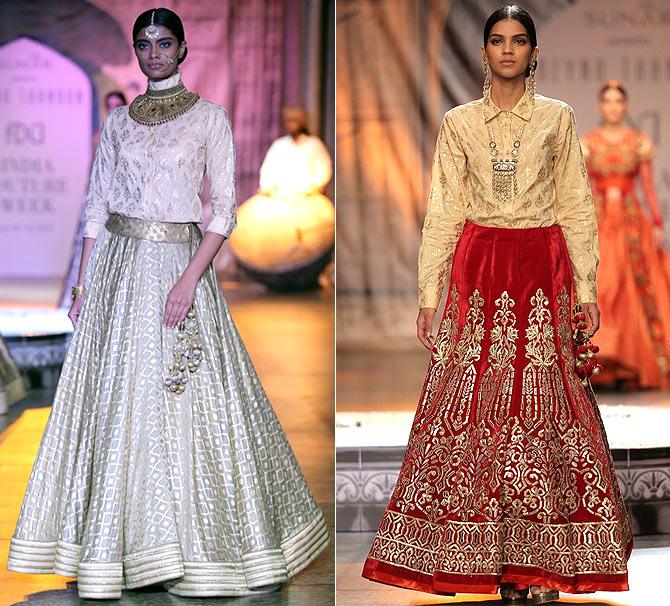 IMAGE: And these swirling lehengas evoked a spirit of royalty and glamour. Archana Akhil Kumar's shiny silver lehenga (left) or the red embroidered creation -- which one do you like? Photograph: Kind Courtesy W Five Communication
IMAGE: Showstopper Divya Khosla Kumar (right) with designer Reynu Tandon makes a graceful entry in a heavily embroidered lehenga. Photograph: Kind Courtesy W Five Communication
---
Vintage Garden by Varun Bahl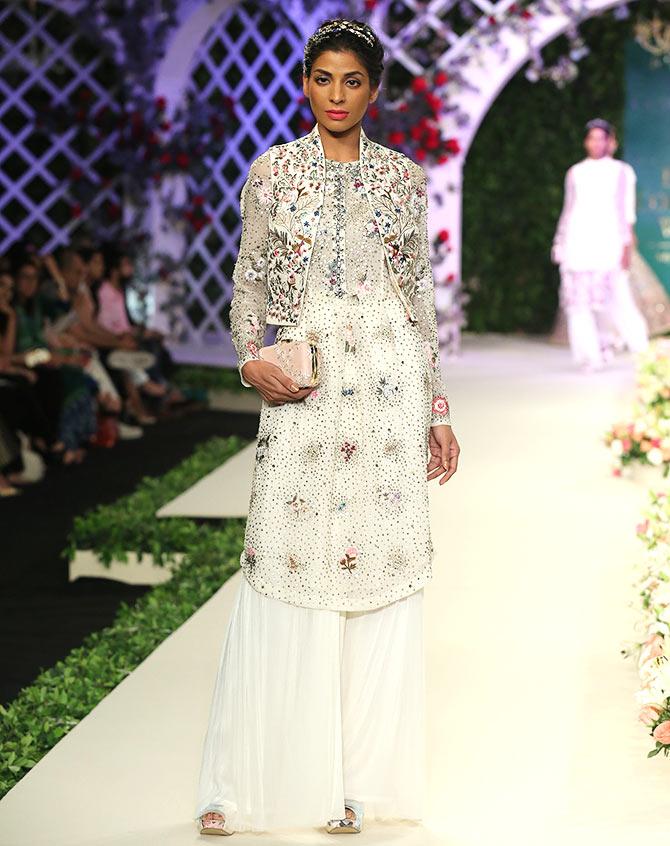 IMAGE: We think floral prints will never go out of fashion! Here's a model sashaying down the ramp in an ethereal beige-white palazzo-suit. Photograph: Kind Courtesy W Five Communication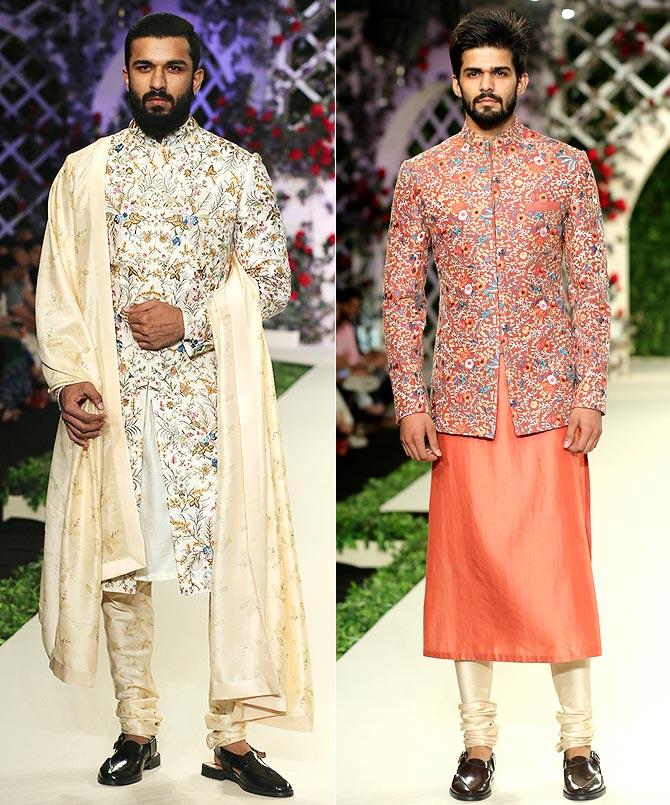 IMAGE: For men, Varun created attractive achkans (left) and Nehru jackets. Tell us which one suits your style. Photograph: Kind Courtesy W Five Communication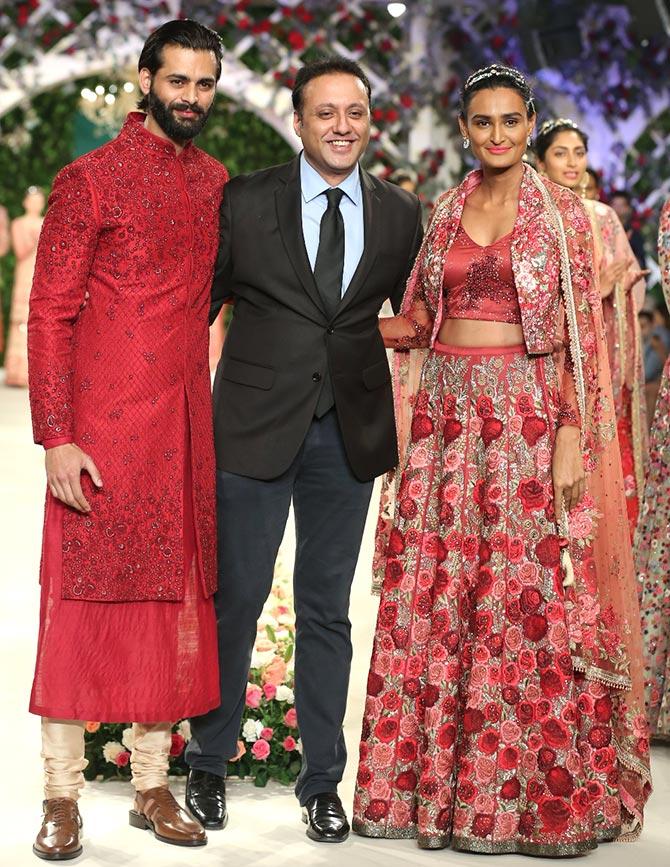 IMAGE: Kudos to Varun Bahl (centre) for his couture magic. Photograph: Kind Courtesy W Five Communication
---
Monsoon Dairies by Rahul Mishra
IMAGE: Rahul Mishra paired a peplum-style blouse with a floral embroidered sari. Don't you think model Hemangi Parte looked nothing less than a diva in this ensemble? Photograph: Kind Courtesy Very Truly Yours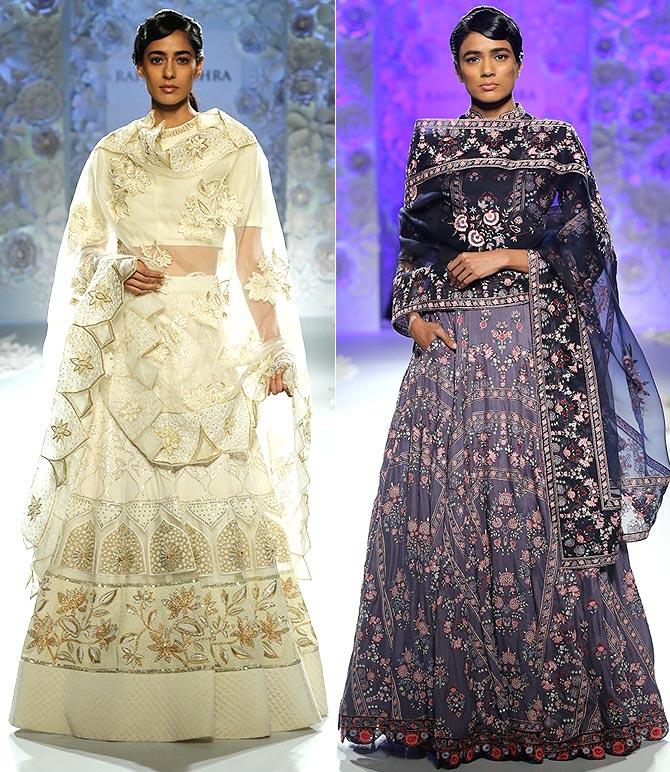 IMAGE: With artworks inspired by delicate flora of monsoons, he also designed lehengas for the modern-day bride. Well did you notice Palavi Singh's (right) floor-scraping lehenga skirt came with a pocket? Photograph: Kind Courtesy Very Truly Yours
---
Hiraeth by Rimple & Harpreet Narula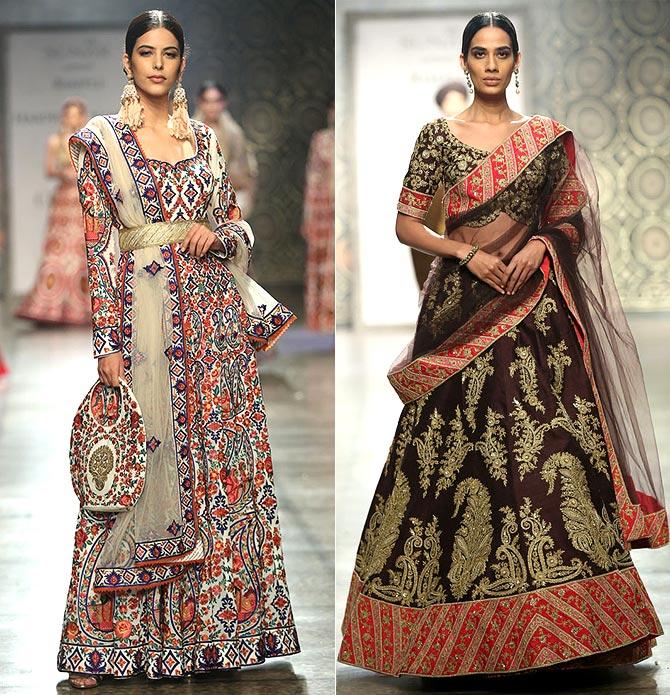 IMAGE: Highlighting the Islamic architecture, this designer duo played with lush drapes and beautiful designs for their collection. From the ones above, would you opt for an embroidered anarkali (left) or a lehenga choli? Photograph: Kind Courtesy W Five Communication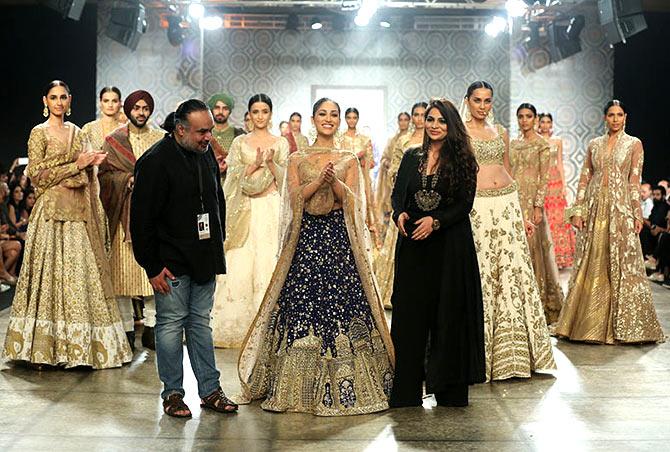 IMAGE: Showstopper Yami Gautam (centre) gave a big round of applause for designers Rimple & Harpreet Narula along with the models. Photograph: Kind Courtesy W Five Communication
---
Begum-e-Jannat by Manav Gangwani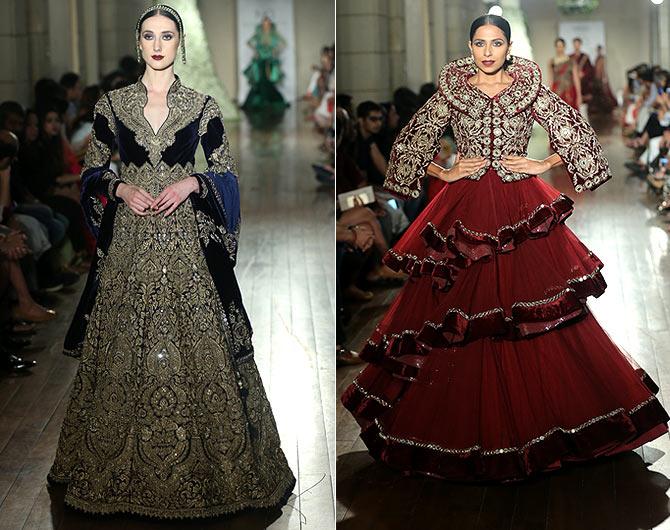 IMAGE: Effortlessly capturing the Mughal era in his creations, master couturier Manav Gangwani put together extravagant handcrafted outfits that certainly couldn't miss our attention. Photograph: Kind Courtesy W Five Communication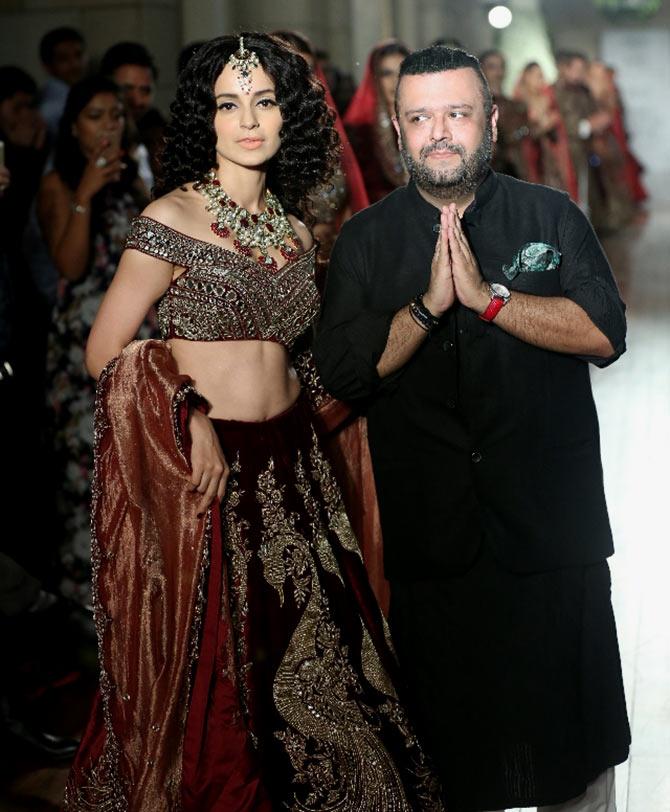 IMAGE: The Queen of Bollywood Kangana Ranaut (left) played a perfect muse in a red embellished off-shoulder lehenga for designer Manav Gangwani. Photograph: Kind Courtesy W Five Communication
---
When Time Stood Still by Anamika Khanna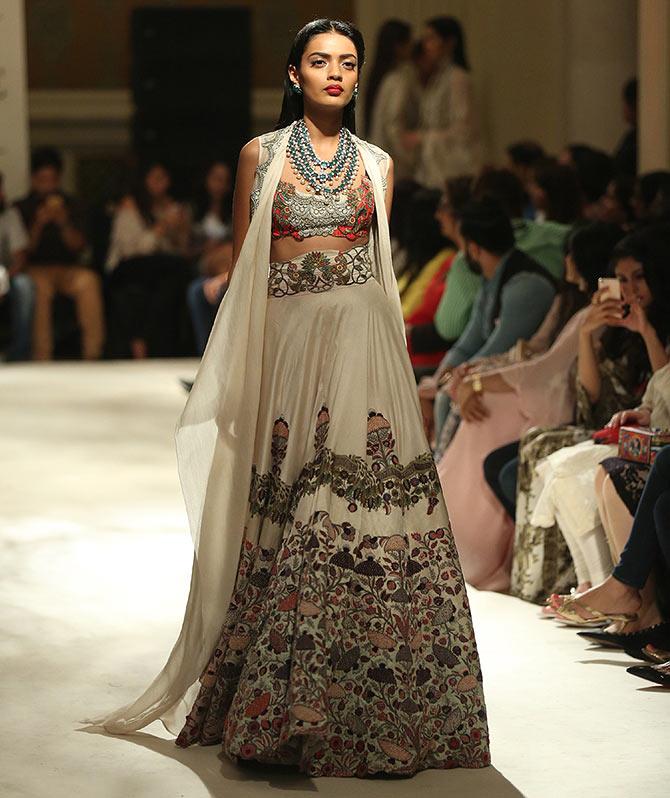 IMAGE: When you do it the Anamika Khanna way, it has to be exquisite. See how a silk high-waist handcrafted lehenga with a cropped bridal top perfectly arrested the beauty of love. Photograph: Kind Courtesy W Five Communication
IMAGE: Dramatic shrugs and capes lent a glamorous edge to the ensembles. Which one's your favourite? Photograph: Kind Courtesy W Five Communication