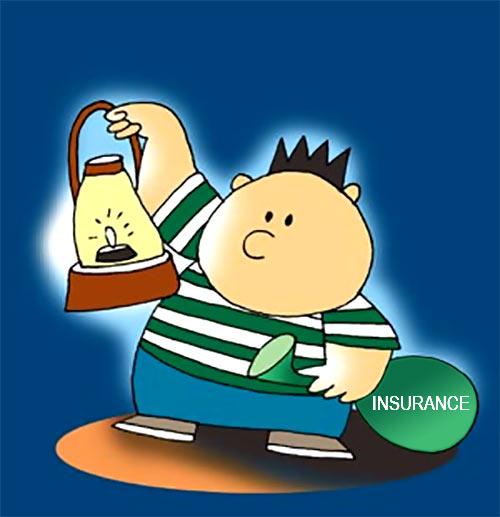 With mobile data getting cheaper, insurers are introducing technologies that eases buying and lodging claims.
Tinesh Bhasin reports.
Illustration: Uttam Ghosh/Rediff.com
On the way to the airport, the airline informs you that your flight has been cancelled.
If you have travel insurance, you will first need to lodge a claim, fill up a form, wait for approval and then get the money back. Not anymore.
For instant settlements in case of flight delays and cancellations, Bajaj Allianz General Insurance has launched a feature, called Travel Ezee, as part of its travel insurance offering.
The money reaches your bank account in a few minutes of the airline operator informing you of a delay or cancellation, without even lodging a claim.
After buying a policy, the customer needs to log into the company's app and scan his ticket or boarding pass and passport or Aadhaar card.
The company uses blockchain technology and self-executing contracts, also known as smart contracts, to settle claims automatically.
Based on flight-related data, the claim gets triggered and settled without any intervention from the company.
Many of the technology innovations taking place in the industry need data connectivity.
With mobile data getting cheaper in the past year, insurers are bringing in newer technologies that eases buying and lodging claims and also offer plans customised for an individual.
"Personalisation of insurance has just started. Going forward, we will see more products that reward customers for good behaviour and vice versa," says Sourabh Chatterjee, president and head-digital and technology, Bajaj Allianz General Insurance.
Instant quote for automobile insurance
Insurers can now offer you quotes instantly as soon as you enter your vehicle number. Reliance General Insurance, for example, offers this option.
As soon as an individual enters the vehicle number, it gives her/him premium with break-up insurance declared value, depreciation on different parts, etc.
Insurance broker GIBL.in is also working on a similar facility that would launch soon.
"Once the person enters the number of her/his vehicle or clicks a photo of it, we can pull the data from the central database of the regional transport office VAHAN. As our systems are integrated with insurers, we can also get the claims history of a customer and offer quotes from multiple companies in a few seconds," says Subir Mukherjee, founder and managing director, GIBL.in.
While you can buy a policy online, there are chances that when you lodge a claim, an insurance company would agree to pay for the damage partially. They can cite that some of the damages were already existing.
"To avoid such circumstances, we let users record a video of their vehicle using our mobile app. It captures the current state of the vehicle. In case of claims, the customer can always use it to prove genuineness of the claim," says Tarun Mathur, co-founder and director, Policybazaar.com.
HDFC ERGO, too, offers a similar service wherein the customer needs to shoot a video and a few photos of the car to get a claim faster.
Instant auto claim approvals
After an accident, when a car owner lodges a complaint, it usually takes 5 to 7 days for an insurer to offer a quote for repairs.
It takes time due to the process involved: Service centre contacts the insurer, which then appoints a surveyor and waits for the report before offering a quote.
To cut down on time, many insurers have started offering self-inspection of vehicles.
If you go to a Reliance General Insurance-approved service centre, the executive records a video of the damage and sends it to the insurer for a review, which gives a quote in a few minutes.
For claims below Rs 20,000, Bajaj Allianz's customers can click pictures of the damaged part using the insurer's app. In this case, a computer algorithm assesses the damage and offers a quote.
According to the company, over 65 per cent of the motor claims it receives are minor claims, with loss amounts of less than Rs 20,000.
If the customer is not satisfied with the offer, he can choose to go through the regular route.
Studying driving behaviour and usage
The insurance regulator recently came up with a discussion paper on letting insurers use telematics in auto insurance to provide personalised premiums based on the driving behaviour and car usage.
In telematics, your car-related details and driving behaviour are sent to insurers either through a device or app. But some insurers such as HDFC ERGO have already been using telematics in their app.
"In our insurance portfolio organiser mobile app, drivers can calculate their driving score and get insight into their driving behaviour," says Mehmood Mansoori, member of the executive team and group head, HDFC ERGO General Insurance.
Bajaj Allianz, too, has a similar offering using an app, as well as physical device.
Get discounts on keeping fit
The purpose of a health insurance policy is to pay for expenses incurred in hospitalisation.
What if your health insurance policy paid you for maintaining a healthy lifestyle?
A few companies have started tracking customers' fitness activity and offering discounts for taking care of their health.
The Aditya Birla Health Insurance reward programme is called HealthReturns. The insured can earn points by completing a workout session for a minimum of 30 minutes in one of the empanelled fitness centres or recording 10,000 steps in a day.
The app integrates with wearable devices to record your activity. The points can be used for payment of future premium, medicines and diagnostic tests.
Apollo Munich, too, tracks the steps customers take in a day through its Health Jinn app. On meeting certain goals, the insured can get a discount of up to eight per cent on policy renewal.