Will Bixby 2.0 be able to take on Siri and Alexa?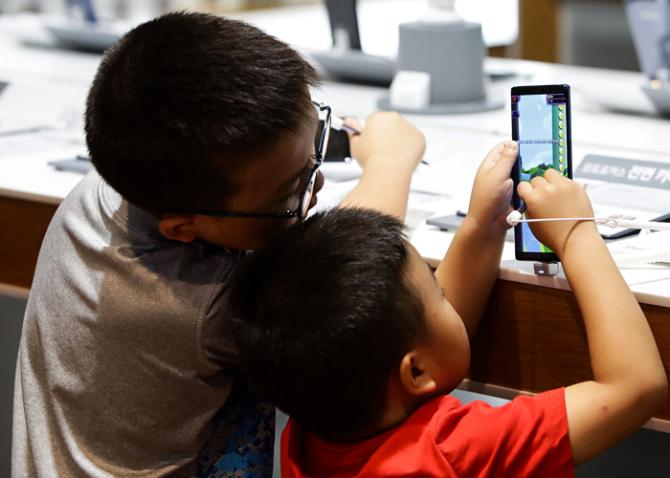 Samsung had introduced Bixby in May this year on its premium smartphones.
Photograph: Chung Sung-Jun/Getty Images.
The South Korean technology major Samsung will introduce the second edition of its voice-powered digital assistant Bixby -- which will work on multiple devices, including television and refrigerator -- next year.
This will help the global smartphone leader further strengthen its position against companies like Google, Apple and Amazon that also have virtual assistants namely Google Assistant, Siri and Alexa, respectively.
Bixby 2.0 will have a "one work on one platform" command structure and integrate all operating systems like Android and Samsung's Tizen, Ji Soo Yi, vice-president, mobile communications business, Samsung Electronics, told reporters, adding, "This means having the intelligence of Bixby act as the control hub of device ecosystem, including mobile phones, TVs, refrigerators."
However, Yi did not divulge the time of the launch.
Named after a bridge in California, US, Samsung had introduced Bixby in May this year globally on its premium smartphones like Galaxy S8, Galaxy S8 Plus and Note 8.
Asked whether Samsung would extend Bixby to other Samsung phones, Yi said: "Yes, we would."
He however did not share information about which models will have Bixby going forward.
India is a huge market for Samsung for mobile phones and consumer electronics.
The company has maintained its leadership position in the smartphone market here, commanding 24 per cent share at the end of June 2017 quarter.
In the consumer durables segment, Samsung is a leading brand in TV panels, microwaves and frost-free refrigerators.
It had recently launched an Internet of Things-enabled washing machine.
"We think that the Indian market is very important," Yi said adding, "We are getting it ready to work with more languages... We are currently prioritising which languages to support."
Samsung will also invite local linguistic experts to develop the local language command in the second phase. "A self-sustainable ecosystem is essential because that is the only way to support users' growing personal need," Yi said.