The mid-range smartphone brings the best of its predecessors along with some new features, says Uttaran Das Gupta.
Photograph: Courtesy motorola.com
For two years, we had no new Moto X models -- the series that had resonated with the needs of so many people.
In between -- after Lenovo took charge of the company -- they launched the Moto Z series, keeping the fate of the Moto X, which also has Moto X (Gen 2) and Moto X Style, hanging.
The new Moto X4 is a mid-range smartphone that brings the best of its predecessors along with some new features.
Priced between ₹21,000 and ₹23,000, depending on the amount of storage you need, the phone has hardly any competitors besides the Samsung Galaxy A5.
Its aluminium body and a glass back are worth mentioning. If you are a fan of the Moto series, the design will appeal to you.
The phone claims to provide 'octa performance without sacrificing style', and a hands-on proves that it does deliver on the promise.
Although, the phone is a little larger than its peers, the shape makes it easy to hold (but is quite heavy at 163 gm).
There is no speaker grille as the X4 uses its earpiece as a loudspeaker.
The 5.2-inch display is bright with vivid colours and has a full-HD resolution.
A minor flaw in design is that its camera at the back sticks out a bit.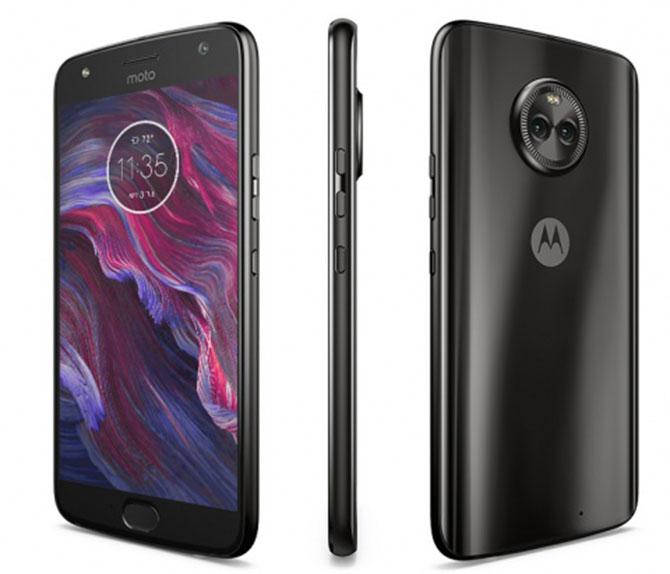 Photograph: Courtesy motorola.com
With a Snapdragon 630 chipset and a 3GB RAM, the Moto X4 is well-equipped to run any app. But, being a pure Android, it does slow down at times.
I noticed a distinct lag when I started the camera.
Gaming is also not a brilliant idea, with the experience slowing down every time I opened a graphic-intensive one.
Others apps, however, worked quite smoothly.
Watching videos or listening to music is a quality experience.
The fingerprint scanner is also quite responsive and matches up to the speed of all its competitors.
The phone's best feature is its battery.
Despite a few compromises the Moto X4 might have made to keep the price in check, the battery is top notch and doesn't run out even after hours of extensive use.
You can charge it also pretty quickly.
Should you buy it? There is no reason not to -- it's much cheaper than Google Pixel 2.