Alnoor Peermohamed reports on Apple's two-faced strategy to grow its base in India without compromising on premiumness.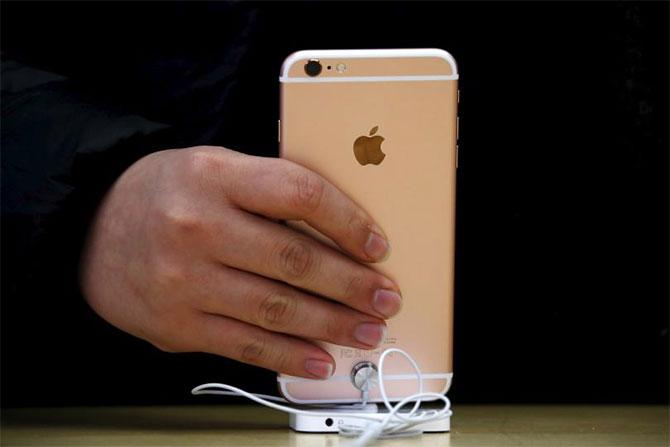 IMAGE: India's complexity and consumers' limited purchasing power is hitting home now. So, that leaves Apple to push its older models in here, even as it feeds into rising aspirations with its latest device. Photograph: David Gray/Reuters.

The duality was not lost on Apple's fans when their beloved brand advertised recently in newspapers. On January 14, the day most of India celebrated the harvest festival, Apple's front-page advertisements in prominent dailies was for its latest iPhone 7. Nothing new about it, except if you flipped the page, there was another message waiting for readers: To upgrade their three-generation-old iPhone 5s.
The multiple messaging while confusing to some, wasn't to those tracking the world's most valuable tech company closely. The Indian market is a frontier the Cupertino-based major is looking to conquer, but its complexity and consumers' limited purchasing power is hitting home now. So, that leaves Apple to push its older models in India, even as it feeds into their aspirations with its latest device.
A two-faced strategy, say experts, is something that Apple is knowingly adopting, as it strives to grow its base in India without compromising on its premiumness.
In the case of the iPhone 5s, it is not difficult to guage why Apple is pushing it so aggressively: At Rs 20,000 a unit, it costs a third of an entry-level iPhone 7. Most tech experts say that India's sweet spot in smartphones is in the RS 10,000-15,000 bracket. The iPhone 5s is Brand Apple's closest competitor to mass market devices appealing to a wider set of consumers.
Competition queers the pitch
Apple's dual approach is linked in part to the strategy adopted by competitors such as Samsung and Google. Comparable devices, running on Android, Google's popular operating system (Apple has its own operating system called the iOS), have been priced competitively by rivals, putting pressure on Apple to reduce price points.
The twin approach then focuses the attention on affordable models rather than forcing the firm to change price of its new phones. This way it can walk the class and mass tightrope easily.
"The desire to own an iPhone may be very high, but Apple is not going to be in the volume game and that's something it has to come to terms with. The (Toyota) Corolla is the largest selling car in the world, but it's an upmarket car in India, which means that it'll never sell more than a few thousand units," says Sridhar Ramanujam, founder and CEO of Bengaluru-based Integrated brand-comm.
It becomes even more difficult for Apple to crack the Indian market as 75-78 per cent of all smartphones sold in India cost less than Rs 10,000, with the market for devices costing upwards of Rs 40,000 being just 4-5 per cent, according to research firm Counterpoint. This makes Apple's push to use India's fast-growing smartphone market to offset the falling sales of iPhones globally a myth.
Apple CEO Tim Cook in a call with investors in October 2016 said that he didn't see India's GDP matching that of China's (the company's largest market for iPhones) even in the next decade, but said the metric was not critical for Apple to succeed here.
"There's going to be a lot of people there and a lot of people in the middle class that will really want a smartphone, and I think we can compete well for some percentage of those," he said .
Cook's view of India has been more long-term rather than providing immediate relief, despite iPhone sales in the country growing by 50 per cent in the fiscal ended September 2016. Over half these sales were of older, affordable models, implying lower margins.
Apple's efforts to bring down the cost of iPhones in India haven't borne fruit either.
The government has declined the company's proposal to import and sell refurbished iPhones. At the same time, it isn't showing the willingness to provide Apple with greater sops than its rivals. While all eyes will be on a crucial meeting between Apple and the government next week, sources in the know say that giving in to Apple may send the wrong message to existing investors.
"Even if Apple manufactures locally, the 10-12 per cent it will save on import duties might not be passed on to customers since it is investing in stores and other initiatives," said Neil Shah, partner, Counterpoint Research. "So, there might not be any short-term impact on price since the cost of devices might not go down."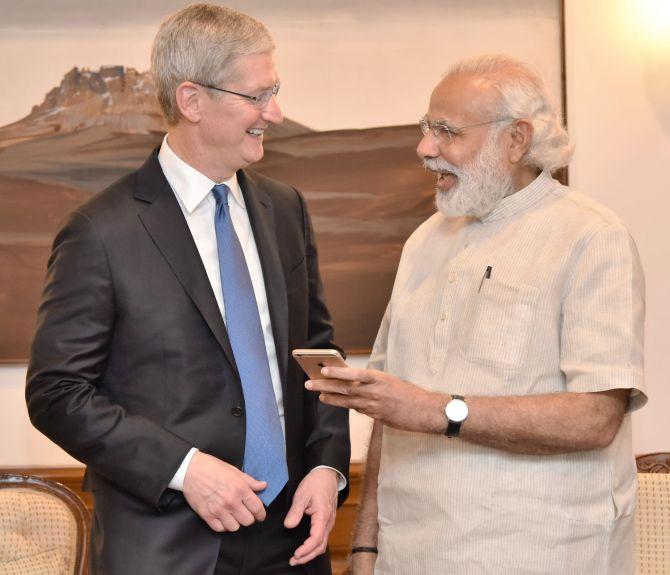 Punching above its weight?
Experts say Apple is punching above its weight in India, where the firm controls less than 3 per cent of the smartphone market. Its demands from the government, they say, should reflect the reality of its capabilities here, even if the current dispensation wishes to use Apple as a means to attract more global investments.
India has seen over 35 new smartphone factories come up in the last two years with a production capacity of around 18 million devices per month. It has been able to pull firms such as Foxconn and Samsung to set up factories following tax rationalisation for electronics products made locally.
"When it comes to selling in India, the iPhone is still perceived as a rich man's device and Apple will have to significantly change its sales strategy here if they wish to win in India," says Prabhanjan Deshpande, co-founder of brand consultancy The Higher Pitch.
"If Apple is serious about India, it would have taken on mid-range phone makers by introducing retail plans and partnering with telecom operators," he says.
Apple has taken a few tentative steps in that direction. It already sells its music streaming service at a subsidised cost of Rs 120 a month compared to $9.99 (Rs 650) in the US. It has also signed up to provide this service for free to customers of cab hailing firm Ola.
Apple has also begun groundwork to open its iconic Apple stores, giving it more visibility to Indian consumers.