The revival of feature phones in India is driven by low-cost access to the internet, but the 'dumb phones' are learning to get smart and create a niche, says Veer Arjun Singh.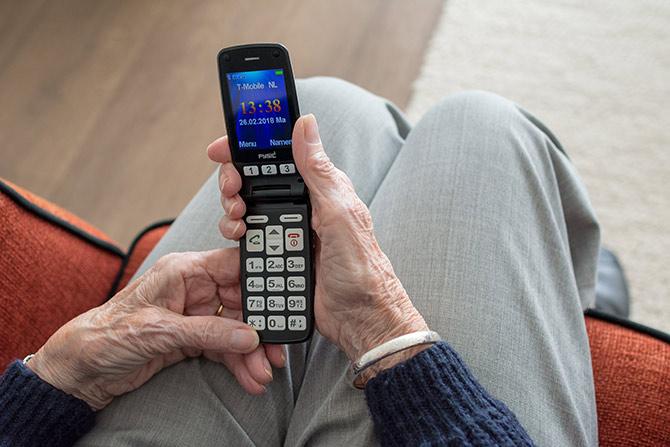 India's smartphone revolution rages on.
Indian and Chinese brands are locked in a fierce battle for the lion's share of the world's fastest growing market for smartphones.
And consumers are reaping the benefits.
The starting price for Android devices has dropped to below ₹1,000, making touch phones compete with their keypad-hanging predecessors.
But to say that the good old feature phones are 'dumb and dusted' would be an oversight.
India is still the world's largest market for feature phones.
According to the latest report by Hong Kong-based Counterpoint Research, while India's overall phone shipments grew by 37 per cent in the last quarter of 2017, feature phone shipments grew 55 per cent in the same period, bucking the decline seen in the last two years.
Analysts say this growth is largely fuelled by the launch of the Reliance JioPhone.
Priced at ₹1,500, the phone can be exchanged at a Jio outlet for a full refund after three years of use.
The offer is reminiscent of the CDMA handset Reliance had launched in 2003 for ₹500.
That tagline went: 'Karlo duniya muthi mein (which roughly translates to conquer the world).'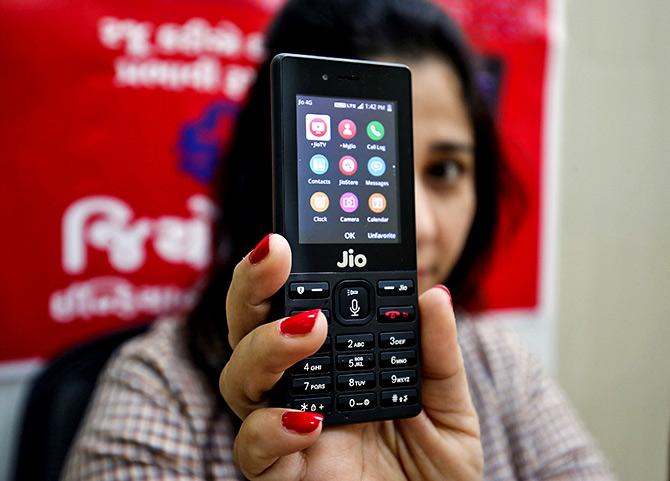 "Affordability is a key factor. Over 65 per cent of the phones shipped in India in the last quarter were feature phones," says Jaipal Singh, senior market analyst, client devices, IDC India.
While Reliance refused to share exact figures, JioPhone has become the world's bestselling feature phone, capturing 15 per cent of the market share since its launch in October last year, says the report by Counterpoint Research.
There's more than the effective ownership cost of zero that is fuelling its fiery sale.
JioPhone is 4G-capable, which means access to the fastest available data speed in India.
It also has Google Search, Google Maps, Google Voice Assistant and social media apps such as Facebook Lite, along with a suite of Jio apps (music, TV, chat, etc).
Apart from Wi-Fi and Bluetooth, much like smartphones, it comes with Hotspot that allows other devices to use its internet.
Not so dumb now, is it?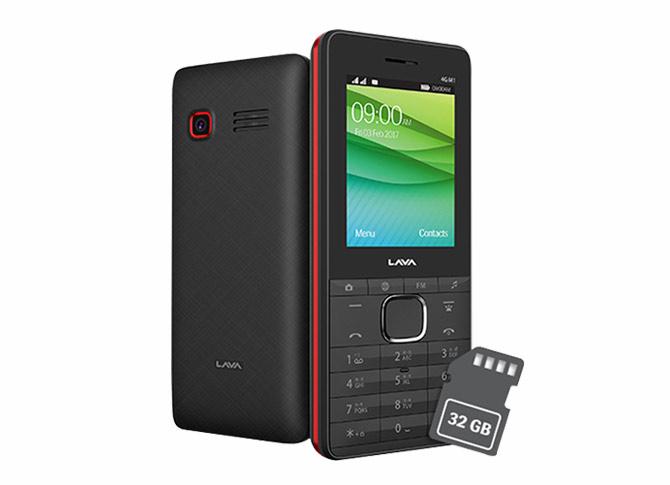 Reliance has joined other players that are offering 4G-capable devices with similar features in a price-sensitive market.
The Micromax Bharat 1, which includes the features of the JioPhone, also has a dual SIM slot and a comparable retail price of ₹1,690.
Intex says its feature phone, Turbo+4G, announced last year, is also in the works.
Indian phone-maker Lava also has a line-up of smartphones and feature phones, including the Lava 4G Connect M1 priced higher than the JioPhone and Bharat1 at ₹3,599.
Gaurav Nigam, Lava's senior vice-president and product head, however, says that the spike in the sales of feature phones caused by the discounted JioPhone will see a decline over the next two years.
"A well-equipped feature phone can just be a transitionary phone for the consumer, since the experience of multimedia on a small screen is not an attractive proposition," he says.
Their sales, meanwhile, will continue to be driven by affordability and features such as a longer battery life and single button access, he adds.
Apart from being cheaper and running for days on a single charge, feature phones have the obvious advantage of being lighter and easier to carry in a pocket, while smartphones are only getting bigger.
Feature phones also have a keypad for easy typing and are not bogged down by software updates that eventually force you to change your lagging smartphone.
But at a price point of less than ₹3,000, feature phones are unlikely to get any smarter.
And smartphones in the same range are cutting costs, thanks to the cheap manufacturing units in China that almost all phone companies rely on for their products.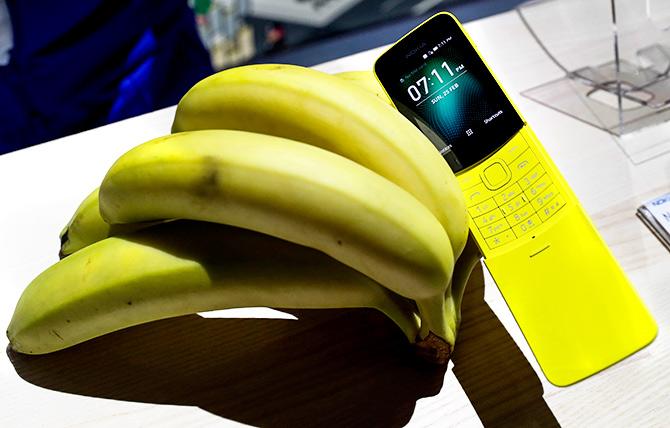 But while smartphone manufacturers are slashing prices to enter rural markets, there are other disruptors that are looking to tap the urban consumer.
HMD Global, which manufactures phones under the Nokia brand, recently unveiled a new version of the iconic Nokia 8110.
Also called the 'banana phone' because of its curved design, it was so popular back in the 1990s that it shared some screen time with Keanu Reeves in the first installment of Matrix (1999).
Re-launched in black and a vibrant yellow, the slider phone became a rage on social media during the 2018 Mobile World Congress in Barcelona earlier this year, overshadowing many other smartphone launches.
HMD also evoked nostalgia with its last year's re-launch of Nokia 3310, another bestselling vintage phone of the '90s.
Priced also at ₹3,310, it was not much of a gamble.
While many critics dismissed it as a marketing gimmick, HMD says the response was overwhelming and highly profitable.
"Feature phones remain an important part of HMD Global's business strategy. There is a base of consumers who are feature phone loyalists," says an HMD spokesperson.
HMD is experimenting with both form factor and colours, making feature phones that appeal to urban consumers who would rather pick it over a smartphone or use it as a secondary phone.
They are marketing the new range as 'Originals'.
"With more than 1.3 billion feature phone users around the world, we see a lot of opportunity for such premium feature phones," the spokesperson says.
The Nokia 8110, yet to be launched in India, will be a 4G device, which will also allow users to sync their contacts from Gmail, possibly also solving the problem of limited storage for contacts that make feature phones inconvenient to use.
Premium feature phones are also an alternative to smartphones.
"There's definitely a niche market for such phones and more manufacturers may focus on it in the future," says IDC's Singh.
The availability of WhatsApp could be a real shot in the arm for feature phones and there's speculation that a new version of the app is in the works for the JioPhone, which may also work with other feature phones on the same operating system, the KaiOS.
But both WhatsApp and phone manufacturers are keeping these future developments under wraps for now.