Veer Arjun Singh brings you the pros and cons.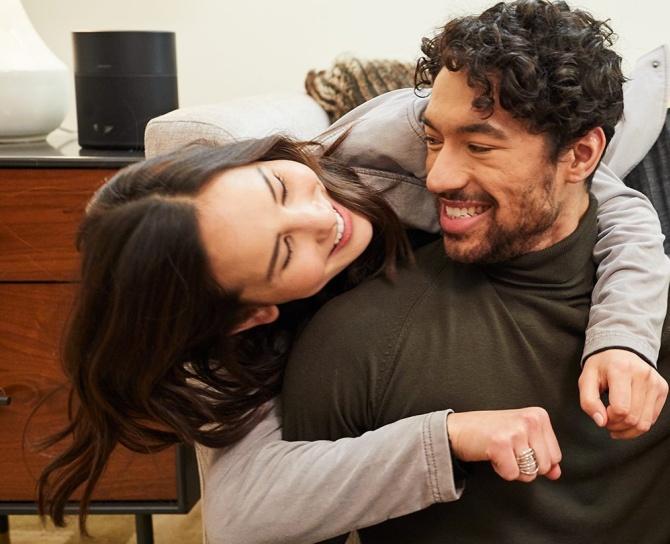 The Home Speaker 300 is the newest member of the venerable Bose family of speakers that talk to you.
They can speak in the voice of Google Assistant or Alexa and can be a part of the Apple Airplay 2 ecosystem.
At Rs 26,500, the HS 300 is that low-hanging fruit that will tempt you later to buy its high-flying, compatible cousins and make them all sing together. And it's quite a roomful when they do.
My other recommendations: the Bose Home Speaker 500 (Rs 39,000) and the Bose Soundbar 700 (Rs 70,000).
The trio calls for heavy investment, but will complete your home at least acoustically.
Design: 4.5/5
At the risk of sounding starstruck by Bose, I have been struggling to find aesthetic flaws in its latest line-up.
The Bose HS 300 features near-perfect design.
It's a compact, oval-shaped speaker about 15 cm tall and weighing less than a kilogramme.
It has a 360-degree speaker that effectively creates a large field of sound.
On top, the borders are perforated to house a multi-microphone set-up for voice recognition and a few capacitive touch buttons -- play/pause, next/previous and mic mute, along with buttons from numbers 1 to 6 that can be customised to play your preferred songs, stations, podcasts, etc -- occupying the centre.
Though light and compact, the speaker is not designed to be carried to every poolside party.
It's a beautiful home bot -- the two variants are all-black and all-white -- that works best in a master bedroom.
It's not under-powered for a large living room space either.
Speakers also generally tend to end up in a corner, but it's best to place the HS 300 somewhere in the centre of the room to get the best out of it.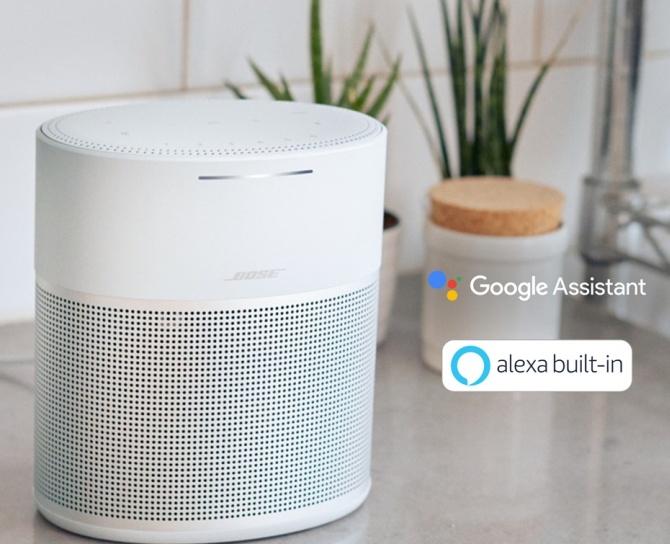 Performance: 4/5
The HS 300 fills big, closed spaces at high volumes with minimum distortion.
The omnidirectional speaker gives a surround sound feel unusual for a device its size.
The only other speaker I can think of that creates a similar effect is the much cheaper but far heavier LG XBoom AI ThinQ (Rs 12,900) powered by Google Assistant.
While it did sound impressive, the last time I witnessed a few tipsy people bombard it with "OK Google" requests at a party, the poor speaker couldn't catch more than 50 per cent of it.
Listening capability is where the Bose HS 300 outdoes most speakers, including the Apple HomePod (not yet launched in India) and the 3rd-gen Amazon Echo (Rs 9,999), both of which are highly receptive.
In my two weeks spent with it, the HS 300 maybe failed to pick up my voice once in 10 times.
I talked to it while watching TV and even playing music on other devices. This one is a good listener.
Verdict: 4/5
The HS 300 delivers a rich bass, crisp highs and a surround sound effect.
My recurring grouse is with the elegant but unreliable Bose Music app (Android, iOS) that you will need to initialise the speaker. It took me many attempts and far too long to update the speaker before I could set it up.
Also, the Bose Home line-up is sadly incompatible with its older SoundTouch family of devices, let alone the competition.
If you are in the market for a portable speaker, look at the heavier, pricier Marshall Kilburn II (Rs 29,900) or the cost-effective Ultimate Ears Boom 3 (Rs 12,995).
The Bose HS 300 should be your first step towards building a multi-room, Bose-only home.