A price warrior with an aggressive value proposition, Xiaomi has also been strategic with its brand communication, says T E Narasimhan.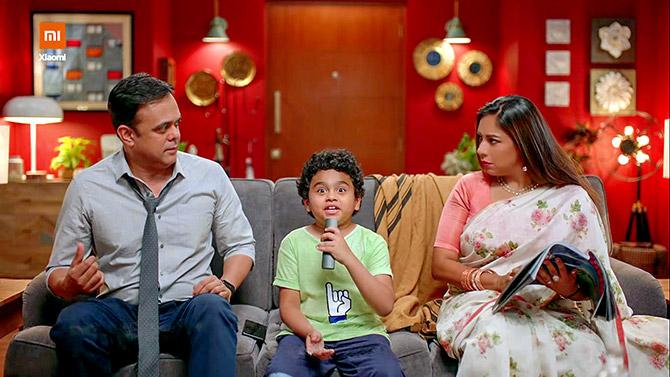 Having used predatory pricing to knock down the competition in the cluttered smartphone market in the country, Xiaomi is doing the same to shake up the smart television segment.
Nearly two-and-a-half times cheaper than the most expensive smart TV in play today (Samsung), Xiaomi is leaning heavily on the equity earned in the smartphone market to establish its credibility as a reliable, albeit low-priced, choice for Indian consumers.
The strategy seems to have worked so far.
In the 15-odd months since the brand first showed up in Indian stores, Xiaomi has sold over two million televisions in the country.
According to the IDC Worldwide Quarterly Smart Home Device Tracker, in Q1 2019 Mi TV, with 39 per cent, was the market leader in the category.
"What separates Xiaomi from its competitors is customer experience, the best specs at truly honest pricing across all variants," said Eshwar Nilakantan, category lead-Mi TV, Xiaomi India.
A price warrior with an aggressive value proposition, experts point out, Xiaomi has also been strategic with its brand communication.
"They have been successful in localising the communication with their customers," said Pinakiranjan Mishra, partner and leader, Consumer Products and Retail, EY India.
The ongoing advertising campaign uses popular characters from a television serial (Sarabhai vs Sarabhai) to convey the brand's value optimised pricing proposition.
The campaign is called 'Say it, See it' and the narrative revolves around a typical Indian family concerned about the price and utility of their purchase.
By using characters that are strongly etched in the minds of the viewers and using their value systems to convey what the brand stands for, the company has been able to reach out to a large number of people said experts.
It has also been able to showcase the TV's multiple features that ensure there is something for everyone, an important requirement in a country that is still largely a single-TV household.
The television market in India is estimated at around Rs 22,000 crore and is growing at a sluggish 6-7 per cent.
But for smart TVs, the market is growing at 20-21 per cent (IDC data) and hence presented a lucrative opportunity.
Perhaps because of its understanding of the Indian market and also the confidence that its smartphone foray had provided, Xiaomi did not go for a pure online play when it launched its range of smart TVs in 2018.
As Nilakantan explained, "Over the past two years, we have worked hard towards establishing a strong offline network and expanded our offline business rapidly."
The company wants to use the wide network of stores to take the brand everywhere, thereby provide more opportunities for its discovery and purchase.
Mi TV is available in multi-brand stores and exclusive Mi Home stores, apart from the regular online platforms.
At present the company has 75 plus Mi Home Stores in India and multiple selling Mi TVs.
The company is steadily expanding its retail footprint, coming up with small format stores in tier 3 and smaller cities and also creating a new format called the Mi Studio, a smaller version of Mi Home.
And this is the retail network that the company wants to leverage to expand its footprint in the TV market.
As Xiaomi takes the brand into the heartland, it hopes that its smartphone community that is a sizeable online group of users will also help spread the word.
The smartphone user identifies it as a cheap product with best features, one that offers value for money, Nilakantan said.
The same proposition holds good for TV.
Pricing is an important component of the brand's identity and hence when Xiaomi launched Mi TV 4 at Rs 39,999 it ensured that the product was cheaper by almost 2.5 times of that of market leader Samsung and even cheaper than brands like Sanyo, Vu, and Cloudwalker according to industry reports.
Mishra said that the company is probably looking at disrupting the TV market much like what it did with mobiles.
"Their style could be a few models with great features and a lower price point, just like the mobile strategy," he added.