With India's brand of beloved instant noodles facing the threat of a ban, we'd asked you, dear readers, to suggest recipes to substitute the 2-minute Maggi!
Here, reader Archana Gaikwad shares this easy-to-make Sevai Upma recipe.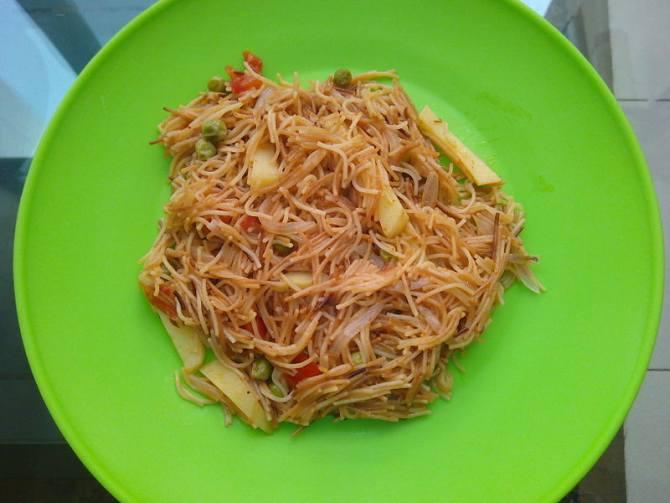 Here's how to make Sevai (Vermicelli) Upma:
Ingredients
1 cup sevai (vermicelli)
5-6 curry leaves
2 green chilli slit lengthwise
1" piece of ginger grated
3/4 tsp mustard seeds
2 medium-sized onions chopped fine
2 medium tomatoes chopped fine
2 tbsp vegetable/ canola/ sunflower cooking oil
Chopped coriander to garnish
Salt to taste
2 cups hot water
Pinch of turmeric powder
Juice of 1/2 a lime
Method
Heat a griddle or flat pan on medium flame and dry roast the vermicelli lightly till it turns a pale golden brown. Stir frequently. Once done, remove onto a tray or platter and keep aside.
Heat oil in a pan. Add mustard seeds, curry leaves and green chillies. When the spluttering stops, add the grated ginger and stir well. Cook for 1 minute.
Add onion and fry till translucent and soft.
Add tomatoes and cook till soft.
Add hot water, turmeric and salt to taste and bring to a boil.
Add the roasted vermicelli/ sevai, a little at a time, stirring constantly to prevent any lumps from forming.
Simmer and cook till the Upma is like a very thick porridge. Turn off the flame.
Squeeze lime juice over the Upma and mix well.
Garnish with chopped coriander and serve piping hot.
Email us your recipes with a picture of the dish to getahead@rediff.co.in (subject: Maggi alternatives) and we will publish the most interesting recipes right here on Rediff.com!
What are you waiting for? Hurry!
> More recipes and food features here
Photograph: Barthateslisa/Wikimedia Commons