These three recipes by Pamela Timms will make for the perfect weekend treat.
Mango and Old Monk Trifle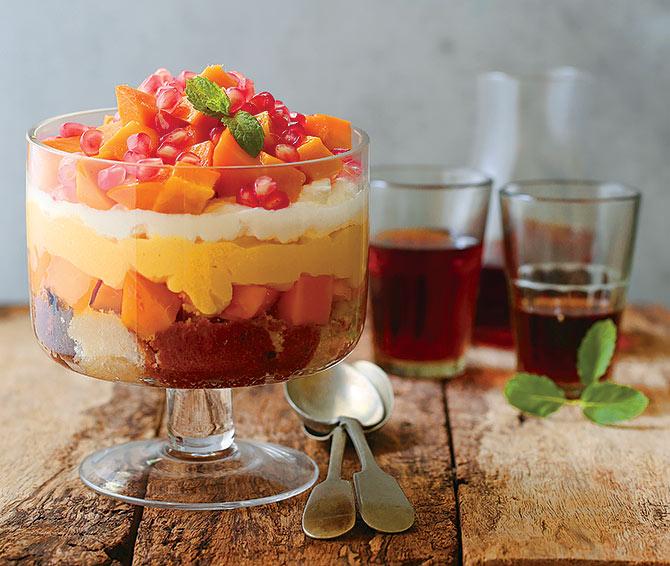 Serves: 6 to 8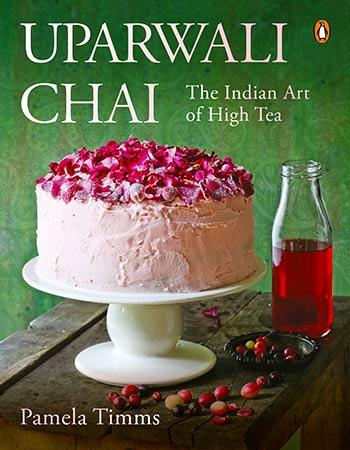 A trifle is more a loose set of guidelines than a set recipe; as long as you have alcohol-soaked sponge, custard, thick cream and fruit, you have a trifle.

It is basically a fruity British version of tiramisu, although in most people's minds the latter seems to have a much higher glamour rating.
In Britain most people have their own family favourite formula; ours was deeply inauthentic, cribbed from a 1970s Milk Marketing Board pamphlet, and consisted of a sliced chocolate Swiss roll, doused in the juice from a tin of mandarin oranges, topped with the orange segments, Angel Delight, fresh cream and decorated with chocolate sprinkles.
Naff, but there's something special about the trifle you grew up with and I think it might still be my all-time favourite.
However, for my grown-up showstopping Indian version I decided mangoes and Old Monk were called for.
Although a respectable trifle can be made with shop-bought trifle sponges and Bird's instant custard, I thought it would be nice to make an orangey cake and fresh vanilla custard.
I chose an old-fashioned English pound cake, so-called because they used to be made from a pound each of eggs, butter, sugar and flour.
This involves a bit more work, but the cake and custard can both be made a day ahead and the extra effort results in layer upon layer of cakey, boozy, fruity, custardy, creamy delight. Definitely one to give tiramisu a run for its money.
Ingredients:
For the pound cake:
Tip: You can alternatively use a good-quality bought Madeira cake or a pack of trifle sponges
Separate three eggs and weigh them. Whatever the combined weight of yolks and whites (mine were 150 gm), use the same amount of castor sugar, unsalted butter and refined flour
A pinch of salt
Grated zest of 1 orange
3 tbsp orange juice
For the custard:
250 ml cream
250 ml milk
½ vanilla pod, split in half and seeds scraped out
5 egg yolks
2 tsp cornflour
50 gm castor sugar
For the trifle:
2 mangoes, chopped
75–100 ml Old Monk rum (if you find yourself in the midst of an Old Monk crisis, try sweet dessert wine)
300 ml whipping cream, whisked till thick
Seeds from half a pomegranate
You will need a large glass bowl in which to assemble the trifle
Method:
To make the pound cake:
Melt the butter and leave to cool. Preheat the oven to 160°C. Grease a small loaf tin, approximately 9 x 21 cm.
Crack open the eggs and put the yolks and whites in separate bowls. In a large bowl, whisk the egg whites until they form firm peaks. In another bowl, whisk the egg yolks and sugar until pale and creamy, then beat in the cooled butter. Fold in the flour and salt, then stir in the grated zest and juice. Very gently fold in the egg whites.
Pour the cake batter into the loaf tin and bake for about 45–60 minutes, or until the cake is well risen and browned on top and a skewer comes out clean. Turn the cake out on to a rack and leave to cool.
To make the custard:
Heat the cream and milk in a small pan with the vanilla seeds. In a bowl, whisk the egg yolks, sugar and cornflour together. When the cream is hot, take it off the heat and whisk it into the egg mixture. Pour the mixture back into the pan and on very low heat, cook the custard until thick. Take off the heat and leave to cool.
Both the cake and custard can be made a day before you want to make your trifle.
To assemble the trifle:
Cut thick slices of cake to line a glass bowl, then spoon over a few tbsp of the rum. Pile on the chopped mango, then cover with the cooled custard. Top with the whipped cream, then leave in the refrigerator for at least a couple of hours.
Add the pomegranate seeds just before serving.
Note: The Old Monk really packs a punch in this recipe. If you prefer your rum hit a little more subtle, I would heat 100 ml of Old Monk and let it bubble for a minute or two. Then stir in the juice of half an orange, left after making the cake. Drizzle this mixture over the sponge before proceeding with the layers of fruit, custard, etc.
---
Pickle Pies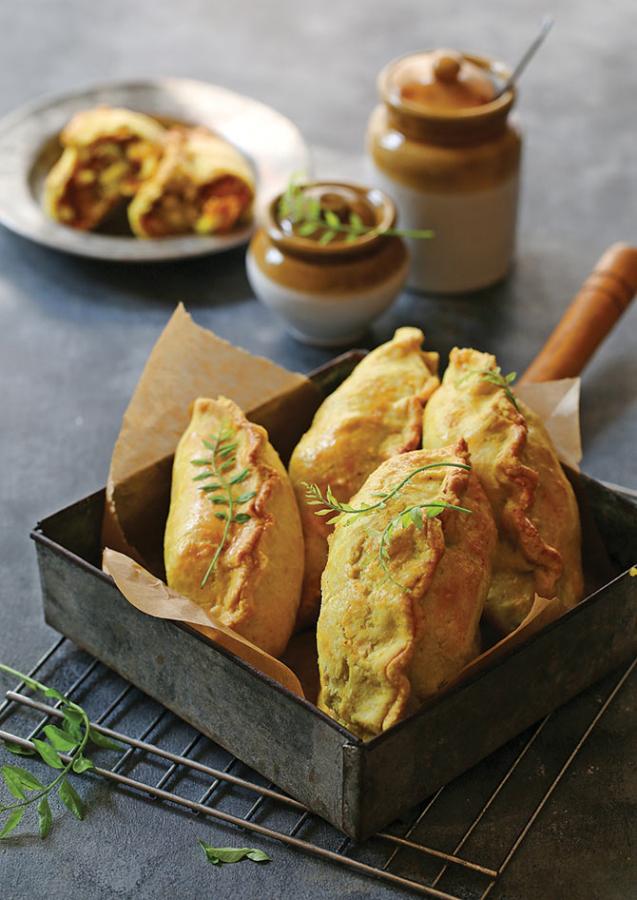 Makes 6 pies
This recipe meddles with culinary boundaries in a way I don't normally approve of: Indian pickle meets Cornish Pasty (a small English pie normally filled with meat and vegetables). My starting point was, of course, the pickle. I wanted to show it off as a starring ingredient in its own right rather than as the more usual condiment.
I needed a filling that wouldn't fight the pickle and hit on this mildly spiced potato and onion curry, the type normally associated with masala dosa, a dish I love almost above all things.
Before adding the potato mixture to the pastry base, I spread a layer of spicy tomato pickle. The result, if I say so myself, is stupendous. My husband devoured several in quick succession before declaring them fabulous and deciding we could retire on the vast fortune they're going to make us when we go into commercial production.
Because pickles vary so much, I made and baked one pie to start with to test the intensity of flavour. Using the tomato pickle I had, one tbsp of pickle per pie was about right.
Ingredients:
For the pastry:
300 gm all-purpose flour
1 tsp turmeric
150 gm cold butter, chopped into cubes
A pinch of salt
Cold water
1 egg, beaten
For the filling:
500 gm potatoes, boiled until just cooked, then peeled
3 tbsp vegetable oil
1 tsp brown mustard seeds
10 curry leaves
1 onion, sliced
1 tsp turmeric
2 tsp coriander powder
1 tsp dried mango powder
Salt, to taste
6 tbsp of tomato pickle (or to taste)
Method:
To make the pastry:
Put the flour, turmeric, butter and salt in a large bowl and quickly rub with your fingertips until the mixture looks like breadcrumbs.
Add 3 tbsp cold water and stir the mixture with a knife. When it starts coming together, use your hands to gently shape it into a ball, adding a little more water if necessary. Cover the pastry with cling film, then put in the refrigerator to rest while you make the filling.
To make the filling:
Chop the boiled potatoes into rough 1 cm cubes. Heat the oil in a large frying pan, then add the mustard seeds and curry leaves and cook for about a minute.
Add the onion and cook until soft. Stir in the potatoes, turmeric, coriander and dried mango powders and mix well.
Mash the potato mixture a little with a fork. Add salt to taste, then set aside to cool.
For the pie:
Preheat the oven to 180°C. Roll out the pastry to about 2 mm thick. Use a saucer or small plate to cut out six circles.
Spread a tbsp of pickle on one half of each pastry disc, leaving a 1 cm border all the way round at the edge.
Brush a little egg around the edges of the pastry, then fold it over and crimp the edges together.
Place the pies on a baking sheet, brush the tops with the rest of the egg, then bake for about 30 minutes, or until the tops are golden brown. Serve hot.
---
Mawa Madeleines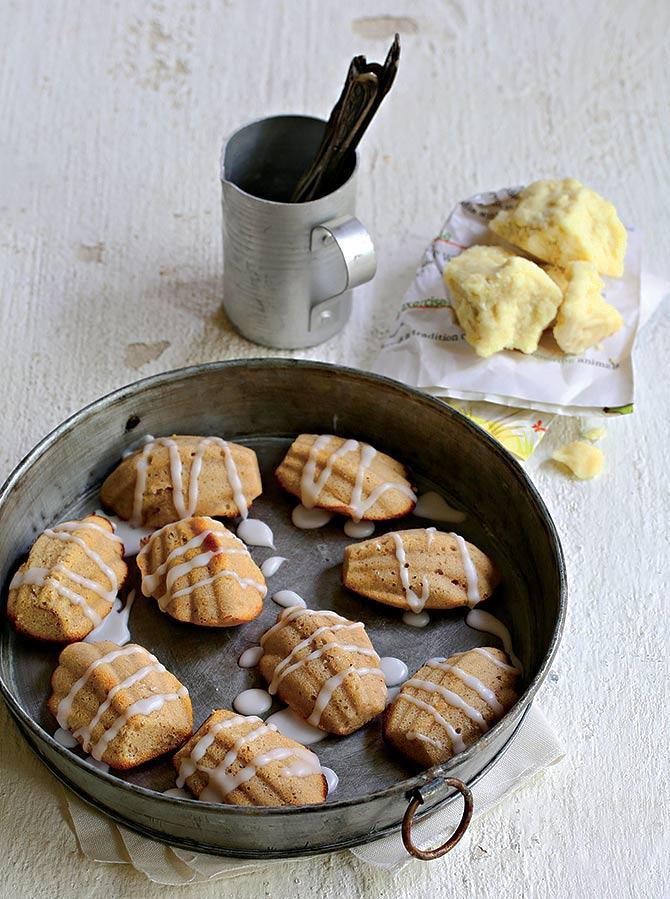 'Mawa' and 'cake' are two words that can reduce a homesick Mumbaikar to tears, and I'm not surprised.
When I first encountered them at the Britannia Café in the city, I was initially underwhelmed by their plain looks. Beyond that unprepossessing exterior, though, thanks to the addition of mawa, or khoya, lies a rich, milky, buttery heart as well as a hint of cardamom.
Extraordinary how the smallest changes to a basic recipe (in this case a classic sponge cake) can transform it into something completely different. Mawa, or khoya, is one of those Indian ingredients that is a complete mystery to most foreigners but is still readily available in most local dairies. One day, though, when I was craving mawa cakes, my local dairy had run out of khoya and I had to make my own, so I give the recipe for that too (essentially, standing over a simmering pan of milk for about 2 hours).
I've tinkered slightly with the look of the cakes by baking them in a madeleine mould. I make no claims to authenticity here; I've just retraced what I assume was the mawa cake's own journey -- an Indianised British sponge cake. With or without the madeleine makeover, though, memories of every milky treat you've ever loved will come flooding back with every bite -- barfi, Milkybar, Old Delhi's extraordinary winter treat daulat ki chaat, or a puddle of evaporated milk on childhood fruit salad.
Ingredients:
For the mawa or khoya:
For the madeleines:
150 gm all-purpose flour
1 tsp baking powder
Seeds of 4 green cardamoms, finely ground
100 gm mawa
100 gm butter
100 gm castor sugar
2 eggs, lightly beaten
75–100 ml milk
You will need a madeleine mould or a cake tin and paper cake cases
Method:
Grease a madeleine mould with melted butter or line a muffin tray with small cake cases. If you have to make the mawa, you will need to think ahead as the process takes up to 2 hours.
Put the milk into a large, heavy-bottomed pan and slowly bring to the boil. Turn down the heat and let the milk simmer gently. Stir regularly to make sure it doesn't stick to the pan and burn. Eventually the milk will darken slightly in colour and thicken. Once it resembles the thickness of porridge, don't take your eye off it -- stir continuously until all the liquid has evaporated and you're left with about 150 gm mawa. This can then be stored for a few days in the refrigerator or months in the freezer. Bring it to room temperature before you use it to make mawa cakes.
When you are ready to make the cakes, preheat the oven to 180°C.
Sift together the flour, baking powder and ground cardamom in a large bowl. Put the mawa, butter and castor sugar in another bowl and beat until light and fluffy.
Gradually add the eggs, beating well to incorporate them into the mixture. Mix in the flour mixture and enough milk to make a mixture that drops off a spoon banged on the side of the bowl. Divide the mixture into madeleine moulds or cake cases. Bake the cakes for about 10–15 minutes, until they are lightly browned on top and a skewer inserted into the middle comes out clean. They are perfect fresh and warm from the oven with, what else, a glass of milk.
Excerpted from Uparwali Chai: The Indian Art of High Tea by Pamela Timms, with the kind permission of the publishers, Penguin Random House India.