Rediff reader Asiya Subhani shares a traditional Hyderabadi recipe with us. You can share yours too!
The Hyderabadi Mirchi ka Salan is a thick gravy made from a paste of roasted coconut, peanuts, sesame seeds, cumin seeds and mustard seeds.
It goes well with biryani, especially with chicken or mutton biryani, says Asiya Subhani.
Here's the recipe:
Hyderabadi Mirchi Ka Salan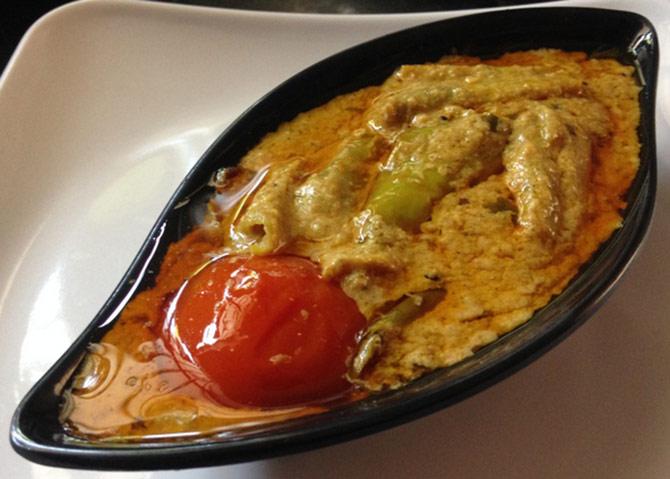 Preparation time: 20 minutes
Cooking time: 25 minutes
Total time: 45 minutes
Ingredients
100 gms long and thick green chillies
1/2 tsp turmeric powder
2 tsp ginger garlic paste
1 lemon sized tamarind extracted pulp
1 tomato cut into two halves
1 tsp mustard seeds
1 tsp kalonji seeds(onion seeds)
1 tsp fenugreek seeds(methi seeds)
4 tbsp oil
Salt to taste
For the masala
1 tbsp dry coconut
1 tbsp peanuts
1 tbsp sesame seeds
1 tbsp cumin seeds
1 tbsp coriander seeds
1 medium sized onion thickly chopped

Method
Heat a pan, dry roast each of these separately -- coconut, peanuts, sesame seeds, cumin seeds and coriander seeds and keep aside.
In the same pan, add sliced onions, smear oil and roast for about two minutes.
Allow all the ingredients to cool and blend them together into a fine paste.
Add salt and turmeric powder to this paste and keep it aside.
Heat a pan, add oil, kalonji seeds, methi seeds, mustard seeds. When they crackle, add green chillies.
Cover the lid and cook for about five minutes.
Lift up the lid, stir and cook for another five minutes on a medium flame.
Remove the chillies from the oil and keep them aside.
Add ginger-garlic paste, stir for few minutes and add masala paste.
Cook until oil appears at the sides of the pan.
Add tamarind extracted pulp and stir well.
Add one sliced tomato.
Add some water and salt, if required.
Add fried green chillies into the curry and let it simmer for about 10 to 15 minutes.
When you see oil leaving the sides of the pan, switch off the flame.
Serve hot with biryani or roti.
Notes
When you're cooking masala, keep stirring and make sure it does not stick to the bottom.
The green chillies can also be shallow fried in oil to make mirchi ka salan.
If you find the gravy to be tangy, you may even add a pinch of sugar.
Photographs: Courtesy Asiya Subhani

Liked this recipe? Click here for more interesting recipes and food features!
Want to share your favourite recipe? Simply e-mail your recipes to getahead@rediff.co.in (subject line: My Fav Recipe) with your name, hometown and any interesting details about the origin of the recipe, along with a photograph of the recipe, if possible. We'll publish the best preparations right here on Rediff.com.