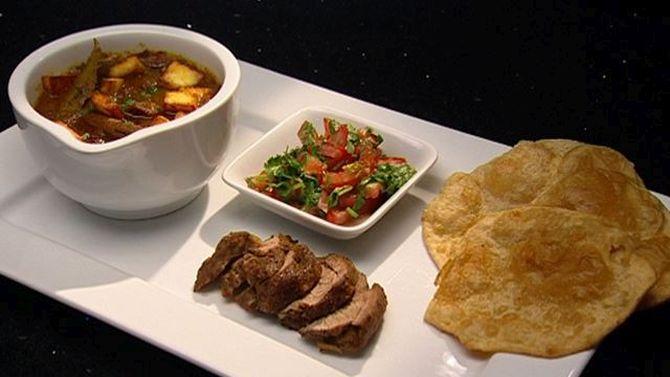 Planning a lavish meal? Chef Jimmy Seervai will help you show off your culinary skills.
Photograph: Kind Courtesy Jimmy Seervai/Facebook
Everyone's mouth waters instantly, when he whips up a dish with authentic Indian flavours.
Since the time he participated in Masterchef Australia 2010, Sydney-born Jimmy Seervai (pictured left) never misses out on impressing his fans.
We present one of his lip-smacking recipes that celebrates the flavours of mutton.
Parsi Goat Curry, also known as Sali Boti, is often served at Parsi weddings.
Here's the flavoursome recipe.
Parsi Goat and Paneer Curry with Atta Puri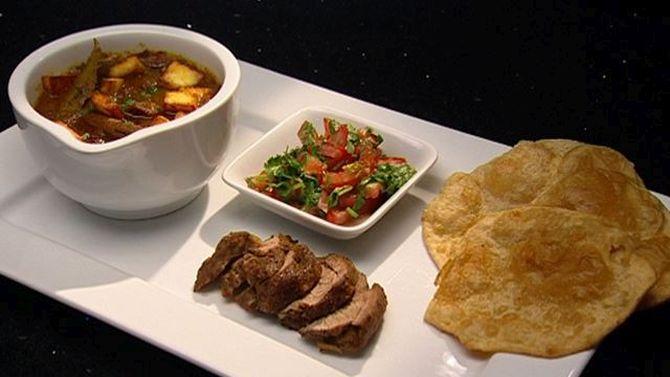 Ingredients
2 tbsp vegetable oil, plus extra for frying
1 large brown onion (finely chopped)
4 bay leaves
3 star anise
2 cinnamon sticks
4 garlic cloves (finely chopped)
4 cm ginger piece (peeled and finely chopped)
3 small green chillis (finely chopped)
1 tsp garam masala
1 tsp ground turmeric
1/2 tsp ground cinnamon
1/2 tsp ground black pepper
1 tsp ground coriander
1/2 tsp ground cumin
1/4 tsp ground fennel
1/4 tsp ground mango
1 goat leg (boned, trimmed and cut into 3 cm cubes)
1 bunch coriander (root finely chopped, leaves picked)
10 curry leaves
3 tomatoes (finely chopped)
200 gm atta flour
200 gm paneer (cut into 2 cm cubes)
3 limes (juiced)
Method
For parsi goat and paneer curry
Heat a tablespoon of oil in a large saucepan over medium to high heat.
Add onion, bay leaves, star anise and cinnamon sticks. Cook for five minutes until onion is golden.
Add garlic, ginger and chillis to the pan. Cook for another two to three minutes.
Take a separate small bowl and mix dry spices with two tablespoons of boiling water until well combined.
Add spice paste to the pan and cook for five minutes.
Add cubes of goat and cook for two minutes. Keep stirring until goat is well coated in the spice paste.
Add coriander root, curry leaves and two-third of the diced tomatoes. Season with salt.
Add enough water to just cover the meat and bring to the boil. Reduce heat and simmer for 45 minutes, stirring occasionally.
Heat some oil in a separate frying pan over medium to high heat.
Cook the paneer. Make sure all the sides are golden. Drain on paper towel.
Add the paneer and two-third of the lime juice to the goat curry.
For atta puri
Combine atta flour with 100 ml of water in a large bowl. Mix until a dough forms.
Divide dough equally into eight portions.
Roll each portion into 2 mm thick circles.
Heat remaining oil in a large frying pan over medium heat.
Cook the puri circles for about a minute each side or until the dough puffs and is cooked through. Drain on paper towel.
To serve
Combine the coriander leaves with the remaining tomato and lime juice.
Serve alongside the curry with the atta puri.
MasterChef Australia Season 8 airs at 9 pm, Monday to Friday on Star World and Star World HD in India.
ALSO SEE
MasterChef Recipes: 4 classic Indian dishes to make at home
Have an interesting recipe to share?
Write in to us at getahead@rediff.co.in (subject: Recipe) with your name, hometown and any interesting details about the origin of the recipe, along with a photograph if possible.
We'll publish the best preparations right here on Rediff.com and in India Abroad.