The French dessert is made of choux pastry and a praline flavoured cream.
Executive pastry chef Hamza Ghaz Al Durdangi from The Ritz Carlton, Bengaluru shares the recipe.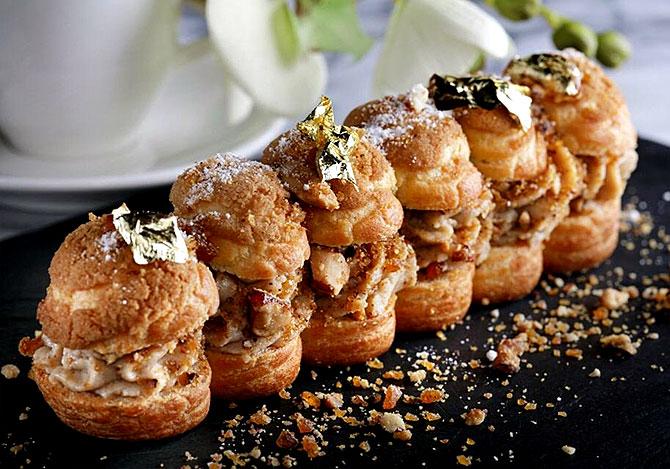 Ingredients:
For the praline paste:
75 gm whole roasted hazelnuts
75 gm whole roasted almonds
100 gm sugar
30 gm water
A pinch of salt
For the choux pastry:
125 gm flour
200 gm milk
10 gm sugar
2 gm salt
80 gm butter
4 whole eggs
For the praline mousseline cream:
480 gm milk
4 egg yolk
70 gm sugar
20 gm flour
30 gm starch
15 gm butter
200 gm praline paste
150 gm butter at room temperature
For the garnish:
Sliced almonds and powdered sugar
Method:
To make the choux pastry, preheat oven to 340 degrees.
In a saucepan add milk, butter, sugar and salt. Bring to a boil, and then remove from heat. Add the flour and mix vigorously with a wooden spoon. Return the pan to the heat for 2 minutes, stirring constantly. Remove from heat and let it cool for two minutes. Break the eggs into a large mixing bowl, then add the pastry mix and whisk until smooth. Mixture should hold its shape when you put your finger through it. Transfer this into a piping bag fitted with a 1/2-inch round tip. Pipe 6 large balls inside each donut ring, making sure they make a full circle.
Brush the tops with egg wash, and then bake for 25 minutes. Brush each pastry ring with egg wash again, and then sprinkle with almonds. Bake for another 5 minutes, and then place on a wire rack to cool.
To make the praline: Finely slice the hazelnuts and almonds, and toast them for 5 minutes in a saucepan. Allow this to cool. Line a baking tray with parchment paper. In a saucepan, add the sugar and water. Stir until the sugar has dissolved. Bring to a fast boil, keeping watch over it until it turns dark amber color. Remove from heat and stir in the toasted nuts, then pour onto the parchment paper and allow cooling. Once cooled, blitz half of the praline to a fine powder in a spice grinder or food processor. Chop the remaining praline into small pieces and set aside.
To make the praline mousseline cream: Whisk the egg yolks with sugar. Add cornstarch and flour. Pour milk into a saucepan. Let it simmer. Pour 1/3 of the hot milk over the egg yolks mixture. Slowly add the whole mixture into the saucepan. Bring to a boil while stirring. Let it thicken. Remove from heat and add 1 tsp of butter. Pour the cream into a clean bowl. Cool it slightly and cover with plastic wrap. When completely cooled mix until smooth. Add praline paste and mix well. Slowly mix in the butter and continue mixing until creamy.
To assemble: When the pastry has cooled, cut each one into two pieces by slicing horizontally through the middle. Whip the praline mousseline cream to soft peaks then fold in the ground praline. Whip the cream again slightly, if needed, to bring it to a firm piping consistency, and transfer it into a piping bag fitted with a large star tip. Pipe rosettes of cream all around the bottom half of the pastry, and then add a sprinkling of chopped pralines before adding the lid. Top with sliced almonds, dust with powdered sugar and serve.