Low on fat and high on fibre, this easy-to-make snack recipe is sure to delight you.
Toronto-based Rediff reader Ameeta Gidwani shares the low fat recipe of black eyed peas patty.
Do you have an interesting recipe? E-mail it to us!
Black eyed peas are low fat, low on calories and have high fibre content.
Half cup of these peas is generally less than 100 calories and contains about 1 gram of fat, says Toronto-based Rediff reader Ameeta Gidwani.
Additionally, high-fibre foods keep you feeling full since they are digested slowly which is important to keep your weight under check, she adds.
Black eyed peas are also a great source of potassium, protein and iron.
Here's the recipe for Black Eyed Peas Patty: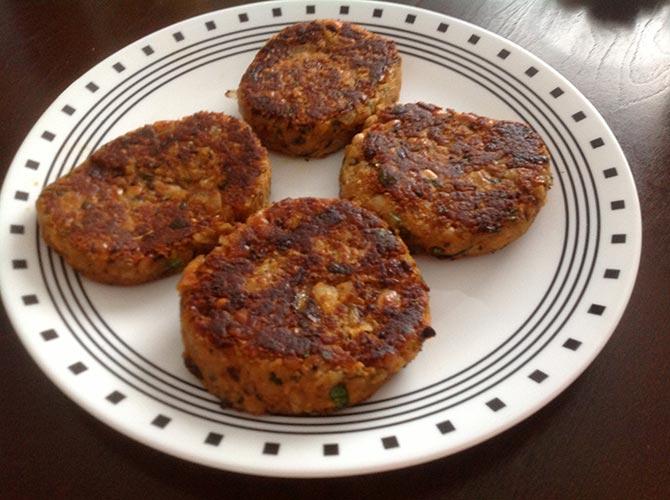 Ingredients
1 1/2 cups cooked black eyed peas
1 small potato boiled
2 garlic cloves minced
1/4 cup powdered oats
3 tsp taco sauce
1/2 tsp red chilli powder
2 tsp taco seasoning
1 small onion diced
A dash of Siracha sauce (optional)

1/4 cup cilantro finely chopped

1 tbsp lemon juice
Salt to taste
Method
Pan fry the onions with a few drops of oil till they turn brown and keep them aside to cool.
In a bowl add the cooked black eyed peas and roughly mash them.
Add potato, garlic, cilantro, caramelised onions (fried onions set aside), taco sauce, taco seasoning, red chilli powder, lemon juice, powdered oats, salt and mix well.
Oil your hands and make patties of desired shape and size. Refrigerate for about 30 minutes.
Heat a skillet and pan fry the patty till they turn brown and crisp.
Serve with warm burger buns and condiments of your choice.
Notes
If you're using dry black eyed peas, soak them overnight and pressure cook for about 3 whistles.
If you're using canned black eyed peas, remember they already have sodium. Add salt accordingly.
Photograph: Ameeta Gidwani
Love food? More recipes and food features here!
Also See
Reader Invite
Do you have an healthy food recipe that you'd like to share with us?
Simply write in to getahead@rediff.co.in (subject line: 'Healthy recipes') with your name and home-town, along with a photograph of the dish.
We will publish the best ones right here on Rediff.com.