We'd asked you, dear readers, to share your recipes of the dishes that were on Barack and Michelle Obama's plates.
Here Rediff reader Aisha Anam shares the recipes of Chicken Korma and Kadhi Pakori.
First up, how to make Chicken Korma: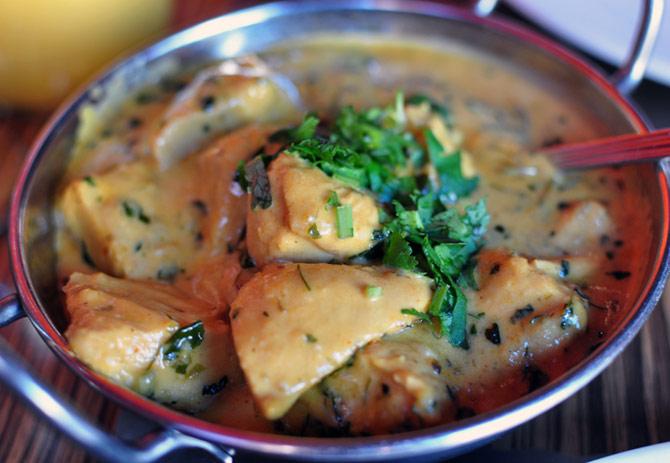 Ingredients
1 kg chicken
1 cup oil
500 gm onion finely sliced
2 tsp cashewnuts paste (make a paste by adding water)
2 bay leaves
1 1/2 tbsp ginger garlic paste
2 tbsp curd
1 1/2 red chilli powder
1 tsp coriander powder
1 tsp garam masala powder
Salt as per taste
2 tbsp cream
Method
Heat oil in a heavy bottom pan. Add onions and fry till light golden. Take them out on a tissue paper and leave aside.
In the same oil, add half teaspoon ginger garlic paste, one bay leaf, 1/2 tsp curd and chicken pieces. Stir for 5 minutes on medium flame and take out the chicken pieces and keep aside.
Now add the remaining ginger garlic paste, bay leaf, curd, red chilli powder, coriander powder, salt, cashew paste and salt to the oil. Mix well.
Keep stirring the masala on medium flame till it is cooked well and oil starts to leave the sides of the pan.
Lower the flame, add the chicken pieces. Mix well.
Crush the fried onions with a rolling pin. Add to pan.
Add garam masala powder. Mix well by adding some water.
Add cream, cover and cook on a low flame.
Remove the lid after 10 minutes. If required, add some warm water, mix well and allow it to come to a boil.
Serve hot with naan, tandoori roti or rice.
Photograph: Loretta Hui/Creative Commons
---
Kadhi Pakoda
Ingredients
For pakoris
1 cup besan
A pinch of turmeric powder
1/2 tsp red chilli powder
1/4 tsp ajwain
1/2 tsp salt
For kadhi
1 1/2 cup curd ( preferably a little sour)
2 tbsp besan
1 tsp ginger garlic paste
1 tsp turmeric powder
1 tsp red chilli powder
Salt as per the taste
For tempering
A pinch of asafoetida
1 tsp cumin
6-7 garlic pods peeled and chopped
3 to 4 dried red chillies
Method
To make pakoris, mix all ingredients well and make a batter that is neither too thick or runny. Keep aside.
To make kadhi, add all ingredients (mentioned under kadhi), except salt. Add a cup of water and mix well using a hand blender or spoon. Ensure no lumps are formed.
Heat a kadhai and add the kadhi in it. Allow it to boil.
Simmer the flame and add salt. Cook on a slow flame for about an hour stirring from time to time. If required, add some water to get the desired consistency -- the kadhi should be neither too thick nor runny.
To make pakodis, heat mustard oil in a kadhai.
Make small balls and drop in the oil a few at a time. Fry till light brown and directly add them to the hot kadhi.
Mix the kadhi very carefully ensuring the pakoris don't break.
Heat 2 tbsp mustard in a pan. (You can use the same oil in which you made pakoris) Add asafoetida, garlic, cumin and dried red chillies.
Add the tempering to the kadhi and cover it to preserve the flavour
Kadhi pakoda is ready. Serve hot with steamed rice.
Photograph: Devika/Creative Commons
ALSO SEE
Dear Readers, tell us how you'd make Dal Raisina, Haak ka Saag or any of the dishes listed here.
Please mail your recipes along with a photograph of the recipe if possible to getahead@rediff.co.in with the subject line 'Obama Recipes'