We'd asked you, dear readers to share your favourite Ramzan recipes.
Chef Anees Khan, founder and chef at Star Anise Patisserie, Mumbai and Star Anise Fine Foods Pvt Ltd shares a lip-smacking Ramzan recipe that you should definitely indulge in.
You can share yours too.
Turkish Muhammrah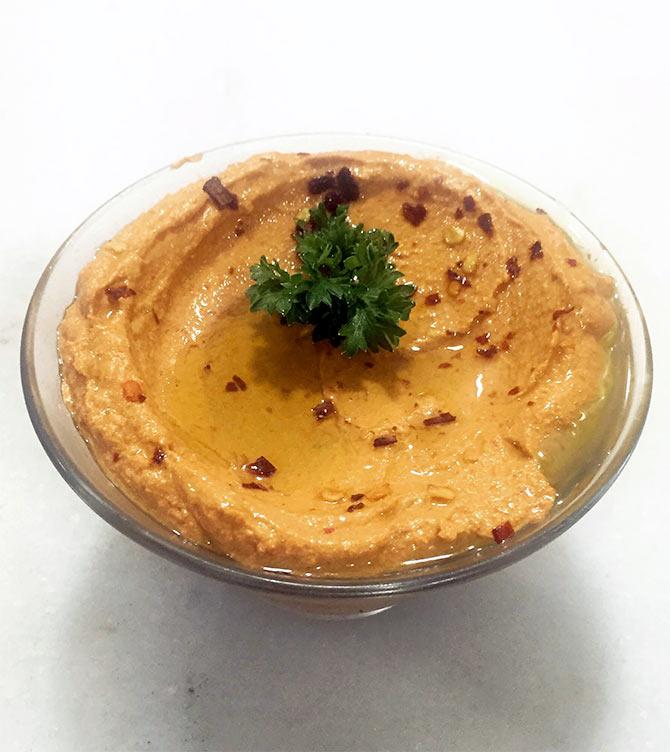 Photograph: Kind Courtesy Anees Khan
Ingredients
6 pieces of red bell pepper
1 cup of walnut
1/2 cup of breadcrumbs
10 roasted garlic cloves
1 tsp cumin powder
2 tbsp chilli paste
8 tbsp olive oil
2 cups of creme cheese
1 tbsp lemon juice
Method
Slice each pepper in half, lengthwise. Remove the top stem and seeds.
Arrange the peppers in a single layer on the baking sheet and cut side down.
Bake until the skins are blackened and begins to crack.
Transfer the charred bell peppers to a medium bowl.
Cover the bowl with a plastic wrap or a large plate. Allow to cool.
Then peel off the charred skins and place the bell peppers in a food processor.
Add walnuts, bread crumbs, garlic cloves, lemon juice, chilli paste and cumin powder.
Process until smooth while slowly drizzling in the olive oil.
Serve with lavash (a soft, thin unleavened flatbread made in a tandoor), pita bread, lettuce or vegetables.
Do you have interesting Ramzan recipes to share?
E-mail your recipes getahead@rediff.co.in (subject: Ramzan Recipes) along with your NAME, LOCATION and a brief description of the recipe. We will publish select recipes on Rediff.com and India Abroad. ALSO SEE

Ramzan recipes: Sandalwood Kebabs and Khajur ki Kheer
Ramzan recipes: Want to make Lab-e-Shireen?
Ramzan special: 5 yummy chicken recipes