Here are some tongue tickling raw mango recipes to indulge in this summer. You can share your recipes too!
Think raw mangoes only make the best pickles?
Here are few recipes that will show you how to make the most of this super fruit.
Raw Mango Murabba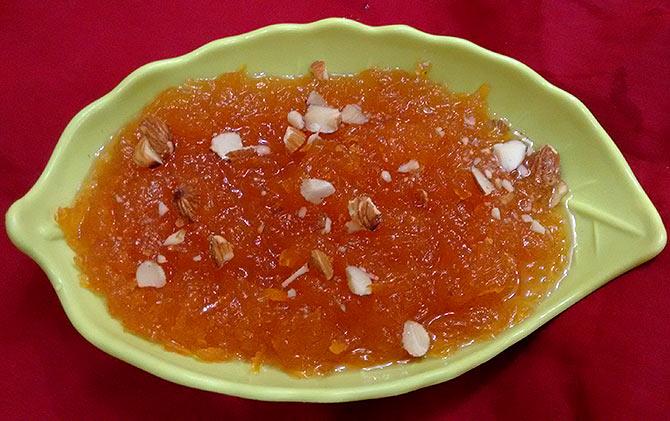 Photograph: Kind Courtesy Reshma Aslam
Ingredients
1/4 kg raw mangoes
200 gm sugar
1 tsp orange colour
2 inch piece of cinnamon stick
2 to 3 cloves
1/4 cup chopped dry fruits (cashews, almonds, chironji)
Method
Wash, peel and grate the mangoes.
Put it in a bowl of cold water to keep them from turning black.
Drain the water. Put it in a big vessel (in which it can be cooked).
Add sugar and orange colour. Mix well.
Add cinnamon stick and cloves.
Cook the mixture on medium to low flame.
Keep stirring and add dry fruits. Adding water isn't required as the mangoes and sugar will leave enough syrup for the mixture to get cooked.
When all the syrup is dried and it reaches to a single thread consistency, turn off the gas. The cooking time will be around 30 minutes.
The murabba is ready. Keep aside to cool.
Store in an air-tight container and refrigerate.
Serve with roti or bread.
Note: You can use the totapuri variety of raw mangoes for this preparation.
---
Raw Mango Chutney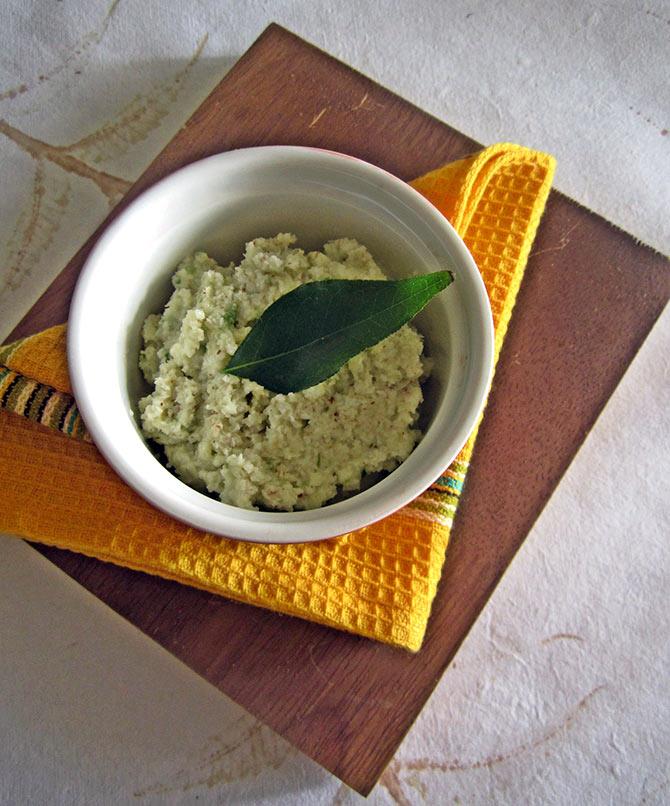 Photograph: Divya Kudua/Creative Commons
Ingredients
3 raw mangoes
4 green chillies
A small piece of fresh coconut
6 to 7 cloves of garlic
2 tsp roasted cumin powder
1/2 cup fresh coriander leaves
1/2 tsp rock salt
1 tsp mustard seeds
A small piece of jaggery
Few curry leaves
1 tbsp ghee or oil
Method
Wash and peel the mangoes. Cut them into small pieces.
Add garlic, jaggery, coriander leaves, coconut and green chillies and grind into a smooth paste.
Add rock salt and mix well.
In a separate pan, heat ghee or oil. Add mustard seeds.
Once they start fluttering, add curry leaves.
Add this mixture to the raw mango paste.
Raw mango chutney is ready. You can serve it with snacks of your choice.
---
Keri Panna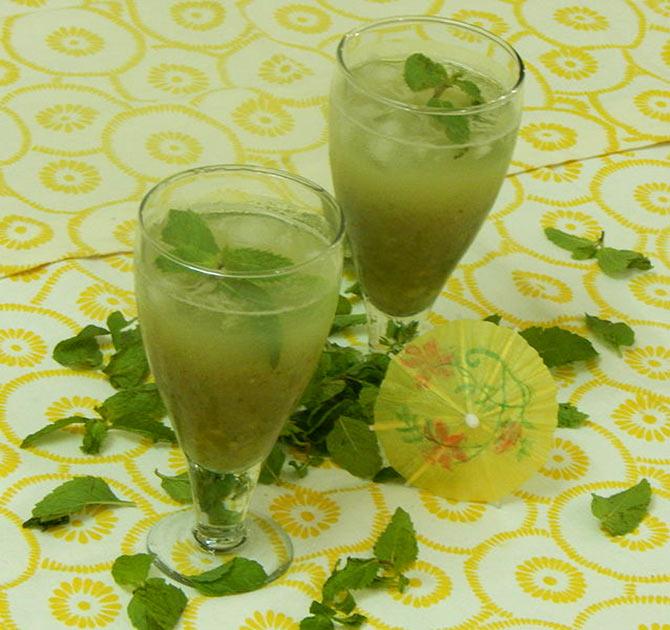 Photograph:

Zeel Patel / Wikimedia Commons



Ingredients
2 raw mangoes
1 cup sugar
1/2 tsp rock salt
1/2 tsp roasted cumin powder
Salt as per taste
Few mint leaves
2 cups water
Ice cubes as required
Method
Wash and chop the mangoes (with the skin) and put them in a pressure cooker along with two cups of water.
Pressure cook till one whistle. The mangoes should be soft.
Allow it to cool and remove the skin.
Take a big mixing bowl and place the peeled mango pulp.
Add sugar, rock salt, salt, cumin powder and mint leaves. Blend well in a blender.
Add ice cubes and mix it further.
Pass it through a sieve and serve chilled.
---
Mangai Sadam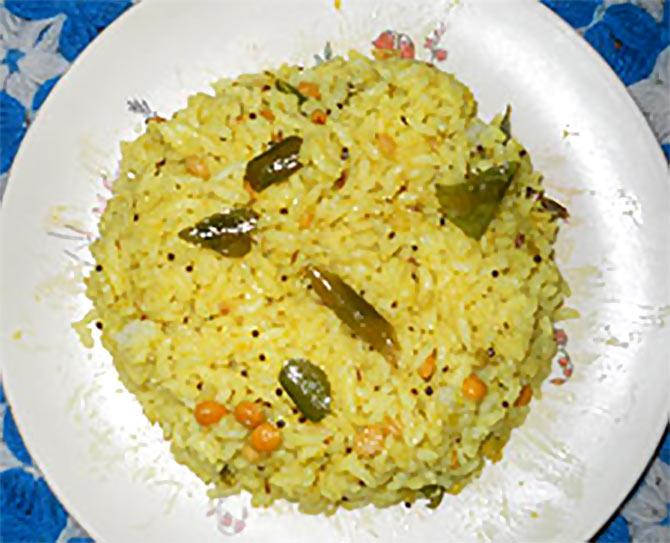 Photograph: Rediff Archives
Ingredients
1 cup raw mango (grated)
3 cups boiled rice
1/4 cup fresh coriander (chopped)
5 to 6 green chillies (chopped)
1 tsp turmeric powder
1 tsp asafoetida
2 tbsp chana dal (soaked in water for half an hour)
1 tsp mustard seeds
Few curry leaves
1 tsp cumin seeds
2 tbsp oil
Salt as per taste
Method
Heat oil in a pan. Add mustard seeds.
Once the seeds start to flutter, add curry leaves.
Add cumin seeds and chana dal. Fry it for few minutes.
Add chopped green chillies, turmeric powder, salt and hing. Fry the mixture for another two to three minutes.
Add grated mango and fry it yet again for three minutes.
Add rice and stir well. Simmer the gas.
Add fresh coriander leaves. Cover and cook for five minutes.
Mango rice is ready to serve.
ALSO READ
Recipe: Paneer with raw mango, a tasty experiment
Recipe: How to make Mango Mojito

Click here for interesting recipes and food features
Do you have an interesting mango recipe to share? Write in to us at getahead@rediff.co.in (subject: My Fav Mango Recipe) with your name, hometown and any interesting details about the origin of the recipe, along with a photograph if possible.
We'll publish the best preparations right here on Rediff.com and in India Abroad.