Mini Ribeiro gets five chefs from Mumbai to create and share unique mango recipes inspired by popular dishes.
Teen Aam Ki Phirni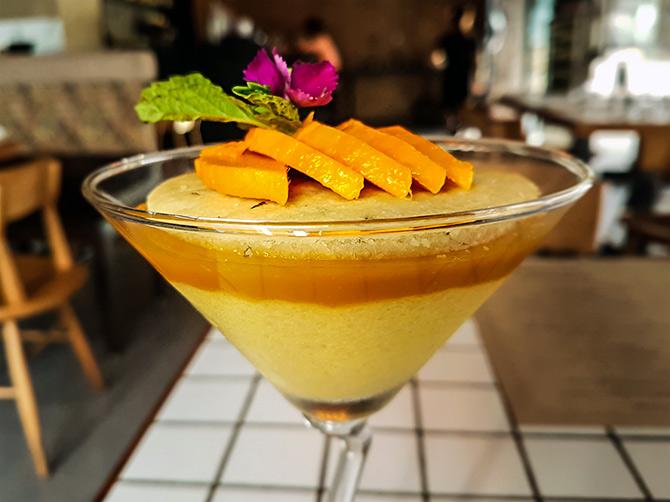 Recipe by Chef Siddharth Kalyanaraman, Sous Chef, Not Really Indian, BKC, Mumbai
Ingredients
60 gm rice
750 ml full fat milk
60 gm castor sugar
3 to 4 cardamom
1 alphonso mango
1 totapuri mango
1 badami mango
4 gelatin sheets (silver)
150 gm refined flour
125 gm butter
75 gm sugar
10 gm chopped mint leaves
Method
To make phirni, grind the rice into a coarse texture.
Bring the milk to a boil and add in the castor sugar and the cardamom. Once it dissolves, stir in the ground rice.
Continue to cook till the rice overcooks and absorbs most of the milk.
While the rice cooks, remove the skin from the mangoes, use one half of each of the mangoes and blend till smooth.
Once the rice is cooked, switch of the flame and let it come to room temperature. Stir in 3\4 th of the blended mango pulp.
Pour the phirni into a bowl or a glass to serve in and keep for chilling.
While the phirni chills, soak the gelatin sheets and take the remaining pulp and put on a gas and heat.
Once the puree is hot, remove from heat and stir in the sheets.
Let the mango mixture come to room temperature and then pour on top of the chilled phirni and keep to set.
While the jelly sets, make a dough for the cookie using the flour, butter, sugar and mint leaves along with 1 tbsp water and keep it in the fridge for 10 minutes.
Remove and roll it out, place it on a greased baking tray and bake for 20 minutes at 180 C.
Remove and let it cool.
To assemble, place the cookie on top of the phirni and jelly, garnish with slices of the three mangoes and a mint sprig.
Malabari Mango Kadhi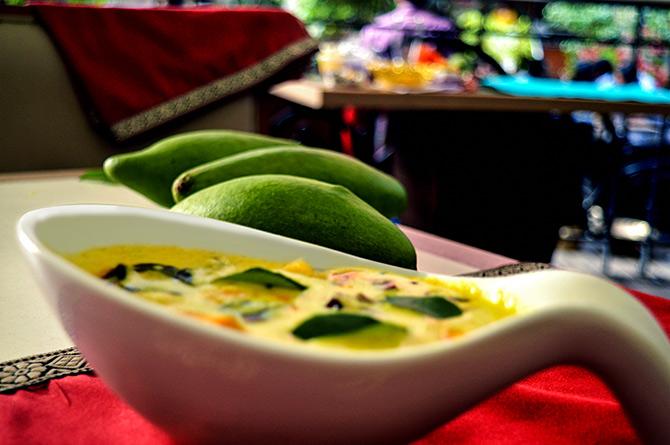 Recipe by Maharaj Jodharam Choudhary, corporate chef, Khandani Rajdhani
Ingredients
1 ripe mango cut into pieces
1 tsp roasted jeera
1 cup shallots
1 cup yogurt
½ tsp red chilli powder
½ tsp turmeric powder
1 tsp coconut oil
½ tsp mustard seeds
½ tsp fenugreek seeds
½ cup coconut rated
1 red chilli split
Few curry leaves
Salt to taste
A pinch of sugar
1 tsp coriander leaves chopped
Method
Cook mango in about ½ cup water for few minutes
Grind coconut, cumin, shallot onion, turmeric, chilli powder to a smooth paste adding water
Add the ground coconut paste to the mango and simmer for 3-4 mins.
Beat the curd with 1/2 cup water until smooth.
When the mango-coconut mixture has simmered for about few minutes, switch off the flame and add beaten curd. Mix well.
Heat oil in a small pan, for tempering.
Add mustard seeds, fenugreek seeds, red chilies, and curry leaves.
Add the tempered ingredients to the curry , mix well, add salt
Serve hot with rice.
Baked Mango Cheese Cake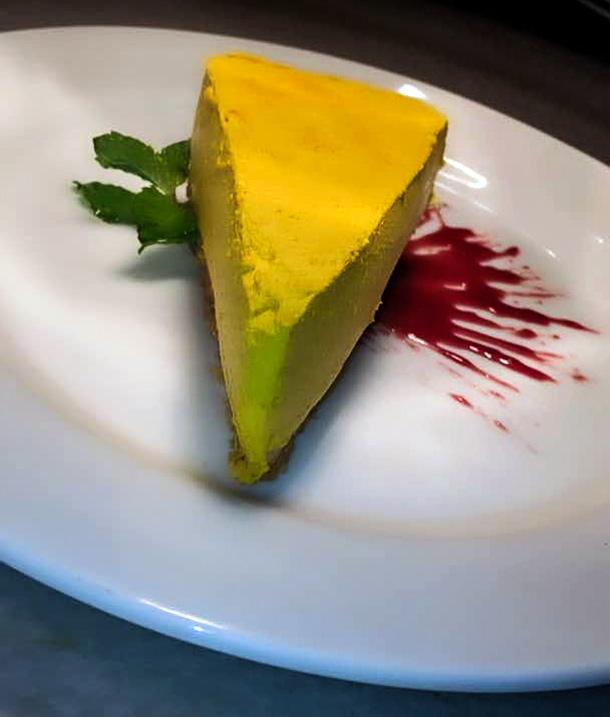 Recipe by chef Ajay Thakur, corporate chef, Café Mangii, Mirah Hospitality
Ingredients
65 gm walnut
45 gm digestive biscuits
50 gm butter
800 gm cream cheese
150 gm castor sugar
20 gm corn flour
4 eggs
400 ml milk (toned preferably)
40 gm mango pulp (fresh)
50 gm whipped cream
60 gm fresh mango sliced
Method
For the base
Roast the walnuts and lightly chop them.
Crush the biscuits and mix with the walnuts.
Cream down the butter and emulsify into the biscuit and walnut mixture.
In a loose bottom cake mould, spread the walnut and biscuit batter evenly so as to form the base of the cake.
Refrigerate for 15 minutes.
For the batter
Preheat the oven to 150 degrees Celsius.
In a large, dry mixing bowl, break the eggs and castor sugar. Whisk the eggs till light and fluffy.
Add in the milk and cream cheese, corn flour, fresh mango pulp and whisk rigorously till a smooth (lump free) batter is formed.
Remove the cake mould from the fridge and add in all the batter.
Place into the preheated oven. Bake for 45 minutes.
Remove the cake and leave to cool on a rack.
Using the mango slices and whipped cream, decorate the cake.
Serve chilled.
Mango Noel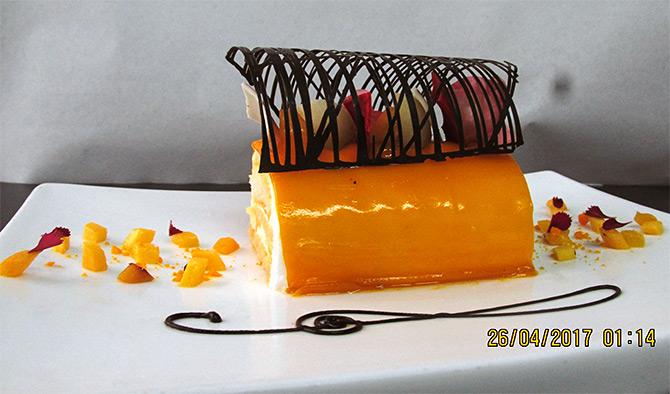 Recipe by Pastry sous chef Mastraj Singh, Hotel Marine Plaza

Ingredients
4 egg yolk
25 gm sugar
4 egg white
60 gm sugar
10 ml vanilla essence
80 gm flour
10 gm corn flour
50 ml refined oil
80 gm almond powder
150 ml cream
60 gm mango puree
50 gm chopped mango
30 gm mascarpone cheese
Edible flowers and mango slice for garnish
Method
Beat the yolks and sugar along with vanilla essence and set aside.
In a separate bowl beat egg white and sugar and fold it into the whipped yolk mixture
Fold in the sieved flour, corn flour and almond powder and finally add oil into it.
Spread out into the baking tray and bake it at 200 C for 8 minutes.
Whip cream mascarpone cheese together.
Add mango pure and chopped mangoes and fold it.
Spread the mixture on the baked sponge and roll it.
Pour in the mango puree on the top and garnish it with edible flower and sliced mangoes.
Mango and Mint smoothie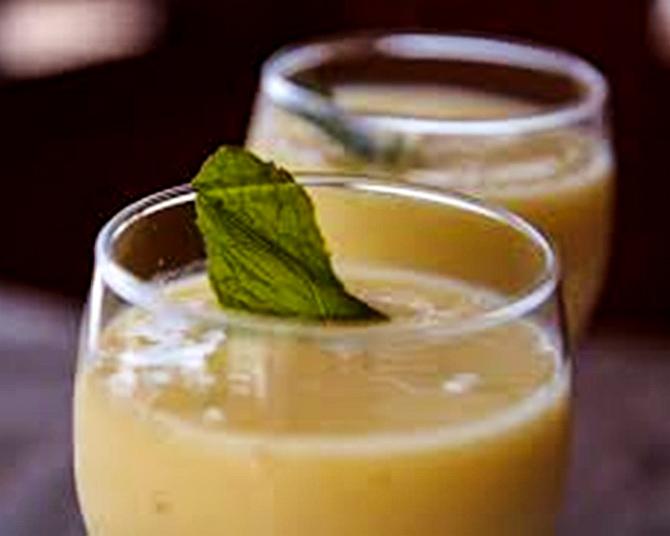 Recipe by Sandeep Sharma, Beverage Manager, Café Mezzuna

Ingredients
90 ml mango juice
45 ml whipped cream
some mint leaves
Some khus leaves
Method
Put all ingredients (except mint leaves) with some ice in a blender.
Blend until smooth.
Put mint leaves in an imperial glass.
Pour the rest of the mixture in the glass and serve.
MORE MANGO RECIPES
Do you have an interesting mango recipe that you'd like to share with us?
Send us your favourite recipes along with a small description and the story behind it.
Email us on getahead@rediff.co.in (subject: My Mango Recipe) along with your NAME, AGE, LOCATION and a photograph of the recipe, if possible. We'll publish the best ones on Rediff.com.