Before the summer gets over, here are some really cool mango recipes you must try your hand at.
Reshma Aslam shares some exotic but easy-to-make mango recipes.
Mango Ice-cream in Chocolate bowl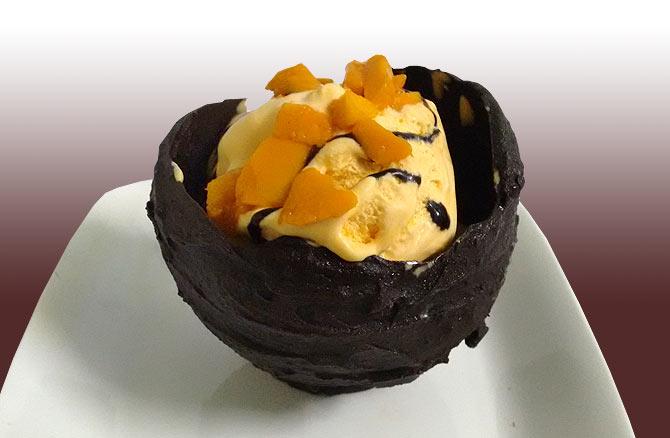 Ingredients
For ice-cream
2 cup heavy cream
200 ml condensed milk
1 cup mango pulp
1 tsp vanilla essence
For chocolate bowl
100 gm dark chocolate
1 balloon
Method
For chocolate bowl
Blow the balloon and keep it in the refrigerator. The balloon should be the size of a regular serving bowl.
Melt the dark chocolate. Take care that it is not too runny.
Take a plate, put a small spoon full of chocolate on it. Keep aside.
Remove the balloon from the refrigerator and dip it in the bowl with melted dark chocolate.
Coat the balloon with the chocolate to create a bowl shape.
Place the chocolate balloon on the plate with spoon full of chocolate and allow it to set for an hour or so in the refrigerator.
Pop the balloon and remove it from the chocolate bowl.
Chocolate bowl is ready.
For ice-cream
In a bowl, add heavy cream and beat well till peaks are formed.
If you using an electric beater, beat it for 6 to 7 minutes and if using hand beater then beat it for 15 minutes.
Add the condensed milk and beat it again.
Add the mango pulp, vanilla essence and gently mix it well.
Place it in an airtight container and deep freeze overnight
Mango ice-cream is ready
How to serve
Take the chocolate bowl and add desired scoops of ice-cream into it.
Garnish it with fresh mango pieces and serve.
Mango Strawberry Trifle
Makes: 2 to 3 glasses
Ingredients
1 cup mango, chopped
Small vanilla sponge cake
1 cup vanilla custard sauce
1 cup mango juice (Maaza or Slice will do)
1/2 cup whipped cream
1 packet strawberry rex jelly
1 trifle glass
Method
For strawberry jelly
Read the instructions on the jelly packet and set it accordingly.
Add less water than what has been mentioned in the instructions on the packet.
When the jelly is set, cut it into small pieces and keep it aside.
Break the sponge cake into small pieces.
Add the pieces into the trifle glass.
Add 1 to 2 tbsp of mango juice over the cake.
Add some chopped mango and 2 tbsp of custard sauce.
Add few jelly cubes and one layer of whipped cream.
Repeat the same process of adding cake, juice, mango pieces, sauce, jelly and whipped cream.
Mango strawberry trifle is ready to be served.
You can make 2 to 3 such glasses with the above mentioned ingredients.
Mango Jelly Cubes
Ingredients
2 cup mango pulp
3 tsp agar-agar
1 and 1/2cup water
1 cup sugar
1 lemon
Method
Take water in a bowl and add agar-agar. Let it dissolve well.
Bring the water to boil till all the agar-agar dissolves.
Add sugar and bring it to boil again.
Add mango pulp and remove from heat.
Add the juice of lemon and keep on stirring till it cools down.
Put the entire contents on a cake tray and let it set in the fridge.
When set, cut into small cubes and serve chilled.
Mango Souffle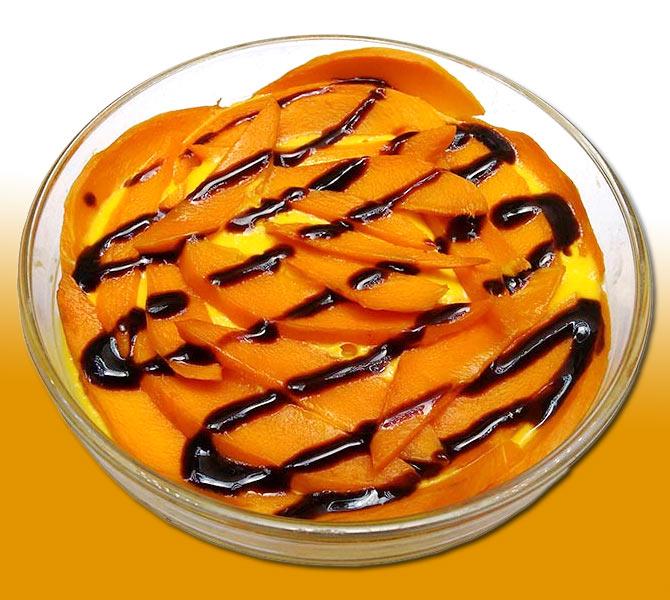 Ingredients
Pulp of 2 mangoes
200 gm fresh cream
4 tbsp powdered sugar
1 tbsp gelatine
1 lemon
Method
Take a mixing bowl and add fresh cream.
Beat it well, add sugar and beat it further.
When sugar dissolves, add mango pulp and beat well again.
Take a small bowl and add the gelatine.
Add hot water and stir well till the gelatine dissolves.
Add this gelatine in the mango mixture.
Add lemon juice and mix well.
Set it in a bowl.
Garnish it with fresh mangoes and serve.
No Bake Mango Cheese Cake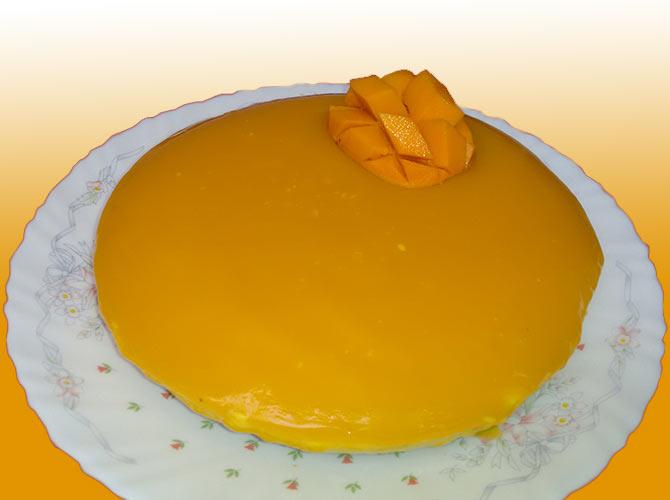 Ingredients
For the filling mixture
4 ripe mangoes pureed
1 tbsp gelatine dissolved in 2 and 1/2tbsp hot water
2 tbsp sugar
Mix all the above ingredients and keep it aside.
For the crust
1 cup digestive biscuits powdered
2 tbsp butter
For Cheese Cake
200 gm cream cheese
1 cup sugar
1/2 tsp vanilla essence
1 cup whipped cream
For Mango Glaze
1/2 cup mango puree
2 tbsp sugar powdered
1/2 tsp gelatine dissolved in 1 tbsp water
Method
For the crust
Take the ingredients of the crust in a mixing bowl and mix well.
Set this mixture in the base of a spring form cake pan.
For cheese cake
Beat the cream cheese well till nice and fluffy.
Add sugar and beat well.
Add whipped cream and beat again.
Add filling mixture and beat again.
Assemble the entire contents on the cake crust.
Let it set in the fridge for an hour.
For mango glaze
Mix all ingredients of the mango glaze well.
Remove cake from the fridge and pour the above mixture over it.
Let it set in the fridge overnight. Serve.
Photographs: Kind courtesy Reshma Aslam
Have an interesting recipe to share?
Write in to us at getahead@rediff.co.in (subject: Recipe) with your name, hometown and any interesting details about the origin of the recipe, along with a photograph if possible.
We'll publish the best preparations right here on Rediff.com and in India Abroad.