Check out these six healthy recipes to satiate your sweet tooth this Navratri.
With the festive season in full swing, traditional sweets are on everyone's mind.
But one has to balance indulgence with calories to make one's guilty pleasures acceptable.
A lot of sweets and desserts can be made by simply substituting some ingredients. One merely needs to be imaginative.
Mini Ribeiro gets five chefs from across India to share healthful, lip-smacking dessert recipes.
Gur Shakarkandi aur Nariyal ka Halwa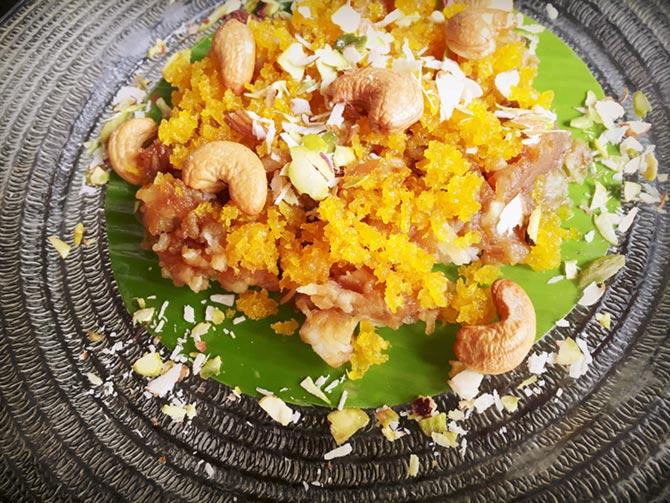 IMAGE: Recipe by c

hef Alok Verma, The Imperial, New Delhi.
Ingredients
450 gm sweet potato
150 gm freshly grated coconut
75 gm jaggery
50 gm cashewnuts
150 gm desi ghee
5 gm green cardamom
A pinch of saffron
Method
Boil the sweet potatoes and mash them with the help of a fork.
Heat ghee in a non-stick pan over moderate heat.
Add cashewnuts and fry until golden brown. Set aside.
Add grated coconut, jaggery, saffron to the same pan and saute until the mixture starts to caramelise.
Add mashed sweet potatoes to the pan.
Cook for another 10 to 12 minutes or until the halwa start to leave the sides of the pan.
Add cardamom powder and cashewnuts. Stir again.
Remove from the heat. Serve hot or cold.
---
Khajur ke Payesh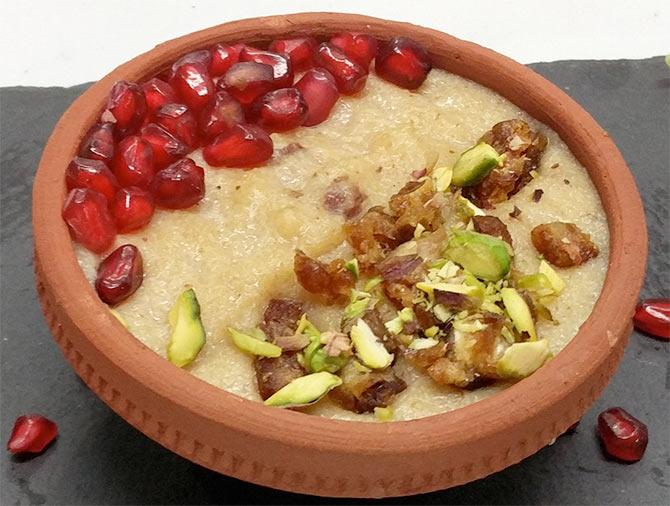 IMAGE: Recipe by executive chef Mayank Kulshreshtha, ITC Maratha, Mumbai.
Ingredients
100 gm rawa/sooji
100 gm dates
80 gm ghee
50 gm jaggery
30 gm sugar
10 gm cardamom
800 ml milk
Method
Heat a pan on low flame. Add ghee and rawa. Roast it well.
Add dates, milk, sugar and jaggery. Stir it well.
When the mixture starts to boil, lower the flame and let it simmer.
Keep stirring often until the whole mixture starts to thicken and leave the edge of the pan.
Sprinkle cardamom. Serve warm.
---
Paushtik Ladoo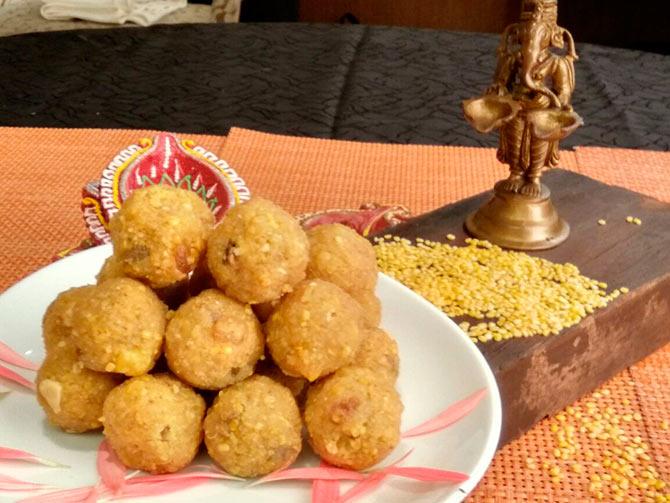 IMAGE: Recipe by executive chef Sudhir Pai, Holiday Inn, Mumbai International Airport.

Ingredients
100 gm moong dal flour
50 gm rice flour
100 gm wheat flour
50 gm urad dal
75 gm besan ladoo flour
75 gm ragi (nachni) flour
50 gm soya bean flour
550 gm jaggery
350 gm ghee
40 gm dry dates powder
40 gm almond powder
40 gm edible gum
20 gm desiccated coconut
1/2 tsp nutmeg
1 tsp cardamom
Method
In a thick bottom pan, roast all the flours in a little ghee time on a low flame for three minutes each. Keep aside.
In the same pan, roast urad dal in a teaspoon of ghee.
Cool it and make a coarse powder. Keep aside.
In another pan, take some ghee and add edible gum. Fry it for some time. Keep it aside.
In the same ghee, roast dry dates powder. Keep aside.
In a large bowl take roasted dry dates powder, almond powder, grated jaggery, desiccated coconut and fried edible gum broken to coarse powder, all the roasted flours and coarsely powdered urad dal.
Heat the remaining ghee in a pan. Add to the above mixture and mix it well so that all the ingredients are properly blended with the flour.
Grease both your palms with little ghee and start shaping the mixture into ladoos rolling them in your palm. You will approximately get 35 healthy and nutritious laddoos.
Store them in an airtight jar.
Note: The ladoos can be stored for 12 to 15 days.
---
Shrikhand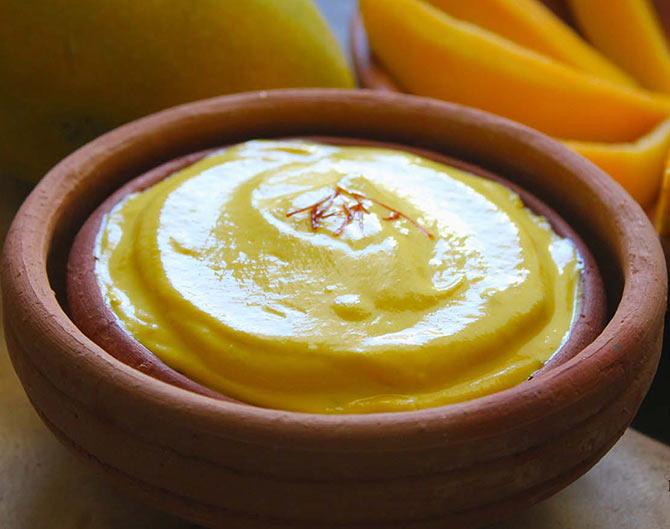 IMAGE: Recipe by executive chef, Yatendra Rawat, The Westin Chennai, Velachery.

Ingredients
500 gm hung yoghurt
8 tbsp powdered sugar
1/2 tsp cardamom powder
2 pinch saffron strands
10 ml of warm milk
5 pistachios, sliced for garnishing
Method
Mix saffron with milk and keep aside.
Add fine sugar and cardamom powder to hung yoghurt.
Stir until sugar is completely dissolved. Add this to the saffron and milk mixture.
Whip until smooth. Sprinkle sliced pistachio on top. Serve chilled.
---
Chitoi Pitha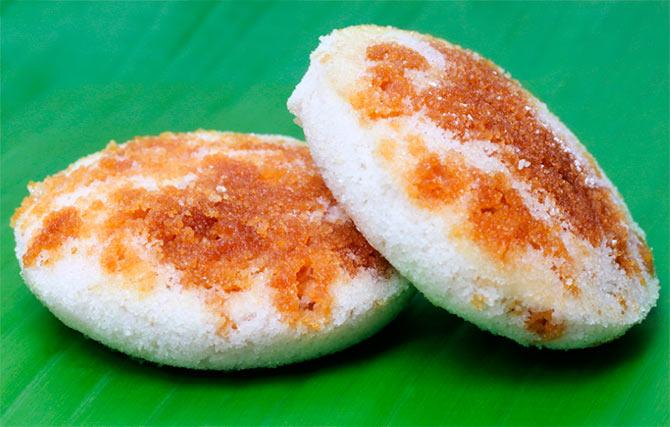 IMAGE: Recipe by chef Rajat Kumar Roy, Pastry chef, Hyatt Regency, Kolkata.
Ingredients
200 gm rice flour
8 gm salt
2 gm baking soda
600 ml lukewarm water
5 gm green cardamom powder
Method
Make a smooth, runny batter with all ingredients. Make sure there are no lumps in the batter.
Heat a pan and place egg ring.
Add one-third cup of the batter. Cook for 150 to 180 seconds under closed lid until there are many tiny holes on the surface.
Take out the chitoi pitha. Repeat the process with the remaining batter.
Serve with palm sugar and grated coconut (optional).
---
Khajoor Anjeer aur Gulab ke Ladoo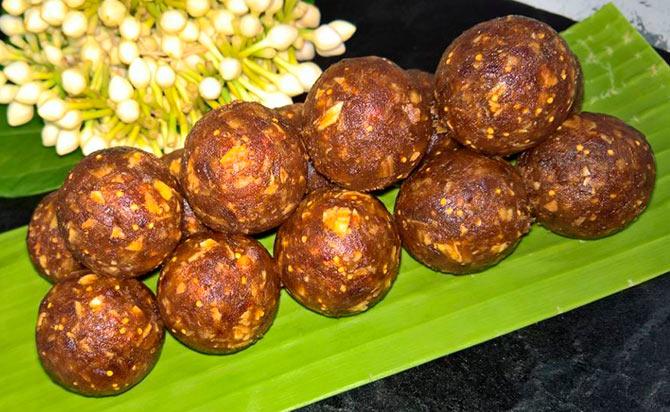 IMAGE: Recipe by chef Prashant Tikadia, The Fern, Ahmedabad.
Ingredients
400 gm seedless dates
150 gm anjeer, finely chopped
50 gm gulkand (figs)
2 gm green cardamom powder
5 gm white til (sesame seeds)
5 gm black til
10 gm oats
5 gm pure ghee
20 gm dry desiccated coconut
Method
On low flame roast oats in a pan.
Once done, allow to cool for few minutes and crush it.
Mix oats with the rest of the ingredients, except pure ghee.
Rest in a cool place for 10 minutes.
Add pure ghee and mix well.
Make equal size of roundels.
Serve at room temperature.
Note: The ladoo can be coated with crushed muesli or crushed cornflakes too. For children, it can be converted into lollypop or put on a candy stick.
---
Write in to us at getahead@rediff.co.in (subject line: Navratri Recipes) with your name, hometown and any interesting details about the origin of the recipe, along with a photograph if possible.
We will publish the best preparations on Rediff.com.