This traditional fasting food is quite filling and simply hard to resist.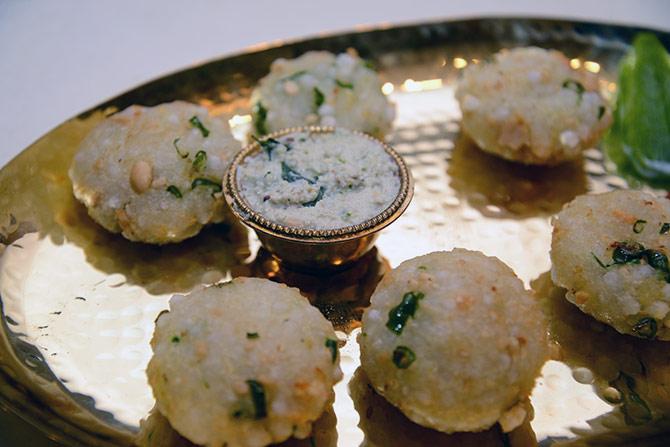 The sabudana and semolina are some of the best alternatives to rice during the fasting season.
They're easy to cook and quite filling too.
Here's a simple recipe of Sabudana Vada made with sago and potatoes:
Ingredients
1 cup sabudana
3 to 4 medium-sized potatoes, boiled
1/2 cup peanuts
1 tsp jeera
1-2 green chillies finely chopped
2 tsp lime juice
1 tbsp chopped coriander leaves
1 1/2 tsp sugar or as required
3 tbsp kuttu ka atta
Rock salt as per taste
Oil for frying
Method
Soak the sabudana in water for five hours at least or overnight.
Drain the water.
In a bowl, mash the potatoes and add sabudana; mix them into a dough.
On a skillet or in a shallow pan, roast peanuts till they become crisp.
Allow the mixture to cool and then coarsely powder it in a dry grinder.
Add rock salt, sugar, green chillies, coriander leaves, lemon juice and powdered peanuts to the potato, sabudana dough. Mix well.
Take some portion of the mixture in your hands and shape them into flat round vadas.
Deep fry the vadas till they turn golden brown.
Serve hot with chutney of your choice.
Photograph Courtesy Khandani Rajdhani
Reader Invite
Do you have an interesting fasting recipe that you'd like to share with our readers?
Simply e-mail your recipe to getahead@rediff.co.in (subject line: 'Navratri fasting recipes') with your name, hometown and any interesting details about the origin of the recipe, along with a photograph, if possible.
We will publish the best preparations right here on Rediff.com.
ALSO READ
Click here for interesting food recipes and features!