We had asked you, dear readers, to share your favourite festive recipes with us.
Rediff reader Charu sent us these yummy recipes. You can share yours too!
This Diwali, delight your loved ones with these delectable Indian desserts!
Khoya Peda
Made from brown khoya, powdered sugar flavoured with cardamom powder and garnished with almonds and pistachios, Khoya Peda is very quick to make and is an ideal sweet for Diwali.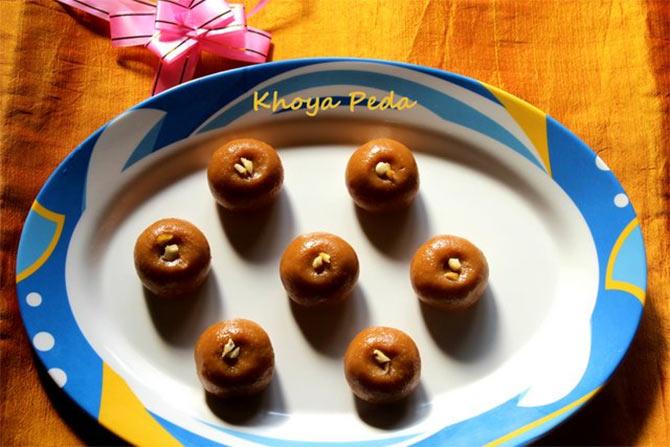 Ingredients
1 cup khoya or mawa
1/4 cup sugar
3 to 4 cardamom pods
2 tbsp ghee
Chopped almonds and pistachios for garnishing
Method
Crumble the khoya to pieces by hand and set aside.
Peel the cardamom pods and remove the seeds. Powder the sugar along with the cardamom seeds to a fine powder.
Heat 1 tbsp of ghee in a non-stick pan on a low heat. Add the crumbled khoya and stir for a minute.
Add powdered sugar-cardamom to the khoya and mix well.
The sugar will start melting slowly. Keep stirring the mixture continuously on low heat.
Soon the mixture will start thickening and leave the sides of the pan. The mixture will get to a thicker consistency. It will take about 7 to 8 minutes.
Keep stirring continuously on low flame to prevent burning. Once all the moisture evaporates, the mixture will thicken. At this stage, switch off the flame.
Remove the mixture to a plate and spread them. Allow to cool down
Once cooled down, smear ghee to your hand and divide the mixture into small balls and press lightly in the centre.
Garnish the centre of the peda with chopped almonds and pistachios.
Khoya Peda is ready to be served.
Notes
You can refrigerate khoya pedas upto a week. Store them in an airtight container. I have added only 1/4 cup of sugar. You can increase the sweetness by adding more sugar.
Kalakand
Kalakand also known as Sandesh is a very popular and delicious Indian sweet made from sweetened condensed milk, cottage cheese and milk powder.
Ingredients
250 gm paneer or cottage cheese
200 gm condensed milk
2 tbsp milk powder
1/4 tsp cardamom powder
Few almonds and pistachios for garnishing
Method
Soak the pistachios in hot water for 2 to 3 minutes.
Drain the water and remove the skin of pistachios. Chop them into small pieces. Also chop the almonds into pieces and set aside.
Take a cake tin and smear ghee on the surface of the tin. Apply butter paper inside the tin and again apply ghee on the butter paper too. Keep it ready.
Grind the paneer in a mixer to a coarse paste or crumble the paneer pieces by hand. Set aside.
Heat a heavy bottomed pan on a low flame. Add crumbled paneer, condensed milk and milk powder and mix well. Keep stirring continuously to prevent burning at the bottom of the pan.
Cook for few minutes. The mixture will start thickening. Add cardamom powder and mix well.
Once the mixture starts leaving the sides of the pan, transfer the mixture to the prepared tin and spread evenly with a ladle.
Allow the kalakand to cool for a while. Garnish kalakand with chopped almonds and pistachios.
Cut into desired pieces.
Remove the kalakand from the tin. Separate the pieces and arrange them in a serving plate.
Notes
Always use fresh paneer for making kalakand as sour paneer gives a different taste. It is a good option to use sweetened condensed milk as it is readily available in the market and can make kalakand quickly. You can use different cookie cutters to give attractive shape to kalakand and present it beautifully during festivals or special occasions. Ensure to stir the mixture continuously to avoid burning at the bottom of the pan. Grind the paneer to a coarse and grainy paste and not very smooth paste. This gives a good texture to kalakand.
Karida Kadubu
Karida kadubu is also called as karanji in Maharashtra.
It is a sweet deep fried dumpling stuffed with jaggery and coconut filling.
The outer cover is made with all purpose flour and semolina and the inner filling is made with a mixture of grated coconut and jaggery.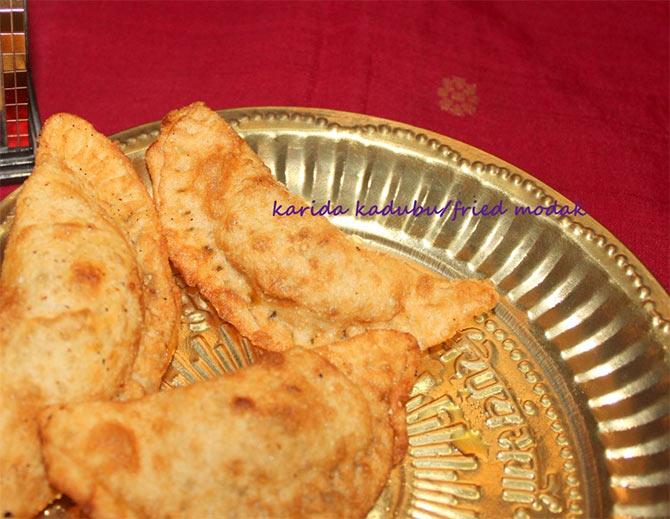 Ingredients
1 cup all purpose flour/maida
1/4 cup fine rava/semolina or chiroti rava
1 cup grated Jaggery
1 cup freshly grated coconut
1/4 tsp cardamom powder/elaichi
1 tbsp khus khus/roasted poppy seeds (optional)
1 tbsp ghee
Oil for deep frying
Method
Heat ghee in a pan. Add grated jaggery and coconut.
Cook on a medium flame, till the jaggery is melted and mixed well with the coconut.
Add poppy seeds and cardamom powder and mix well. Remove from heat.
Allow the coconut mixture to cool down and set aside.
For the cover in a bowl add maida, rava, 1 tsp of oil and little water. Knead into a smooth but stiff dough. Keep it covered with a damp cloth for half an hour.
Take a small dough and roll into a 3 inch diameter circle. Keep a spoonful of coconut mixture in the centre.
Wet the edges of the circle with little water and close it to the other side forming a half moon shape.
Take a fork and give impressions on the edges by pressing with back of the fork. (Alternatively, you can also use the mould for giving shape to the kadubus)
Heat sufficient oil in a heavy bottomed kadai. Deep fry the kadubus on both the sides till golden brown. Drop 2 to 3 kadubus at a time and deep fry on medium heat. Drain them on absorbent paper to remove excess oil. Kadubus are crispy when served hot.
Serve kadubus hot or warm.
Notes
You can use sugar instead of jaggery to make kadubus. Also the outer layer can be prepared by using wheat flour instead of maida.
Gulab Jamun
It gets its name from Gulab which means rose for the rose flavored syrup and Jamun which is the deep fried light or dark brown dumplings.
Gulab jamun is best served warm or cold or at room temperature or topped with ice-cream.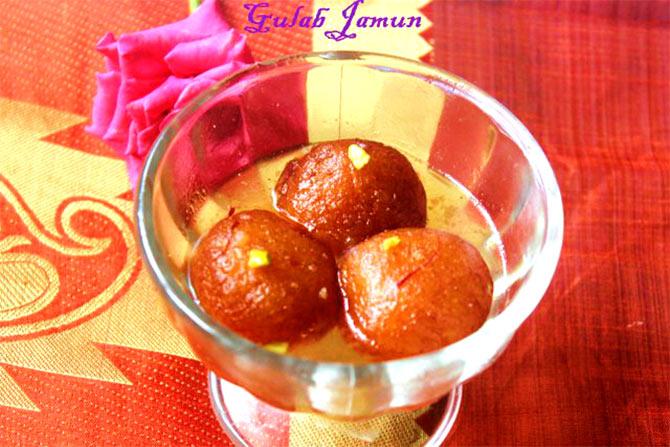 Ingredients
1 cup khoya
3 tbsp all purpose flour or maida
1/4 tsp cooking soda
Oil for deep frying
For the sugar syrup
1 and 1/2 cup sugar
1 and 1/2 cup water
10-12 saffron strands
3 to 4 drops rose essence
1/4 tsp cardamom powder (optional)
Method
Crumble the khoya thoroughly or mash it well by hand. Ensure there are no lumps or pieces in the khoya.
Take a mixing bowl and add the crumbled khoya. To this add maida and cooking soda and mix well.
Add very little water or just sprinkle water to form a smooth and soft dough. No need to knead the dough. Just gather them together to form a dough. Cover the dough aside for 15-20 minutes. Roll out gently to make smooth balls out of the dough.
Heat a heavy bottomed pan on a low flame.
Add sugar, saffron strings and water and heat the sugar solution till the sugar is completely dissolved. Do not make it too sticky.
Add cardamom powder and mix well.
Switch off the flame once the sugar is dissolved fully. Ensure that it does not reach the one string consistency.
Heat oil in a pan on medium flame. When it is medium hot, lower the flame and gently slide the balls into the oil.
Roll the jamuns with a ladle for even cooking and colouring. Add 3 to 4 jamuns at a time so that it is evenly cooked.
Remove the fried jamuns into an absorbent paper to remove the excess oil. Place the hot jamuns into the warm sugar syrup. Finally add rose essence. Cover and let it rest for an hour. This helps the jamuns to absorb the sugar syrup well. They also increase a bit in size.
Serve gulab jamuns hot or warm or garnished with nuts of your choice. You can also refrigerate and serve chilled topped with icecream.
Notes
Don't knead the dough. Just gently mix and form the balls. If the mixture is dry, add few drops of milk or water and then form balls.
Ensure there are no lumps or small bits in the khoya. You can also grate the khoya.
Ensure there are no cracks in the balls. Otherwise it might break while frying.
While deep frying, oil should be low hot to ensure even cooking and colouring. Or else it gets browned fast.
The sugar syrup should be warm before you add the fried jamuns to the sugar solution. The syrup should be prepared earlier and kept warm.
If the oil is too hot, then the gulab jamuns tend to break. Adjust the flame to ensure that the gulab jamuns do not break or cook too quickly.
You can make small balls as they tend to increase in size once it is soaked in sugar syrup.
Shahi Tukda
Shahi Tukda is a bread pudding dessert of fried bread slices soaked in warm milk with saffron strings and cardamom.
This dessert is said to have its origin in Pakistan and is widely regarded as a rich cuisine propogated during the Mughal era.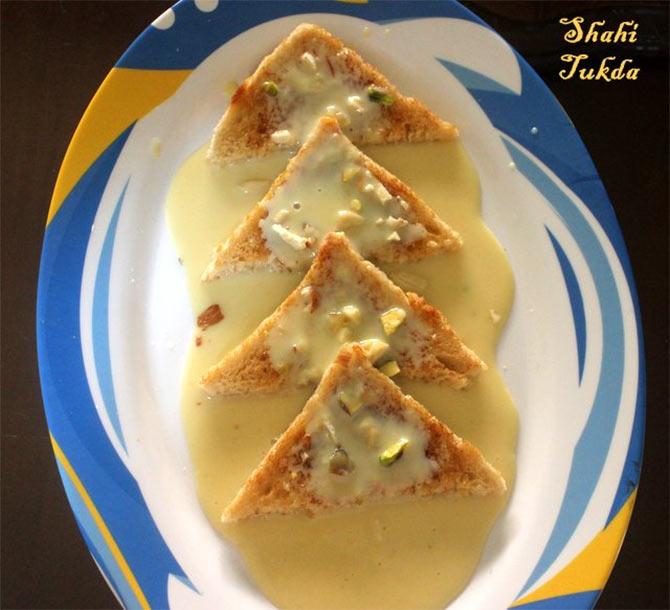 Ingredients
4 slices white bread or brown bread
2 cup milk
1/4 cup condensed milk
3 tbsp sugar
1/4 tsp cardamom powder
5-6 saffron strings
1 tbsp almonds
1 tbsp pistachios
1 tbsp cashewnuts
4 tbsp ghee (for shallow frying)
Method
Take the bread slices and remove the crust from all the sides of the bread.
Cut each slice into 2 triangular pieces and keep it aside.
Chop the almonds, pistachios and cashewnuts into small pieces and keep it ready for use.
Boil 2 cups of milk in a heavy bottomed pan on a medium flame. Once it reaches a boil, lower the flame and boil for another 20 to 25 minutes stirring occasionally, till the milk becomes thick and reaches around 1 cup.
Add condensed milk, sugar, cardamom powder, few chopped nuts and saffron strings and mix well. Boil for another 3 to 4 minutes, stirring occasionally.
Switch off the flame. The thickened milk mixture or the rabdi is now ready. Let it cool down and reach room temperature.
Brush the bread slices with ghee on both the sides.
Heat a non-stick pan or tawa on a medium flame. Shallow fry or toast the bread slices on both the sides till golden brown and crispy. Transfer them to a plate.
In a serving plate, arrange the fried bread slices. Pour the condensed milk or rabdi over bread covering all the sides.
Garnish with the remaining chopped pistachios, almonds and cashewnuts.
Shahi tukda is now ready to be served.
It can be served as a hot snack in the breakfast or as a chilled dessert.
Notes
If you do not want to use condensed milk, boil the milk for a longer period and increase the amount of sugar.
You can deep-fry the bread slices for more better taste. But if you want a low calorie dessert, toast the bread slices in an ovnr or toaster.
Keep stirring the milk continuously while boiling, to prevent sticking and burning of milk.
You can keep the fried bread slices and rabdi ready. Assemble just before serving, otherwise the bread gets soggy.
Photograph: charuscuisine.com
ALSO SEE:
Send us your favourite festive recipes. Write in to us at getahead@rediff.co.in (subject: Festive Recipes) with your name, hometown and any interesting details about the origin of the recipe, along with a photograph if possible. We'll publish the best preparations right here on Rediff.com and in India Abroad.