We had asked you, dear readers, to share your favourite festive recipes with us.
Debjani Chatterjee shares an interesting dessert recipe. You can share yours too!
Presenting Debjani's Eggless Chocolate and Pistachio Mousse recipe: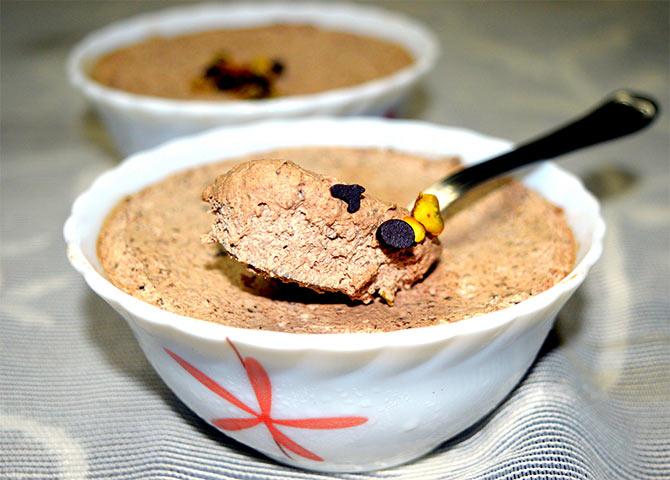 Ingredients
500 ml whipping cream (I used whipping cream with added sugar)
100g semi-sweet chocolate
1 tbsp butter
20 to 25 pistachios
1 tbsp chocolate chips (to garnish)
Method
Chop pistachios using a sharp knife.
Melt take semisweet chocolate and butter in a double boiler over simmering water. (Boil 2 cups of water. Lower flame and place bowl with chocolate and butter over the simmering water). It took me around a minute and half to melt the chocolate in double boiler.
You can also microwave the chocolate butter mix for 40 seconds in high speed to melt the chocolate.
Refrigerate the bowl to be used for whipping the cream and the whipping attachment for 2-3 hours before making the frosting.
Whipping cream also needs to be refrigerated. I kept it in the freezer overnight.
Take the cream in the cold bowl and using the whipping attachment of the blender start blending on medium speed for 2 minutes and then on high speed for one more minute.
Add melting chocolate and two-third of the chopped pistachios to the whipping cream and blend for another 30 seconds in medium speed.
The mousse should have a thick consistency; you should be able to turn the bowl upside down without the mousse falling out. In case it is not thick enough blend it for 20 seconds more.
Refrigerate for 30 minutes before serving.
Garnish with chocolate chips and chopped pistachios.
Note
I used whipping cream with added sugar hence did not add extra sugar. If you are using plain whipping cream add sugar as per taste.
Photograph: kitchenofdebjani.com
Send us your favourite festive recipes. Write in to us at getahead@rediff.co.in (subject: Festive Recipes) with your name, hometown and any interesting details about the origin of the recipe, along with a photograph if possible. We'll publish the best preparations right here on Rediff.com and in India Abroad.