Mini Ribeiro lists down 10 of her favourite comfort monsoon foods.
Monsoons, undoubtedly perk up the taste buds.
When it pours, one craves for hot and spicy food. But with the rains, come several ailments, so one needs to be careful of what one eats.
Use garlic, ginger, pepper, turmeric, asafoetida, cumin (jeera) and coriander liberally while cooking, as these enhance the digestive power and improve immunity during monsoons.
Include bitter vegetables like fenugreek (methi) and bitter gourd (karela) in your diet to prevent infections.
With respect to health, spicy or chatpata foods are a must to combat the gloomy grey skies and tease the palate.
Given the diverse cuisine of India, there are several dishes, which are associated with monsoon indulgence.
Take a look!
1. Kanda Bhajis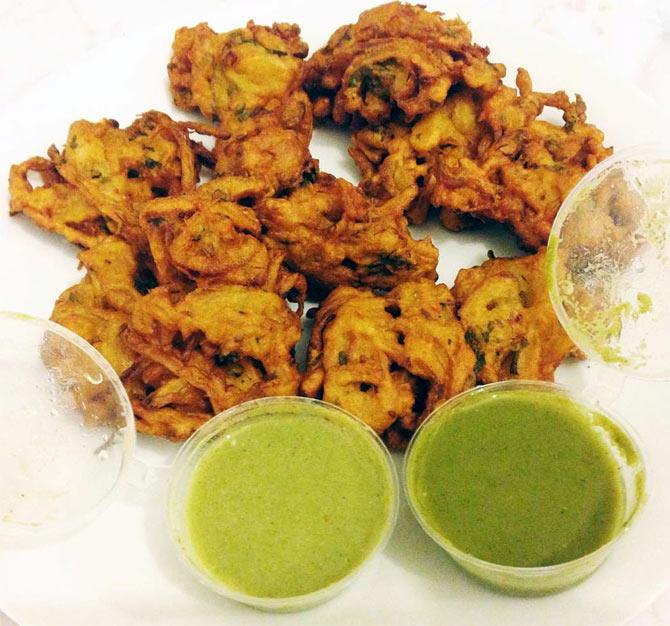 Photograph: Kind Courtesy joannefdes4/Instagram
Who can resist a plate of crisp Kanda Bhaji or Onion Pakora during the rains?
Slices of onions, finely chopped green chillies, dipped in chickpea batter or besan and deep-fried, are undoubtedly the numero uno rain food in India.
We all relish these with chutney or a basic tomato sauce, as we watch the rains from our windows and verandah.
The crunch of the pipping hot onions -- along with the spice -- is what appeals to me and makes this my all-time favourite.
Roadside stalls across India are the best places to savour these, but during monsoons you may prefer hotels and restaurants, for the purpose of hygiene.
2. Mughlai Paratha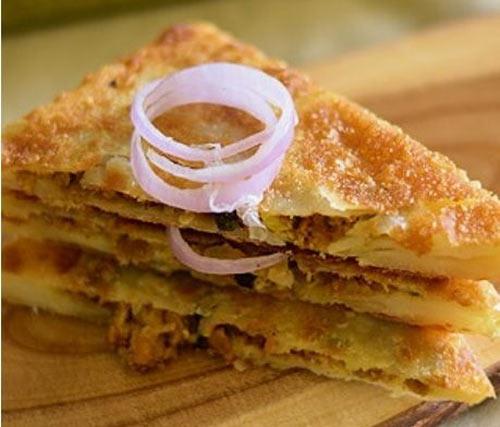 Photograph: Kind Courtesy

Hyatt Regency Kolkata
The ultimate comfort food for me is Mughlai Paratha from Kolkata.
Served with a finely chopped salad and potato (aloo) preparation, this is a filling snack and can substitute for a meal too.
The paratha is generously filled with minced meat and eggs and is fried on a tawa.
Oily, without a doubt, this is one of my guilty pleasures during the rainy season.
Several small eateries in Kolkata serve this food item, but I like the one prepared at Mukherjee Sweets, a sweet and savoury shop in Ballygunge, South Kolkata and Hyatt Regency Kolkata.
3. Dimsums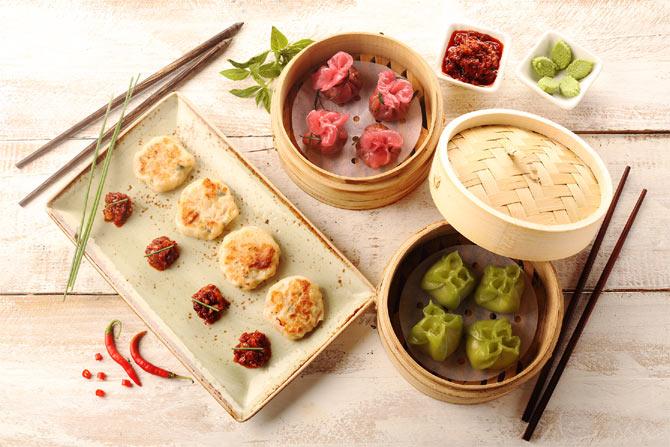 Photograph: Kind Courtesy Shiro

The steamed or pan fried dumplings filled with chicken, seafood, meat or vegetables or blends of several ingredients are traditionally eaten with soup.
There can be nothing more appeasing to the taste buds than these light Dimsums when the temperature drops.
All the cities have innumerable places offering these. But if you're seeking the authentic, exotic variety, Shiro in Mumbai is the best bet.
4. Misal Pav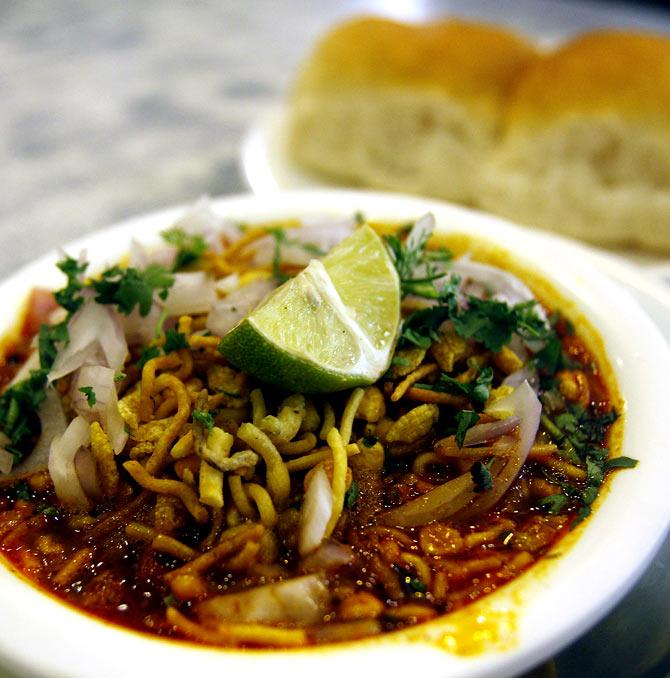 No Mumbaikar can go through monsoons without sprouted lentils. With a robust flavouring of the Maharashtrian khada masala, it comes along with bread or pav.
It is a favourite in Maharashtra during rains, be it for breakfast or anytime in the day.
With sev and chopped onions sprinkled on top, it is delectable and tangy.
Available almost everywhere in Maharashtra, I love the fiery one at Katta Kir in Deccan Gymkhana in Pune.
5. Chorico Pao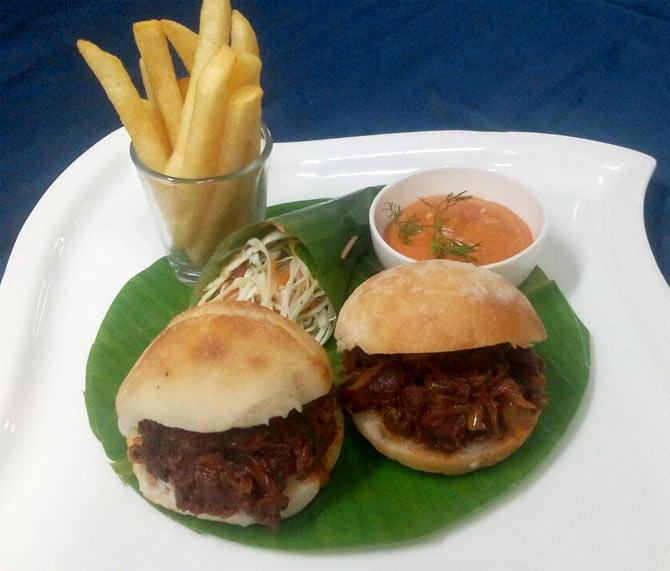 Photograph: Kind Courtesy

Cidade de Goa
A freshly baked pao laden with chorico or Goan sausages is every foodies' dream during the monsoons.
Prepared with a lot of vinegar, garlic, spices and pork, with a distinct smoky flavour, this is a delectable snack round the year.
But with a heavy downpour, this is just perfect to munch on as you sit in Goa, watching the rain lash on your window pane or sprawl on the beach.
Goa offers this at every possible tourist place or you can also get it at road side stalls.
But the best place to pick this up from are the small stalls that dot the roads along the Agassaim-Pilar and Cidade de Goa.
6. Sundal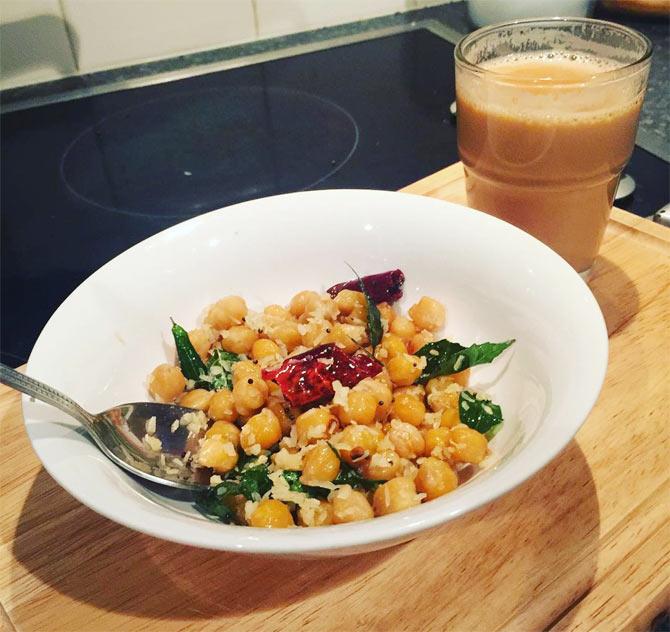 Photograph: Kind Courtesy jenifersgram/Instagram

Kara Kondakadalai Sundal which means spicy hot chickpeas, is a mouth-watering preparation made in Tamil Nadu during Navratri.
However, this quick-fix snack is easy to prepare, and fun to eat during monsoon too, as the spices make the taste buds tingle.
Tempered with spices, mustard seeds and curry leaves, this one is difficult to stop after a few handfuls.
Available at several restaurants, I prefer the ones sold at the beach in Mahabalipuram or Mamallapuram, where one can enjoy indulging in it while enjoying the scenic beauty.
7. Khichdi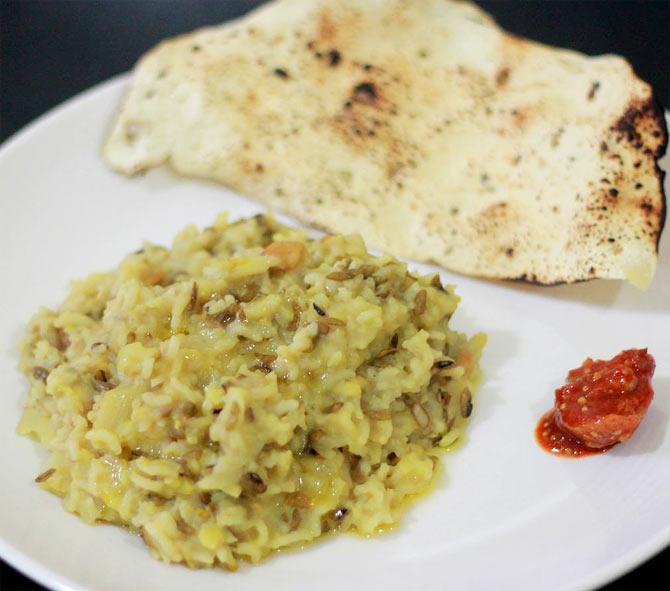 Photograph: Kind Courtesy happilyveg/Instagram
Khichdi is the quintessential comfort food during the monsoons.
It is the ultimate dish in the rains and is loved by all.
The combination of dal and rice cooked together (sometimes with vegetables in it) is quite a nutritious meal.
It can be also prepared with different kinds of lentils, cracked wheat, multigrain and more.
As for me I love the simple, basic moong dal khichdi with pickle and papad.
A dozen places in each city serve this mouth-watering dish, but the one at Kathputli in Defency Colony New Delhi is my weakness.
8. Khow Suey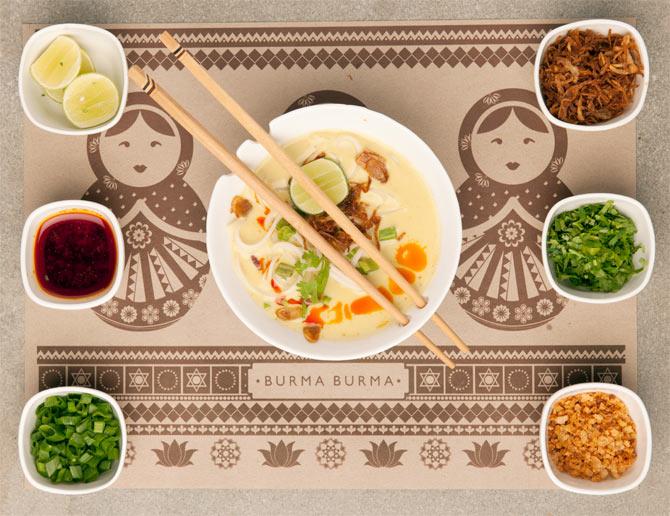 Photograph: Kind Courtesy Burma Burma
Khow Suey is a Burmese dish, which is perhaps the most popular Asian pot meal across the globe.
Comprising noodles in a soup and curried vegetables in coconut milk, and served with a variety of accompaniments, this is soul food for me.
Fried garlic, coriander, lemon juice, peanuts and chillies are a must to complete the flavour of this dish.
I love to have a well-made one anywhere, but Burma Burma in Mumbai whips up the best one.
9. Locho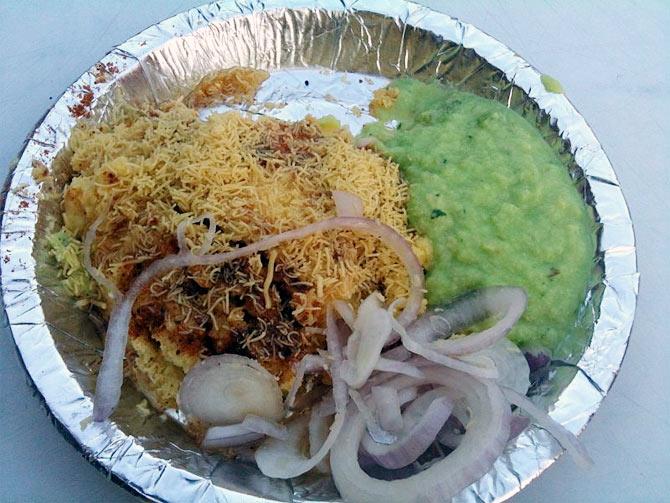 Photograph: Sushant Savla/Wikimedia Commons
A spicy, tangy steamed snack made with besan, garnished with butter, sev, coriander leaves and chutney, one can relish it any time, but more so in the rainy season.
Popularly known as Surti Locho -- as it is commonly eaten in Surat -- it is available in various parts of Gujarat.
There are several versions of this dish with garlic, cheese, etc. I prefer the simple, original one that simply melts in the mouth and tingles the taste buds.
The tastiest one is available at Gopal Locho Khaman House in Surat.
10. Jalebis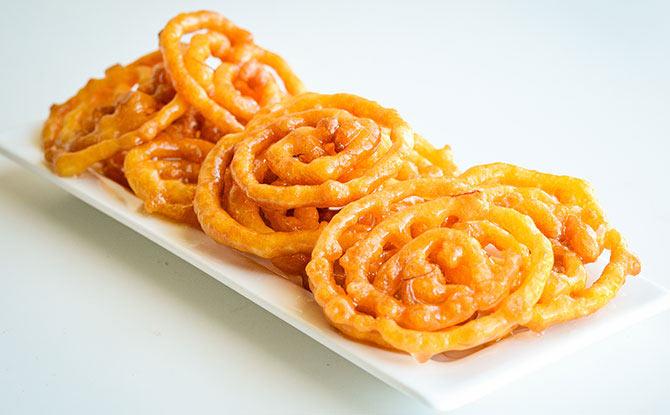 Photograph: Kind Courtesy Sarani Tarafder
Who said that one only likes to have savoury foods during the monsoons?
Try having a piping hot thin and crisp jalebi instead.
A well-fried jalebi, made with a not too sour batter, oozing with sugar syrup, can be the perfect monsoon treat.
I have sampled delicious jalebis in many places across India, but the ones at Dariba in Chandni Chowk, Delhi remains my all-time favourite.
ALSO SEE
Monsoon recipe: Almond and Broccoli Soup