Those who have an insurance policy need to check its clauses to determine if it covers home care treatment, advises Bindisha Sarang.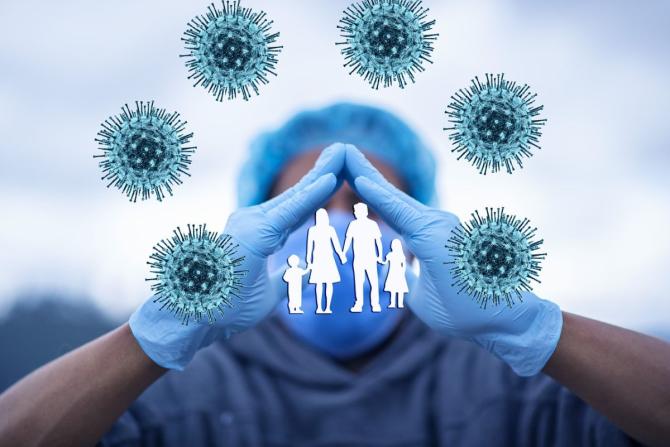 Many people, who have tested positive for the COVID-19 virus, are finding it difficult to get a hospital bed and are, hence, undergoing treatment at home.
Several hospitals and healthcare providers have started giving home treatment.
But many patients undergoing such treatment are worried about whether their health insurance policy will cover it.
Today, many health insurance policies cover domiciliary hospitalisation.
One of the two conditions need to be met for domestic hospitalisation to be permitted.
"Either medical facility is not available at a hospital, or the patient's condition is too serious to visit a hospital. In such cases, the same benefits that apply to hospitalisation also apply to hospitalisation at home, including in the case of Covid," says Amit Chhabra, head of health insurance, Policybazaar.
This option has been present in health policies for the past six-seven years.
According to Chhabra, most regular policies cover domiciliary hospitalisation and will do so even in the case of Covid.
However, he adds it's best to read the terms and conditions of your policy as some insurers have exclusions for upper respiratory tract diseases, which may include COVID-19.
In the case of some health insurers, however, home treatment comes as an additional benefit.
"Unless your policy offers an additional benefit called Homecare, you can't claim for it, so you need to check. Corona Kavach is one policy where you can claim for home care treatment," says Ashish Yadav, head of products, ManipalCigna Health Insurance.
The prerequisites
First, you have to test positive for Covid.
"After you test positive, a doctor has to determine whether you require hospitalisation. If it can be managed by domiciliary hospitalisation, then he needs to certify this," says Sanjay Datta, chief-claims, underwriting and reinsurance, ICICI Lombard General Insurance.
This recommendation then has to be submitted to the insurer.
The credibility of your test report matters, too.
"It is mandatory to have a lab-tested RT-PCR report, stating that a person has been found to be infected with COVID-19 virus, and it should state whether he is symptomatic or asymptomatic," says Naval Goel, founder and CEO, PolicyX.com.
Just an antigen report won't suffice.
In the case of ICICI Lombard, informs Datta, you can get the recommendation from your own doctor.
It's best to check this with your insurer.
In the case of some, the home care recommendation must be authorised by a doctor belonging to a network hospital.
What is covered?
Medication, nurses' and doctors' visits at home to measure vitals, and costs of tests like CT scan, X-ray, etc. are covered.
"Essentially, you will be covered for all medical expenses until you test negative," says Datta.
If you plan to set up an ICU, the insurer may not foot the entire bill, but only what's part of the terms and conditions of the policy, which can vary from one insurer to another.
Altered approach
Last year, when the first wave was at its peak, and the medical system wasn't prepared to handle the pandemic due to the shortage of beds and unavailability of medical staff across top cities, a number of insurers had extended their covers to home-based care.
"Prior to that, the indemnity policy issued by insurance companies in India primarily covered claims arising out of hospitalisation," says Goel.
Those who already have an insurance policy need to check its clauses to determine if it covers home care treatment.
In some cases, there could be limits on the sum insured for domiciliary treatment.
Those looking to purchase health insurance right now should make sure this feature is available in the policy they buy.