Hena Mehta, Founder and CEO at Basis, will answer your questions on personal finance on a weekly basis. Basis is a financial advisory that seeks to empower and inform the emerging investor, the Indian woman.
Please mail your questions to getahead@rediff.co.in with the subject line 'Personal Finance Query', along with your name, and Hena will offer her helpful advice.
Here's why Hena calls the Indian woman the queen of her financial world.
Illustration: Dominic Xavier/Rediff.com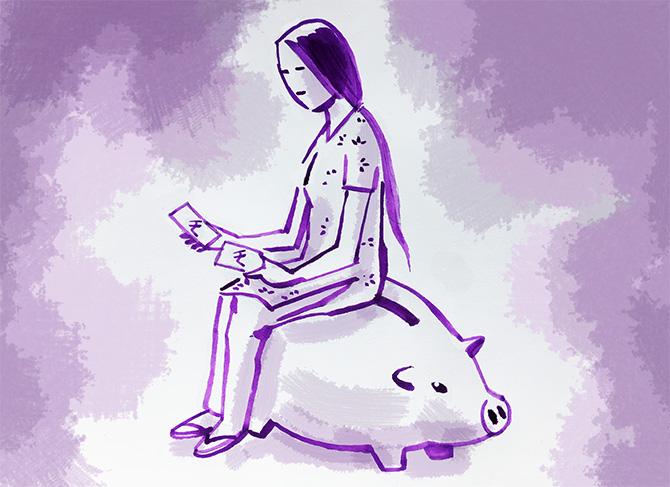 Picture this. You are on a surgical table, your insides open and the one performing the surgery on you is you! When you have woken from that nightmare, let's talk about doing something less scary, yet daunting no doubt -- investing your money.
You have been working for some time now. The end of a financial year always reminds you that you can save taxes by making investments. So do banks and other financial institutions who nudge you to invest for a better tomorrow. You want to get better at managing and growing your money, you've probably even researched a bit about investing. You are at a crossroads and are wondering: should I invest by myself or seek an advisor? Here are factors to weigh in for each choice:
Do-It-Yourself
There is a lot to know
Let's face it. What we should do with our money is everybody's top concern. There is a lot of information out there on the Internet -- on blogs, videos and mobile apps -- about money management and investing. But simply having access to so much information does not make it any easier to make investment decisions. In fact, the information could only lead to being overwhelmed.
The information is not women-specific
Investing is personal: what you want your money to do depends upon your personal needs and goals. Generic advice is of little help, especially to women, because our life patterns differ from men's, and so do our needs. Compared to men, we live longer, earn less because of the gender wage gap (~20-25% in India), experience a peak in our salaries earlier and are likely to take more career breaks.
We women need advice that emphasises these factors -- something that isn't easy to find.
You need to be up to date with regulations
A general piece of investing information for instance -- "you must diversify your investment portfolio" -- can only lead you in a particular direction. But how to apply it to your finances requires a lot more understanding. Knowing what diversification means and just how diverse your portfolio should be are just starting points.
You also need to be up to date on the dynamic space of investing regulations put in place by various regulatory bodies. This is so you can benefit most from the investment and not be taken for a ride by tall claims of a particular financial product.
In short, being a financial expert yourself is time- and effort- consuming and may not give the desired results. Let's have a look at what an advisor can bring to the table.
Advisory
She is an expert
A sound financial advisor is one who not only has expertise with investing but also one who can bank on her vast experience of dealing with a range of investment needs and scenarios.
Who is a financial advisor?
Financial advice comes from many corners: your chartered accountant, an insurance agent, an investment advisor or a certified financial planner. Everybody's role and motivation to give you advice is different. Knowing what those motivations are is crucial for your financial goals.
Finding the right one
We need advice the most when we have a lot to invest or are facing a difficult financial situation. Whether it is these extremes or anytime you start getting an income, finding the right advisor is crucial. Who is the right one? The one you know who has your best interests in her mind and is product agnostic.
The Verdict: You are the queen!
You are an expert in knowing what you want from your life and money. Sure you can't operate on yourself, but you know your needs well enough so you can ask the right questions to the right doctor. So even with professional advice, in the end, you need to make sure your interests are taken care of well.
At Basis, we are addressing exactly that by building a personal finance platform focused on women's financial needs, complemented by relevant no-jargon content and a community that offers the perfect space to ask questions and learn from experts and peers.