After the NHB asked housing finance cos to desist from offering interest subvention schemes, disbursement of loans are likely to get delayed, points out Tinesh Bhasin.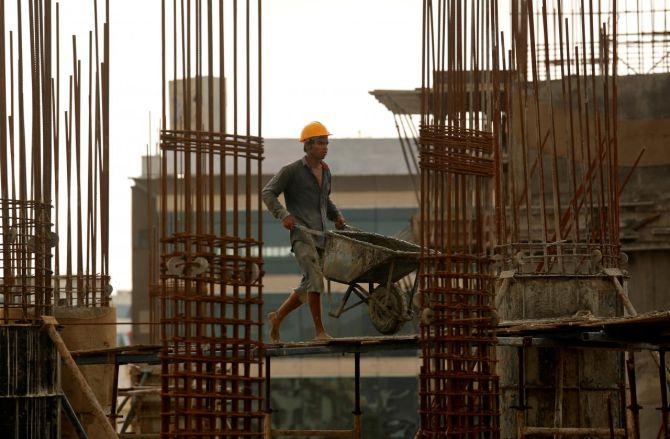 Many buyers will need to defer their home purchase after the National Housing Bank (NHB) directed housing finance companies (HFCs) to 'desist' from offering interest subvention schemes.
Those in the process of buying a house under such schemes will also face problems as HFCs will put disbursements of such loans on hold.
Industry sources say there will be an immediate and long-term impact.
"The immediate impact is that if you are buying a home under the subvention scheme, and your loan has already been sanctioned, the HFC will put the disbursement on hold. Such buyers will need to rejig their plans," says Aditya Mishra, founder and chief executive officer, SwitchMe, a digital home loan broker.
A section of borrowers found it easier to purchase a home through such subvention schemes.
The subvention schemes augured well for customers to manage their cash flows.
Many customers could be staying in leased properties and may otherwise be stretched to pay both home loan equated monthly instalments (EMIs) and rentals.
"Whatever sales recovery we saw in the market will get impacted. There is still a gap between prices and people's affordability. These subvention schemes were filling that gap somewhat," says Pankaj Kapoor, founder and managing director, Liases Foras, a property consultancy firm.
Kapoor says subvention schemes were being primarily offered for new launches and in the mid to luxury segment.
Not many developers offered it in the affordable housing segment.
In a statement to the stock exchanges, HDFC -- the country's largest HFC -- said: "The company has adequate mechanisms for monitoring the progress of construction of housing projects and customer consent is obtained prior to the release of each stage of payment."
It also added that its exposure to loans involving subvention scheme by developers is less than 2 per cent of individual loans.
While the NHB has stopped subvention scheme for HFCs, there has not been any similar circular from the Reserve Bank of India.
It means if a person has a loan from a bank, the scheme will continue, which could be an opportunity for someone still looking for a loan.
"An existing buyer can discuss other options with the developer. There is a possibility the developer may offer further discounts in the absence of a subvention scheme as the cost a developer incurred was built in the price of the property," says Monu Ratra, CEO, Indiainfoline Housing Finance.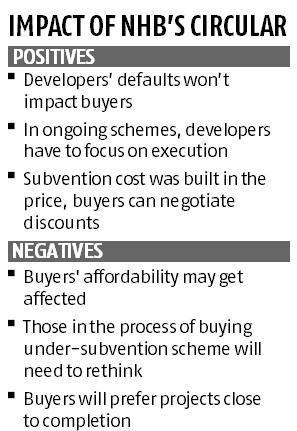 Many developers tied up with HFCs for a financing arrangement.
Under such deals, the buyer paid up to 20 per cent of the property cost upfront and opted for a loan for the remaining amount.
NBFCs were supposed to disburse the loan in parts to developers based on the construction progress.
While the project was under-construction, NBFCs only charged the interest as EMI, which was paid by the developer.
But the NHB said it received several complaints pertaining to subvention schemes and has also alleged frauds committed by certain builders.
Instead of releasing payments based on the progress of the construction, in many cases, the HFC paid the entire money to the developer after it complete about 50 per cent of the project.
Industry sources point out that many HFCs didn't comply with NHB's norms on construction-linked disbursement.