Wellness expert Roopashree Sharma answers your health queries.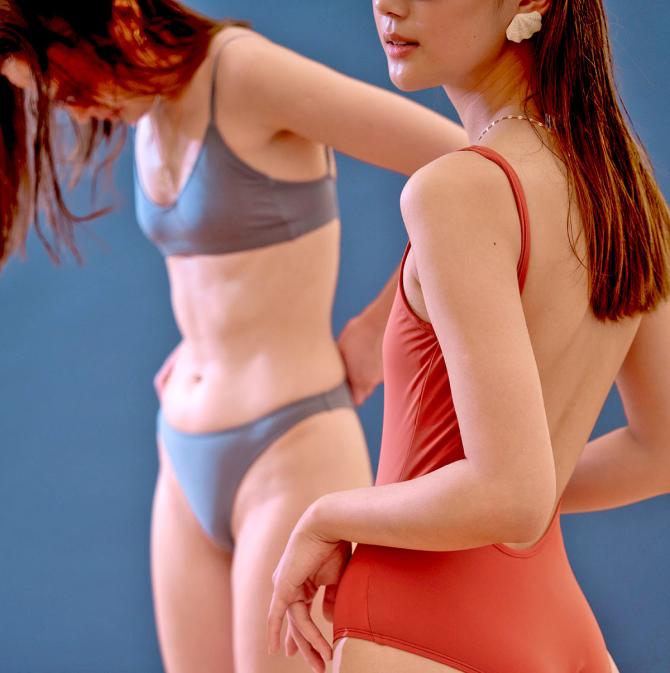 Dear Reader, Health is something we all take for granted. Until, one day, we get a rude wake-up call and find that we can no longer do so.
Are worried about your health?
Do you want to build your immunity?
Are you facing skin or hair issues?
Is your digestive system giving you trouble?
Or is belly fat your problem?
Mail your queries to wellness expert Roopashree Sharma at getahead@rediff.co.in (SUBJECT: Roopashree, can you help?) for her advice.
Dear Roopashree,
I have two cases where I need your help.
1. My daughter, who is 16 years old, was a state level swimmer until two years ago.
At that time, her diet and exercises were at a very different level.
She suddenly decided to quit swimming. This led to weight gain and she became 60 kg; her height is 5.2 feet.
She then started some exercises, watching YouTube, etc, and went into self-starvation mode in order to reduce weight.
We didn't realise that she started throwing food. It continued for months while she doubled her exercise to twice a day.
As a result she not only lost 15 kg in a year, but it also stopped her periods for a year now.
Can you help us with this problem?
2. For myself, I am 44 years old, height 5 feet, weight 60 kg and a big belly.
I like to eat spicy food so maintaining just soup based diets becomes difficult beyond a day or two.
Can you guide me on what diet programme I should follow to reduce 7 kg in next five months?
I have a family occasion coming up in Feb 2022, for which I want to be ready.
Shalini Shukla
Let me tackle this individually.
Let's look at your daughter first.
We often define health by weight. While it is certainly an important factor, body functions -- whether hormonal, digestive and/or nervous -- are equally, if not more, important.
Given the major shifts in your daughter's routine, both during her swimming days and workout days, her body must be going through a lot. And let's not forget the hormonal changes happening during this age.
I would suggest that she takes a mental break from thinking about diet and exercise for at least 2-3 months.
This does not mean she should overeat and not do basic physical exercises. Instead, opt for a balanced diet (lots of fruits and less of grains and processed foods).
Include a little physical activity (not workouts) but more playful activities. Light walks or basic jogging, yoga or any other sport of her choice like badminton, etc, will keep the body remain active without stressing the hormones.
She can also start basic pranayama (deep breathing exercises) to balance her energies and lower stress levels.
As far as her menstrual issues are concerned, I would suggest you meet an ayurvedic practitioner. They will identify if there is any possible imbalance of the elements and recommend ayurvedic medicines if required.
Shalini, let's look at your concerns now.
A big belly can be due to many reasons -- excess fat retention, water retention, bloating, etc.
You should focus on addressing the root cause and not on weight loss through strict dieting.
I suggest you follow some basic principles of food intake, starting with a detox for your stomach.
Have a glass of petha (white pumpkin) juice (recipe here) in the morning. Avoid eating anything else for an hour. Do this for a month.
Avoid fried food and restrict non-veg and heavily processed foods during this period.
You can eat a full meal, but avoid eating after sunset.
Spices can be therapeutic as well as harmful, depending upon consumption.
If you practice yoga, then do Kapalbhati pranayam for 5-10 minutes in the morning.
Half an hour after your meals, go for a stroll.
Dear Roopashree Madam
I am a 33-year-old male and have regular issues with my digestive system, primarily gastric issues.
I always feeling bloated like a balloon.
I'm 90 kg, 5.5 feet height. So much stress always and I also have hair loss issues.
I also feel a burning sensation inside the stomach but I don't feel constipated.
I am working at a desk full day and have very light physical activity.
Can you please advise some remedy or solution for these gastric issues in the stomach and weight loss and healthy lifestyle?
Thank you.
Regards,
Mujahid Ropale
To ensure good digestion, only eat until your stomach is half-full.
This will enable proper digestion of food and help avoid bloating and gastric issues.
Avoid eating spicy food, especially after sunset.
Also eat a bowl of curd (fresh curd only and at room temperature) in the morning to control acidity issues.
Since you have indicated low physical activity, it could be the root cause of all your digestive problems.
You must go for a walk every morning or after a 30 minute gap after your meals. It not only promotes circulation but also promotes intestinal health.
If you have a desk job, try sitting on the floor with a laptop stand.
Options like a kneeling chair or a standing desk help avoid long sitting hours.
Hi Roopashree,
I am Kiran and my age is 45, height is five feet and weight is 67 kg.
I live in Delhi.
I have two health problems -- one is blemishes in my cheek and forehead and the other one is my tummy fat.
Please suggest some home remedies to overcome these problems.
Thanks and regards,
Kiran Singh
Both these problems could be a result of toxins in the body.
A simple detox could help.
Try white pumpkin (petha) juice (recipe here) in the morning for a month.
Have lots of water at room temperature.
Avoiding fried food and packaged food during this period will help further.
For external application, some sandalwood paste made from fresh sandalwood (not powder) will help with the blemishes.
Dear Roopashree,
My name is Sweeta. I am 24 years old. My height is 5.4 feet. My weight is 52 kg. I am from Assam.
My problem is that I have an apple-shaped body -- heavy breast, size 36 and thin legs, thin arms, slim hips.
My upper body is too heavy and lower body is thin.
This happened after I left gymming.
I tried working out at home but see no difference.
I don't know which bra to wear as my breasts look unnatural.
I am going through lack of confidence as people body shame me a lot of the time,
I have belly fat too.
And the last thing is I am pure vegetarian so I can't go for non-vegetarian diet.
Waiting for your kind and valuable response,
Sweeta Sharma
Our body weight and shape depends on various factors including our physical activity, diets, daily routines, age etc.
We often focus on the first two and end up disturbing the inner balance of our hormones and other bodily functions.
Therefore, you should first focus on regaining your inner body balance, both mental and physical.
Practice surya namaskar daily -- the vinyasa form.
Learn from professional teachers and avoid immature videos if you haven't practiced yoga before.
Since you have been working out, focus on strengthening your core -- try planks.
Also, start breathing exercises, especially Kapalbhati pranayam.
Losing or gaining weight in the right places will happen once your body is healthy and balanced.
Vegetarian diet has enough sources of proteins. Add more sprouts and legumes to your diet. Also, eat lots of salads; this will provide high fibre to ensure your digestive health.
Dear Roopashree,
Is there any natural way to treat eczema?
Thank you.
Sneha Ranjan
Yes Sneha, there definitely are treatments under naturopathy and ayurveda to treat your problem.
These wellness sciences work on identifying and curing the cause rather than the symptoms.
Hence, it is important that you visit your nearest certified practitioner who can identify the root cause as per your body type and recommend treatment accordingly.
---
Roopashree Sharma, a qualified yoga trainer and naturopathy enthusiast, is the founder of Atharvanlife.
You can send in your health queries to Roopashree Sharma at getahead@rediff.co.in (SUBJECT: Roopashree, can you help?). Do remember to include your age, height, weight, where you stay, health issues and any other details that will help. If you wish to remain anonymous, please let us know.
Please note: This is an advisory. Please consult your doctor as well. In case of any discomfort, please stop the regime and visit your doctor.