With the lockdown in force, live online teaching has become the order of the day, report Peerzada Abrar and Sai Ishwar.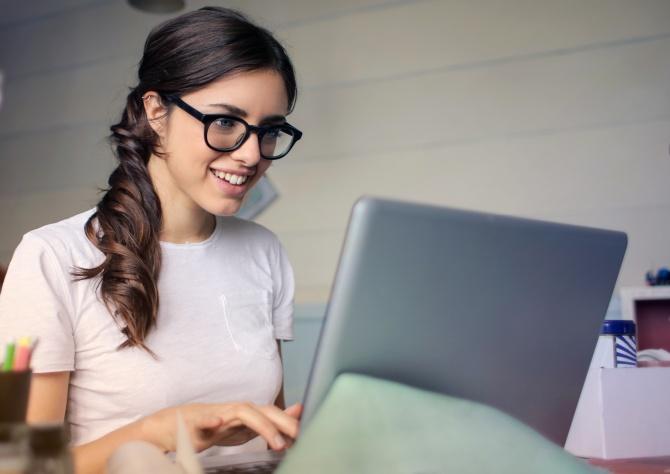 For the past few weeks, Father Muller Medical College in Mangaluru, Karnataka, is conducting virtual surgery classes for its students.
In New Delhi, a pre-school is teaching kids rhymes and conducting online classes daily for each toddler.
Education group PES has replicated online the entire physical campus experience for its schools, engineering and medical colleges across Karnataka, with over 1,000 classes being held daily.
At a time when India is under a nationwide lockdown to fight the coronavirus pandemic, much of the country's $180 billion education sector is going online to adapt to the new reality.
Many educational institutions are creating virtual learning infrastructure and radically transforming the way education has been offered for millennia.
And to help them realise that goal, they are reaching out to technology companies such as Impartus Innovations, Amazon Web Services (AWS), Coursera and Tata Consultancy Services (TCS).
The government of India also launched a week-long Bharat Padhe Online campaign on April 10 to crowdsource ideas for improving the online education ecosystem in the country.
Within three days of launching the campaign, the Union human resource development ministry received more than 3,700 suggestions.
"The coronavirus situation is forcing everyone to adopt online learning," says Raghav Gupta, managing director, India and APAC, at Coursera, one of the world's largest online learning platforms.
Gupta says India has over 37 million students enrolled in higher education across thousands of universities and colleges.
In view of the lockdown, Coursera is giving universities and colleges free access to its catalogue through its 'Coursera for Campus' platform.
The platform enables almost any university in the world to deliver high quality, job-relevant, on-demand learning to students, alumni, faculty and staff.
Coursera has received more than 3,700 queries from colleges and universities in India in the last few weeks.
Over 1,290 institutions of higher education, including the B M L Munjal University, the National Rail and Transportation Institute and University of Engineering and Management in Jaipur have already signed up and more than 835 programmes have been activated.
Gupta reveals that new registrations grew by 539 per cent and enrolment by 465 per cent in the last 30 days (figures as on April 8) over the same period one year ago. Enrolment for courses in public health alone saw an increase of over 25 times.
In India, the course consumption pattern has witnessed a change in this time of crisis.
Imperial College of London's course, Science Matters: Let's Talk About Covid-19, and Yale's The Science Of Well-Being have been among the most popular courses in India post March 1, 2020.
Bengaluru-based Impartus Innovations is an ed-tech company that is betting big on live online learning.
"The key to online learning will be engagement. We have seen a 10x surge in daily usage, and have onboarded over 80 new institutions, 40,000 teachers and 500,000 students in the past four weeks (in India)," says co-founder and CEO Amit Mahensaria.
Adding that Impartus has scaled up its infrastructure for much larger growth, Mahensaria says, "As about 88 per cent of the teachers are first-time online teachers, we are providing complimentary onboarding and training for them, which is an important step to ensure online classes are smooth and engaging."
The company's video learning solution is powered by AWS, enabling it to scale quickly and reliably to address rapid and peak usage and stream significant amounts of data in real-time.
This provides teachers and students optimal audio-video quality for live video classes that mirror a physical classroom experience.
Leading institutes such as IIT Delhi, the Manipal Group, the Shiv Nadar School, BITS Pilani, Symbiosis and ed-tech companies like Toppr and Vedantu have shifted from third-party video conferencing tools to Impartus.
The firm said that what made these institutes choose Impartus was not only its deep focus on student engagement, but also its security and reliability.
For instance, the IT head of a leading university in Pune recently reached out to Impartus for a solution after an unidentified person entered an online session conducted on a third-party video conferencing tool and shared adult content.
The session was attended by around 70 male and female first-year students.
The incident escalated to such an extent that the institute was on the verge of scrapping the whole idea of online teaching.
According to Rahul Sharma, president, public sector, India and South Asia, Amazon Internet Services, there are many ed-tech companies in India like Byju's, Mettl, Extramarks, Toprankers, Classplus and Leverage Edu which are building innovative solutions using AWS technology during the COVID-19 lockdown.
"We are also working closely with CareerLauncher -- its Aspiration.ai portal is built on AWS. The portal blends learning, fun, parenting and mentoring to provide offline learning resources with practice tests, educational games and career guidance," says Sharma.
CareerLauncher is working with the Delhi government to train teachers in effective virtual teaching techniques using its Aspiration.ai portal.
It launched a pilot programme at the end of March across 55 public schools in Delhi, reaching 15,000 students.
By April, the programme is expected to reach an additional 1,200 schools and 190,000 students in Delhi.
P B Venkataraman, associate professor, BITS Pilani (Hyderabad campus), says that, last year, the institute switched from desktop conferencing platforms to an exclusive live lecture solution by Impartus to offer better student engagement, flexibility and quality of learning.
"This experience came handy during the lockdown for the campuses to migrate to the online mode, and this happened within the first couple of days. The rapid transition was possible as the faculty have already been trained and the platform was intuitive and easy to adopt to," says Venkataraman.