If everybody is 'working' from home, then how has TV consumption gone up? Who is making all that gourmet food being posted on social media?
Vanita Kohli-Khandekar asks some interesting questions.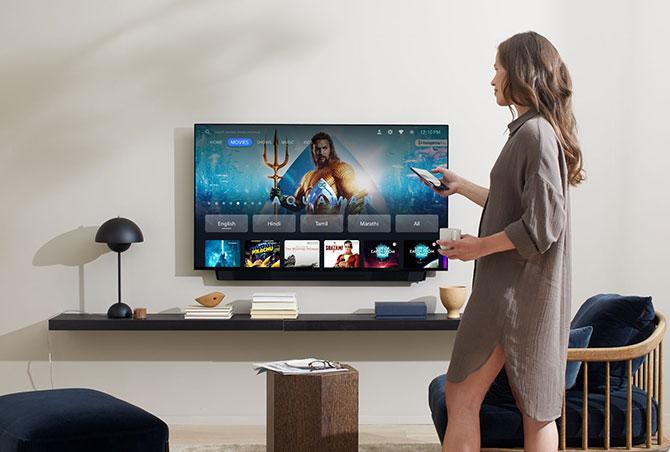 How on earth are people turning out gourmet meals in the middle of a lockdown?
That is the first question bothering me as we enter the fourth week of the home incarceration prompted by the spread of the coronavirus globally.
Dozens of friends and acquaintances posting yummy food pictures and videos on Twitter, Facebook and WhatsApp is puzzling.
Don't they have to clean the house, mind the children or the elderly and also work from home? And how are they sourcing ingredients beyond the basic vegetables, dal and rice?
I enjoy cooking under normal circumstances. But the drudgery of cleaning, swabbing, cooking on repeat mode everyday has taken the pleasure out of it. And for the first 10 days there was no break since the option to order out wasn't available, at least not in our part of Delhi.
Domino's recently started offering home delivery from a severely pared-down menu. Now about half-a-dozen places offer contactless delivery.
That means payment can only be made online and the delivery man wearing a mask and gloves will bring the food to the main gate of your colony. And we wear a mask to go pick up our packs. This has freed up a bit of time but still not enough to binge watch.
That brings me to the second question.
If we are 'working' from home then how has television consumption and binge watching gone up so much?
The total viewership of TV across the country grew by 37 per cent post COVID-19 (March 21-27) compared to pre-COVID-19 (January 11-31), says Broadcast Au­dience Research Council data.
For perspective, it grew 38 per cent in 2019 over 2018.
The amount of time people spent watching TV grew from three hours and 46 minutes to a whopping four hours and 39 minutes post COVID-19.
The average number of people watching it daily grew from 560 to 622 million.
Who is watching all that TV?
The sharpest growth, over 47 per cent, came from 2-14 year olds stuck at home.
The second highest growth of 36 per cent is among 31-40 and 41-50 year olds. That is working people.
These could be traders, shopkeepers, teachers, government employees, domestic workers and also writers, filmmakers, executives among others. It cuts across demographics with the big spikes coming from upper-income segments and English, albeit on a smaller base.
Clearly then, all sorts of Indians, stuck at home are staring at the TV screen at all times.
Non-prime time viewing has risen by a whopping 71 per cent post-COVID compared to pre-COVID.
The sad news is the rise of news viewership as a proportion of all television from 7 per cent to 21 per cent with even children watching what passes for news on Indian television.
That coincides with what is happening online too -- visits to general news sites and apps jumped 61 per cent in March over February according to comScore data.
Currently there is no data on what is happening to viewing numbers on streaming services.
And that brings this to the final, most important, question.
If you do get some free time, what to watch?
My favourites, the shows I have watched over and over again, The Crown and Sherlock (Netflix), Downton Abbey and The Marvelous Mrs Maisel (Amazon Prime Video) among others.
Then there is The Loudest Voice (Hotstar), Broadchurch and Criminal (Netflix).
And if documentaries or docu-series is your thing, then you must watch Inside Bill's Brain, a superb take on Bill Gates, Chef's Table, an eclectic look at food, chefs and their home countries that is way beyond the obvious and Wild Wild Country, the Emmy-award winning show about Bhagwan Rajneesh's Oregon sojourn. All of these are on Netflix.
Of the new dramas I have just begun with The English Game, but till the lockdown ends and regular life begins there is no time to binge watch.
Instead I have opted for the witty distraction of The Big Bang Theory. It is 20 minutes of laughter therapy everyday and the answer to all my questions.
Tech company Tata Consultancy Services' iON platform has made its 'Digital Glass Room' initiative available to schools and colleges for free.
The IT-as-a-service offering mimics a real classroom and allows educators to engage with students in real-time by sharing lessons, videos, worksheets, assignments and assessments, using interactive methods like polls, debates, quizzes and surveys.
"It provides an enhanced learning experience for the students in comparison to the brick-and-mortar model or a remote video class.
"Be it government, higher education or private institutes, all can leverage this platform to ensure that learning continues. We are opening up this solution to all school and higher education institutions in the world," says Venguswamy Ramaswamy, global head, TCS iON.
Singapore-based communication company, EnableX.io, is working with educational institutions in India and the rest of the Asia Pacific to provide home-based online learning.
Teachers and students can avail of secure video communications solutions that are packed with collaborative features such as screen sharing, co-annotation and white-boarding.
EnableX's customisable platform gives institutions the flexibility to develop any form of communication such as voice, video and chat and embed it in their own applications and workflows.
Innovators in the education space can combine video communications with artificial intelligence (AI) and augmented reality (AR) to deliver a more immersive learning experience and improve student outcome.
"The combination of these technologies can engage students in completely new ways. They can enjoy field trips like museum visits without physically being there," says Pankaj Gupta, founder and CEO of EnableX.