Zayn James Doddi loves cooking. As do these other young chefs.

Take a look.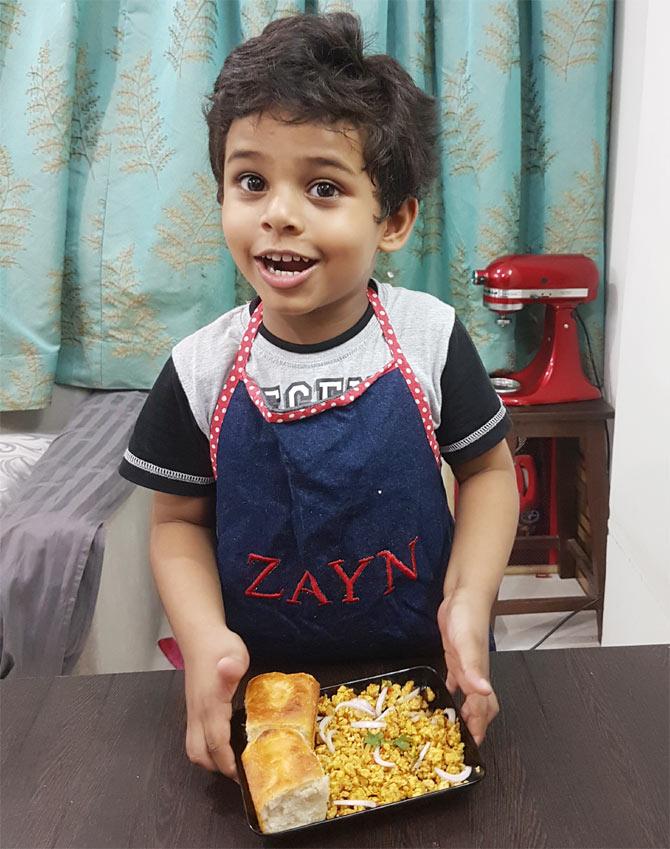 IMAGE: Zyan James Doddi whips up a mean Egg Burji. Photograph: Kind courtesy Grace Doddi
After several seasons of Junior MasterChef, we all know kids can out cook adults.
The overwhelming response to Foodies' Central -- a online group of food lovers, chefs and bakers who organised a Children's Day contest, asking for videos of the little chefs whipping up their favourite dishes -- only reiterates that.
Videos filled with cuteness and yummy food flooded the group, says organiser Vishaka Rautela (check out her recipes here).
And a four-and-a-half year old walked away with the first prize for his Egg Bhurji.
The second prize was shared between eight-year-old Batul Amreliwala (Butter Garlic Herbed Prawns) and 11-year-old Hriman Saha (Chicken Tetrazzini).

Foodies' Central also announced a special prize (for the tiny tots who garnered the highest numbers of views and likes). It was shared by four-year-old Kaavya Madhani for her Nutellla Squares and three-and-a-half year old Muffadal Amreliwala for his quick lesson on how to roll a chappati.

The top liked videos also included little chefs Anandana Vyas and Kanhai Gandhi, while Vansh Lakhani got a special mention for sending in the most number of entries.
Take a look.
Chef Zayn James Doddi
Age: Four-and-a-half years
Dish: Egg Bhurji
You don't want to miss Zyan's style of cracking eggs or whisking them to the tune of Golmaal Again!!!
The super cute chef keeps forgetting the names of the ingredients, but does that stop him? Naah!
He's pretty sure all of you will want to visit his home to sample his delicious cooking :)
Video: Kind courtesy Grace Doddi
Recipe
Ingredients
6 eggs
3 onions, finely chopped
2 tomatoes, chopped
3 green chillies or as per taste
1 tbsp ginger-garlic paste
2 tbsp vegetable oil
1 tbsp red chilli powder
1 tbsp turmeric powder
1 tbsp coriander powder
1 tbsp butter
Salt as per taste
Method
In a large bowl, whisk the eggs lightly using a spoon -- that's how Zyan does it :) -- and keep aside.
Heat the oil in a pan or a kadhai. Add the onions, green chillies and garlic-ginger paste. Sauté for 3-4 minutes.
Add tomatoes and sauté for 2 minutes.
Add 1 tsp butter, red chilli powder, turmeric powder, coriander powder and salt as per taste. Mix well.
Lastly, pour in the slightly beaten eggs and keep mixing until cooked.
Finally, add the remaining butter.
Serve hot with buttered pav and a smile.
Chef Batul Amreliwala
Age: 8 years
Dish: Butter Garlic Herbed Prawns
Nothing can distract Batul from dishing up a delicious Butter Garlic Herbed Prawns – not her little brother or the television in the background :).
Video: Kind courtesy Alifya Amreliwala
Recipe
Ingredients
20-25 prawns
2 tbsp butter
1/2 tsp dried oregano
1/2 tsp mixed herbs
1 small green chilli, finely chopped
3-4 cloves garlic, finely chopped
A handful of coriander leaves, finely chopped
Pepper, as per taste
Salt, as per taste
Method
Clean and devein the prawns.
Add butter to a pan.
Once the butter has melted, add the prawns and cook for a few minutes.
Add the dried oregano and mixed herbs and mix well.
Then, add the chopped chillies, garlic, coriander leaves, salt and pepper.
Cook until the prawns are well done.
Taa-daa! They are ready to be gobbled.
Chef Muffadal Amreliwala
Age: Three-and-a-half years
Dish: Chappati
Muffadal may like distracting his sister, Batul, while she is cooking prawns, but just watch his dedication as he rolls out a chappati.
Video: Kind courtesy Alifya Amreliwala
Recipe
Come on, you don't really need a recipe for this one :)
Chef Ananadana Vyas
Age: 8 years, 11 months
Dish: Healthy Jar Salad
It's time to get healthy, says Ananadana, but there's no reason why you can't have fun with it!
Video: Kind courtesy Sangeetta Vyas
Recipe
Ingredients
Zucchini
Sweetcorn, par-boiled
Yellow capsicum
Red capsicum
Cucumber
Diced paneer
Fresh lettuce, chopped
Baby tomatoes, cut in half
Cubed cheese
Toasted bread cubes
Fresh basil leaves, roughly torn
Mayonnaise
Lime juice
Chat masala
Pepper
Salt
Method
Mix all the ingredients well as per taste and choice. Enjoy a healthy, colourful salad!
Chef Kanhai Gandhi
Age: 10 years
Dish: Pizza
Kanhai may take his time binding the dough but when he's done, it's perfect!
Video: Kind courtesy Bindi Gandhi
Recipe
Ingredients for the base
2 cups maida
1 tbsp rawa
1 tsp oil
1 tsp yeast
1 tsp salt
Lukewarm water for kneading dough
Ingredients for the topping, as per your liking
Tomato sauce
Oregano
Basil
Remaining toppings as per your liking
Cube cheese
Method
Add all the ingredients for the pizza base in a bowl and knead with lukewarm water until it forms a soft, sticky dough.
Let it rest for some time.
Divide the dough into three equal parts and make into balls.
Roll these balls into a circular shape, like you would a chappati.
Prick the pizza base with a fork so that it does not puff up when baked.
Let it rest for two hours and then place it on a baking tray lined with butter paper.
Meanwhile, you can prepare your sauce like Kanhai did, by adding oregano and basil to tomato sauce.
After the dough has rested, spoon the sauce onto the pizza and spread it nicely.
Add your toppings.
Then grate cheese generously over the pizza.
Bake it in a preheated oven for 10 to 12 minutes.
Your yummy pizza is ready.
Enjoy!
Chef Vansh Lakhani
Age: 12
Dish: Pasta with White Sauce
Vansh Lakhani nearly made a confession there…
We think he does not like his veggies :) What do you think?
But Vansh is conscientious and would like you to have veggies in your pasta -- he suggests capsicum, olives and spring onions.
Video: Kind courtesy Bhargavi Lakhani
Recipe
Ingredients
200 grams of any pasta
1 tbsp butter (more if needed)
1 1/2 tbsp maida
2 cups of milk
4 cheese slices
Chilli flakes, as per taste
Oregano, as per taste
Black pepper, as per taste
Salt, as per taste
Method
Boil the pasta in hot water with a bit of salt. Add oil to keep the pasta from sticking. Remove from the gas when the pasta is nearly ready; when you bite it, it should be fairly firm and nearly, but not completely, cooked.
Strain and keep aside.
Take a pan. Add butter and melt on a low flame.
When the butter has melted, add the maida and sauté for a minute. At this stage, you may add more butter if needed.
Add milk and boil for some time.
Then, add the cheese slices. Mix well.
Once the cheese melts, add the chilli flakes, oregano, pepper and salt. Mix well.
Add the pasta. Mix well.
Voila! Your super-delicious pasta is ready.
Is your little one a budding Masterchef? Do upload videos of them cooking their favourite recipes on iShare and send the video link to getahead@rediff.co.in. We will feature the best videos right here.