The life of a chef in the kitchen, as the late Anthony Bourdain saw it, had a glory to it.
In restaurants in India too, kitchens gently move forward in the culinary world, tightly packed, yes, but with leaders un-despotic, discovers Nikita Puri.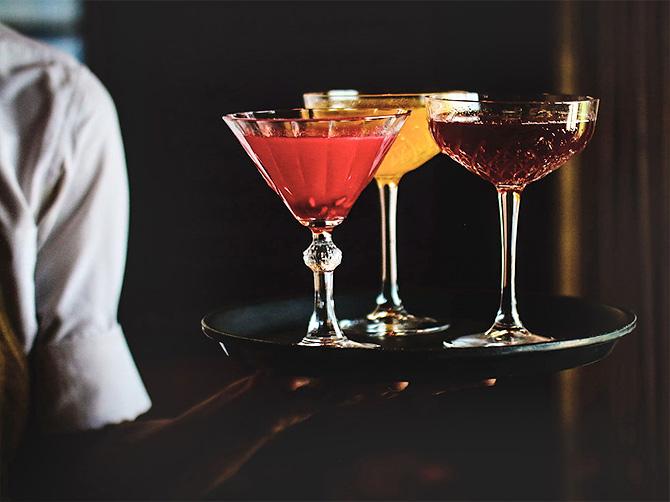 One of the first orders of a weekday evening at Bengaluru's Toast & Tonic, a hip Manhattan East Village-styled restaurant, is the soft shell crab fried rice.
Besides the crab, the dish's protagonists include the fragrant gobindobhog rice, bacon and kimchi.
Soon after it's all assembled in a large bowl by a team of cooks, who clearly know what they're doing,
Chef Manu Chandra picks it up for a quick but careful garnishing.
"I'm just here to expedite things," he says.
The vibe in the dining area is lively and high octane, perfectly in sync with its sophisticated and old-world charm.
It's only when you step into the kitchen that you realise how cool the dining space is, literally.
"You get used to the heat pretty quickly. Besides, this is well ventilated," says a kitchen staffer. "It's the humidity during the monsoon that can get to you."
It rains for a good part of the year in Bengaluru, or at least it feels like it.
The kitchen is tight and is shared by about 15 people, but the space is spread over two floors.
By about 8 pm, the orders begin to come in fast.
"Carne Asada Tostada, Crispy Calamari Rings, Asian-Style Spicy Smoked Chicken. Pick up together," Chandra reads out from a slip. (They call this a KOT, a kitchen order ticket. And the guests want the food to be served all at once.)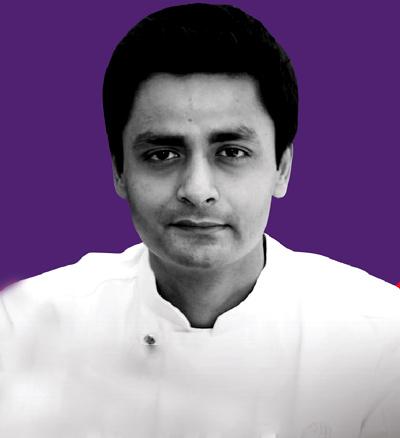 "Yes, Chef," his team says in unison.
The prompt reaction and the quick launch into putting together the three dishes is so disciplined and zippy that it is almost military in style.
But throughout it all, Chandra's demeanour remains unchanged.
Eagle-eyed yet relaxed, he takes another sip from his large red mug of Earl Grey tea (coffee is his fuel during the day).
His composure, even when KOTs come pinging in, doesn't alter.
The restaurant is just about across the street from the Olive Bar and Kitchen, and if he is in town, Chandra regularly splits his days gliding from one and into the other.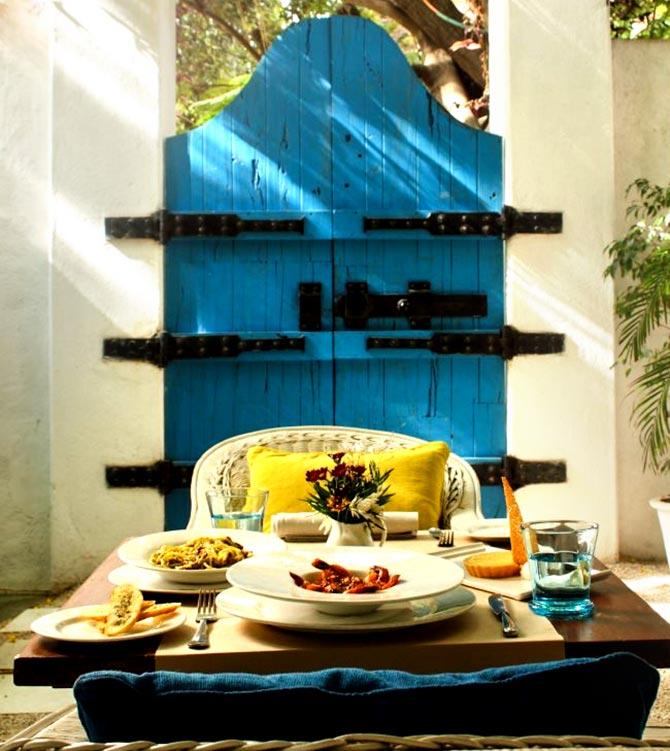 Today at Olive, Chandra's guests include a husband and wife on a date. They are celebrating the husband's 90th birthday.
Among his guests yesterday was another couple who had frequented the restaurant through their pregnancy and they had now come in to dine with their one-month-old baby.
When the dessert station hands over a plate to Chandra, he scoops up a small spoonful of it to check consistency.
You won't find this dessert, Gin & Tonic, on the menu just yet, he says.
First made in the Mumbai kitchen of Toast & Tonic, Chandra wants to ensure the Bengaluru kitchen makes it the same way, if not better, before letting his patrons take a bite.
"You have to give guests consistency to make them come back," says Chandra.
Right from the temperature of the food to how it is delivered, everything counts.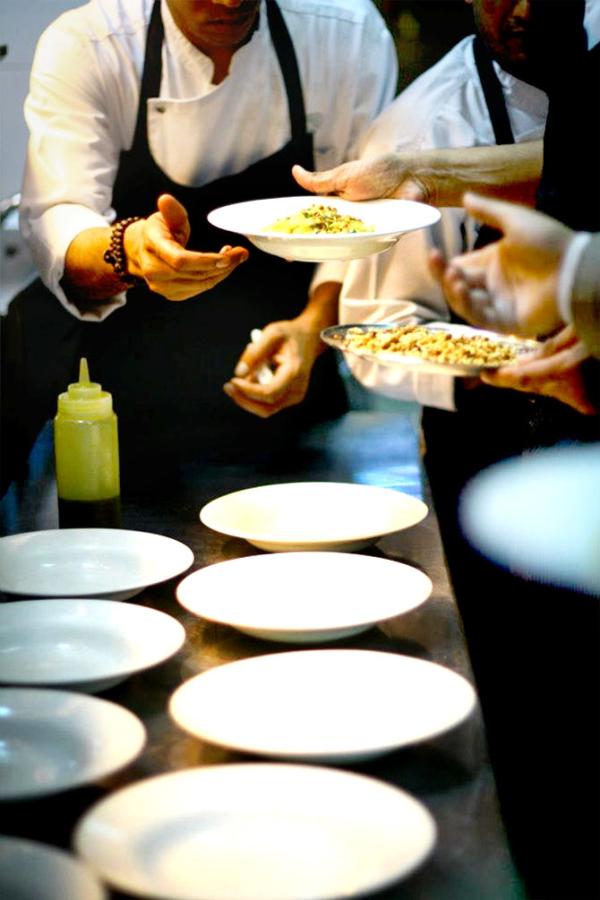 These are the expectations that "come automatically when you run a restaurant of a certain stature," says Prateek Sadhu, the executive chef at Masque, Mumbai's 'wilderness-to-table' restaurant.
"There really is no room for error."
Kitchens seen through the eyes and words of celebrity chef Anthony Bourdain, who died recently, have a certain theatrical glory to them.
Gastronomy is the science of pain, he famously said in a piece in The New Yorker.
Professional cooks, he continued, belonged to a secret society whose rituals derived from the principles of stoicism in the face of humiliation, fatigue, and threat of illness.
He went on to compare the kitchen staff to a submarine crew 'confined for most of their waking hours in hot, airless spaces, and ruled by despotic leaders'. (A year later in 2000, this piece 'Don't Eat Before Reading This' evolved into his blockbuster tell-all memoir, Kitchen Confidential.)
Bourdain was attracted to the kitchen because of the image that went with it, the cuts and burns that marked you as a chef, ghoulish kitchen humour, pilfered booze, hangovers, and the double espresso to fix that hangover.
One wonders if the scenes behind the kitchen have changed, if the pressures have eased.
But as celebrity chef Sanjeev Kapoor, of the cooking show Khana Khazana and restaurant enterprise The Yellow Chilli, puts it, "It's the nature of the job to be high pressured. One could make it easier to deal with it, but the pressure is always going to be there."
A chef, who does not wish to be named, talks about how in the older days the competition used to be so stiff that a chef would add extra salt in something his colleague had put together.
And the masalas used to be put into dabbas marked 'Masala 1', 'Masala 2' and so on.
"They didn't want a new guy to come and learn what went into the recipes. Thankfully, all that has changed," he says.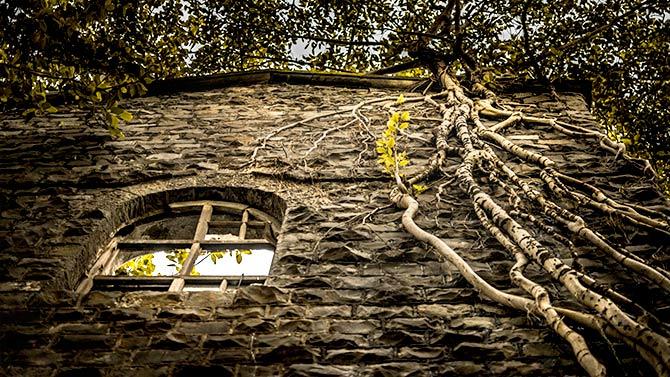 It's easy to assume that perhaps managing a kitchen becomes easier with time and experience, but that is not always guaranteed.
"When you start out, the stakes may be very low because you have less to lose. It depends on where you are in your career and what expectations people have from you or you have from yourself," says Kapoor.
For Chandra, the way to run a kitchen is to nurture the team to be as independent as possible.
For him, the pressure comes not from diners or their demands, but the general difficulty of running a culinary business. That, however, is a story for another time.
Not far from two of Chandra's other ventures in Bengaluru, Monkey Bar and The Fatty Bao, is Sly Granny of Azure Hospitality (of Mamagoto fame).
The restaurant will have a chapter in Delhi's Khan Market come July.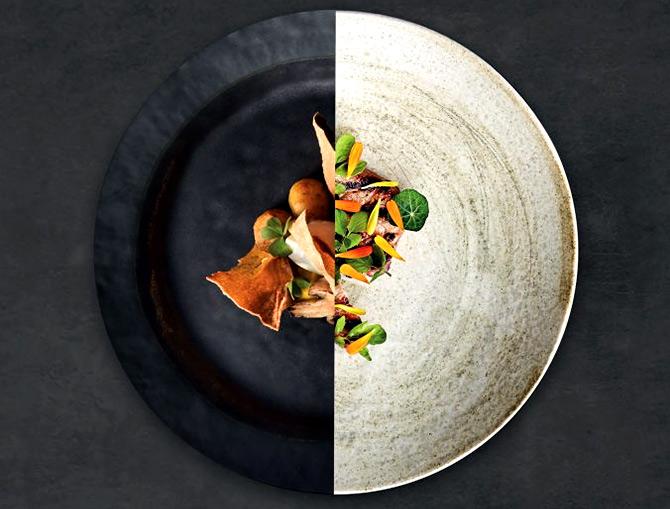 As he watches his staff put out freshly-made udon noodles and gives the green light for a shepherd's pie to be served, Sly Granny's chef, Varun Pereira, shares tales about the many ways pressure builds up in the kitchen.
Once on a busy Sunday afternoon, a server tripped on the stairs to the balcony dining area and dropped the chicken tacos he was carrying.
Other orders had to be put on hold while the whole dish had to be re-made.
Such accidents don't happen often, says Periera, but they do happen.
He also shares the scary tale of his chef friend losing a part of his finger while making fresh lime.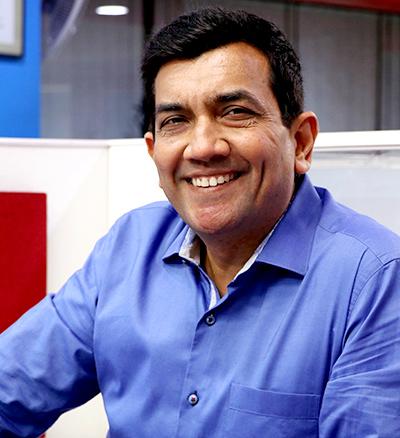 Though many restaurant kitchens continue to be small, that scene is changing.
In Masque, for instance, the very first course is often served inside the kitchen.
Sadhu recalls the time they were expecting a high-profile guest who had five food allergies.
When the guest came in, he was accompanied by two others; each of them was allergic to one other food item.
"Just dealing with that situation sent things haywire," recalls Sadhu.
Add to this scenario the fact that this was meant to be a 10-course meal.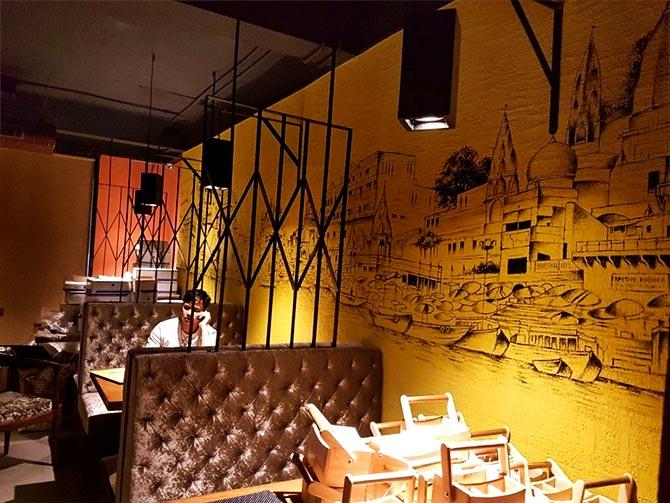 In another restaurant, a chef recalls how one of their guests announced they were allergic to gluten.
But when they tasted a (gluten) dish that their friend had asked for, they said the allergy wasn't a big deal and asked for a fresh portion for themselves.
A Kashmiri-styled lamb dish in Masque's current menu requires the meat to be cooked using seven methods, beginning with 'churning it like ice cream'.
Such techniques become a worry, especially when the chef is away.
"Your mind is always wondering about what's happening in the restaurant. It can be really stressful," says Sadhu.
Kapoor's way of dealing with pressure sounds as do-able as cooking Paneer Butter Masala over low flame.
"I deal with it with ease," he says. "I tell myself that I am still learning. Whatever I get today is based on today's efforts. If today is Day 1, you have nothing to lose."
The burden of the past can't claw into you.
Back in Chandra's kitchen, an order for crisp soft shell crabs from Bhimavaram comes in and the chorus of "Yes, Chef" is heard again.
Sesame crusted mantous (steamed buns) are laid out to go with the crabs.
Like the submarine Bourdain described, the kitchen gently moves forward in the culinary world, tightly packed, yes, but with leaders un-despotic.