'Once I was ready with my product I started looking for funding and realised people would not understand how a woman could, without a technology or an IIT/M background, be running the business alone.'
'Today when I connect the dots I feel grateful about how I have been able to overcome and learn with every failure.'
Shaifali Agarwal Holani, founder and CEO of EasyFix, a maintenance and repairs service provider, tells Prasanna D Zore/Rediff.com about the huge potential that this unorganised and fragmented market holds with a sizeable but unprofessional network of labour.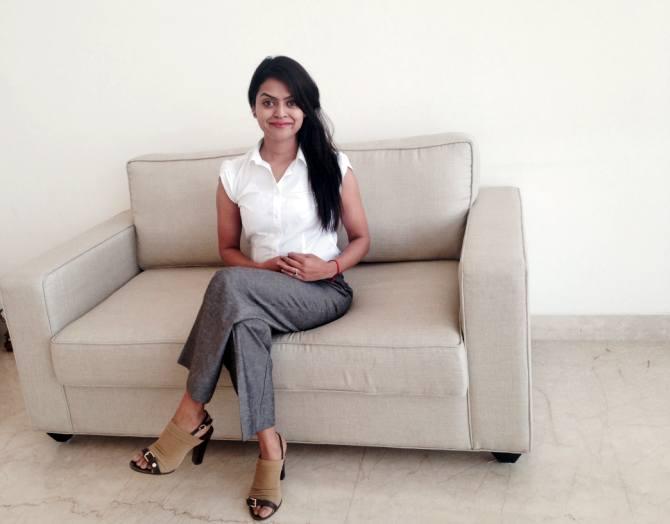 Describe your start-up venture.
EasyFix is a maintenance and repairs service provider. With its core as plumbing, electrical and carpentry, EasyFix's focus is to organise the unorganised labour centric construction industry.
For achieving so, within few months of setting up our business we took a unique and unexplored B2B2C (business to business to consumer) model.
Our core business model operates as a 'One Call Home Repairs Service' to resolve household maintenance problems with professional expertise, complete reliability and convenience.
Reasons why you decided to start-up...
The hunch that unprofessional home repairs and maintenance is a problem that many people want to get fixed turned out to be true.
The company was given a small initial seed fund by the CEOs of one of the companies I had worked at, and the focus was on running the company profitably with our own resources -- which we managed to do.
EasyFix was nurtured out of personal needs. Back in 2011 in Delhi I faced a tough time while dealing with technicians to fix my household problems.
As a working woman, I wanted to ensure that finding technicians for household work is not tough and the idea of EasyFix popped up in my mind.
As entrepreneurs do, I saw that this is a problem worth solving -- and Easyfix was born.
We started to focus on the B2B2C model in early 2012 when we saw an opportunity in the after sales service market. In the era of 'service' we want to help brands to provide installation or repair service experience to their customer.
With the new investment and the addition of iconic minds such as S D Shibulal to the board, 2016 is about creating demand, expanding and replicating our 'minimum viable product.'
What is your start-up's USP?
Our USP for customers is fastest turnaround time and cheapest services.
EasyFix currently provides visiting charges for free and services in six hours TAT (turnaround time). We aim to hit a two hour TAT by 2017-2018.
EasyFix brings the first-mover advantage to the industry and has steadily gained a firm foothold in the market based on the working principles of running a well structured and process oriented organisation.
Its on-field crew undergoes professional training and police verification and possesses the requisite soft skills needed to ensure long-term customer loyalty and retention.
To match its clients' requirement EasyFix has a bouquet of packages with different handymen skillset levels to meet specific requirements. EasyFix works for its people and strives to create a professional and respectful working environment for its handymen.
How do you plan to scale up?
EasyFix's mission is to become number one in after sale service industry and launch its services globally by 2020.
We were operating in 4 cities with a team of 24 people before we got our first round of VC funding last year. We are currently present in the top 10 cities with 65+ paying clients, 50+ employees, technology for real time field force tracing and shortest service delivery TAT.
Challenges you faced and how you overcame them...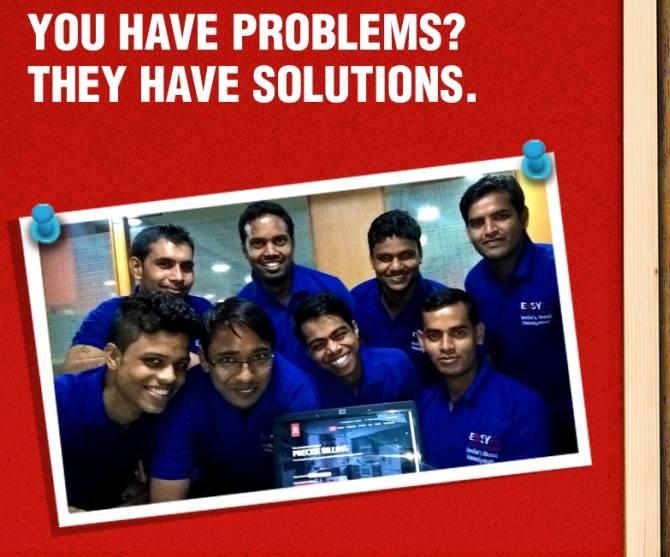 Funding and people!!
Funding: For me EasyFix was never a build-it-sell-it business. My objective was, as it is today, to run a successful people's organisation and make it profitable.
Once I was ready with my MVP (Minimum Viable Product) I started looking for funding and realised people would not understand how a woman could, without a tech or an IIT/M background, be running the business alone.
Today when I connect the dots I feel grateful to how I have been able to overcome and learn with every failure.
We are currently on a planned burn rate and really happy with our pace of growth.
People: Building a team of trustworthy EasyFixers who are enthusiastic to 'always' work for company's vision and sync their personal and professional life.
It took me experience to understand the power of empowerment and delegation and identify our 'Core Values'.
Today we only hire those who best fit our values -- WOW Service, Integrity, pride, entrepreneurship -- to WIPE out the market.
I am on a constant learning for developing my EQ and grow a winning organisational structure.
After years of working with people and my interest in understanding human mind and psychology has led me to developing myself as a patient and a more effective leader than most.
Lessons your start-up taught you
For self-improvement, all that matters is 'HOW' we say it!
For people management:
Be patient and listen.
Understand from other's point of view.
Not to complain, condemn or criticise.
The positives and negatives of the Start Up-India Plan
Positives:
It will boost enthusiasm among people to get out of their comfort zone and take advantage of this platform to bring alive their past desires and inspirations of becoming an entrepreneur.
It will give India a new structure, as every entrepreneur will contribute at some level to the GDP of our country. Every new business will try and solve a problem and bring organisation for improvement of the unorganised.
Encouraging privatisation will speed the pace at which India is developing and we will become a developed country soon.
Negatives:
Can't think of any except I am a bit concerned with pace for communication about the 'Features' and 'Benefits' of the Start Up India plan to potential candidates and how can they make best use of this opportunity.
How will Start Up India Plan benefit your start-up?
Prime Minister Narendra Modi said he is trying to 'foster innovation and incubation.' EasyFix is a labour development and construction focused company; our vision for the blue collared is the same as Mr Modi's and we have the strength to make a difference and turnaround growth rate of ITIs (Indian Technical Institutes), NSDC (National Skill Development Corporation) and other skill development programmes, currently run by the government.
We are looking forward to collaborating with the Modi government for skill development and labour development initiatives. We want to be able to contribute to society and transform the unorganised labour market by doing things right, and that is by better execution of skill development programmes.
Your message to Indian start-ups...
If you know you can do it, then just go for it. Be patient and you will get it.
Please remember: A vision without 'execution' is delusion and ideas are easy, implementation is hard.
Your message for Prime Minister Modi
#Start-UP India is a brilliant idea and can speed up the pace at which India can get transformed to a developed country.
The country with the largest population has the largest talent in the world and there is so much that needs be done to make the vision come true.
How soon we become developed is in the hands of the CEO of this initiative.