'Each day, while interacting with scores of people, all with demands and expectations of their own, holding one's own fort is of paramount importance'.
'One must always have the vision which will guide the journey,'
Dinesh Goel, a chemical engineer from IIT-B, is co-founder and CEO, aasaanjobs.com, an online marketplace for entry-level and blue-collar job seekers.
The second part in Prasanna D Zore/Rediff.com's series on how India is starting up: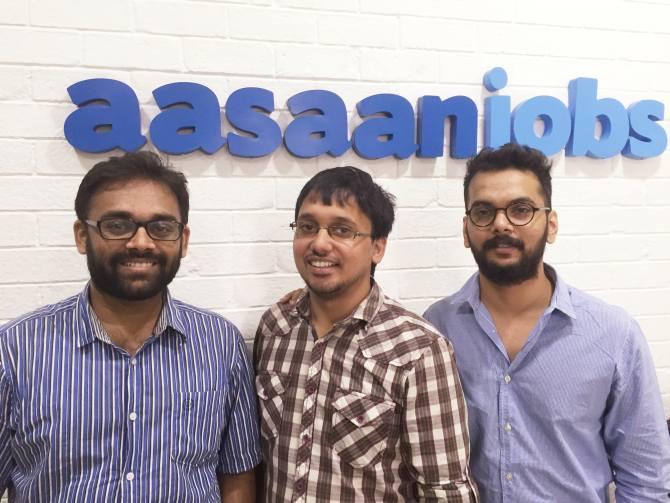 IMAGE: Dinesh Goel, centre, with co-founders Gaurav Toshniwal, left, and Kunal Jadhav.
Describe your Start Up venture...
Aasaanjobs is an online marketplace for entry-level and blue collar jobs.
It provides a platform for recruiters and job seekers to interact seamlessly.
The company's advanced, two-way matchmaking algorithm filters through its database to only connect candidates whose profiles and job expectations meet client requirements. This makes the entire process quick, effective and convenient for both job seekers and recruiters.
Founded in November 2014, aasaanjobs is based out of Mumbai. It has been funded by IDG Ventures and Inventus Capital Partners.
The team size currently stands at around 150 people. The company's inception was inspired by the unregulated recruitment market in India as far as entry-level and blue collar jobs go.
The team behind aasaanjobs seeks to leverage India's rich human resource pool by making recruitment easy for all parties involved.
Reasons why you decided to Start Up...
I started working at a multinational bank after I graduated from from IIT-Bombay in 2012.
Almost a year later, I realised that my house maid was worried about her only son's job.
A watchman at my housing society would ask me about job opportunities for him. These incidents made me realise that there was a need for a network for blue collar jobs.
My friends and I teamed up to launch a unique recruitment platform for the blue collar class, aasaanjobs.com
What is your Start Up's USP?
Aasaanjobs' USP is its innovative technology-backed solutions that solves the problem of recruitment in a largely unstructured segment in a number of ways.
It offers a multilingual Web site to reach out to people with diverse backgrounds as well as a WAP Web site to engage with candidates still using feature phones.
It has also created an assessment module for candidates that can be accessed through both mobile and Web platforms.

How do you plan to scale up?
We have already extended our footprint to Pune and Delhi, and over the course of the next two years will be expanding to Chennai, Hyderabad and Bangalore.
Our tech product would be able to connect job seekers with the right employers, and with the assessment module available online, candidates would be able to have a better idea which job role they are the most capable for.
Challenges you faced and how you overcame them...
The major challenge initially came from shedding that image of being just another manpower agency.
Once job seekers were convinced, looking at the various technological and service offerings, it became a little easier to bring traction.
The other challenges were liaisoning with partners and agencies, as well as fulfilling client requirements, some of which were so particular as to include a particular Android version in the phones of candidates!
We have been able to strike a chord with all stakeholders by setting realistic expectations for everybody.
And even though every day might bring a fresh horde of challenges, we take them head on to augment our learning.
Lessons your Start Up taught you...
The one major lesson that this Start Up has taught me is to always focus on the journey and not fret overtly about the goal (which in turn might affect one's psyche negatively) as well as to always have a clear vision going ahead.
Each day, while interacting with scores of people, all with demands and expectations of their own, holding one's own fort is of paramount importance, and therefore one must always have the vision which will guide the journey.
The positives and negatives of Start Up India
The salient points of the Start Up India initiative are tax exemption for incubators and Start Ups, IPR (intellectual property rights) protection, patent fee reduction, setting up of research parks across IITs and IISC and a corpus of Rs 10,000 crore (Rs 100 billion) to be utilised for Start Ups -- all look quite promising in terms of attracting the best talent from far and wide to help India reach its potential.
However, the true test of the government will now lie in how the policies are actually implemented, and how long it takes for parliamentarians to pass the Bankruptcy Bill.
Apart from this, it would take further efforts on the part of all the stakeholders -- the government, investors, entrepreneurs and customers -- to truly create a smooth Start Up ecosystem.
How will Start Up India Plan benefit your Start Up?
Measures such as the exemption from capital gains tax when investing one's own wealth in a Start Up will ensure that many jobs are created at every level and human resources and talent acquisition will no longer be a bottleneck for companies seeking to hire more manpower.
Apart from this, no inspection for the first three years and self-certification for statutory compliance will enable Start Ups to hire in bulk and scale up their operations, creating a cascading effect as far as job creation is concerned.
Your message to Indian Start Ups...
Always scale up in a sustainable manner, keeping in mind the unit economics of your model.
Your message to Prime Minister Narendra Modi...
The government should be able to ensure that Start Up founders and entrepreneurs focus more on their core business rather than getting involved in the various nitty-gritties of regulations and compliance norms they must adhere to.
The Start Up India action plan is a welcome step ahead in addressing all these concerns, but to be able to effectively match the labour force growth with employment growth, the government must strive to create an ecosystem where everyone feels at ease to aspire for a better standard of living and pursue growth.
How many people have you employed? How many more do you plan to hire this calendar year?
Currently, we have around 150 employees. We plan to hire at least 120, 130 more in the business development and sales side as well as around 30 on the product side as we expand to other cities.

What are the skill sets you will be looking for in your employees?
We would like to strengthen our product, marketing and sales and therefore hiring would take place in the coding, design, marketing, sales and business development profiles.