The entrepreneur, who only draws a minimum wage, won't be paid if he doesn't meet extraordinarily ambitious goals.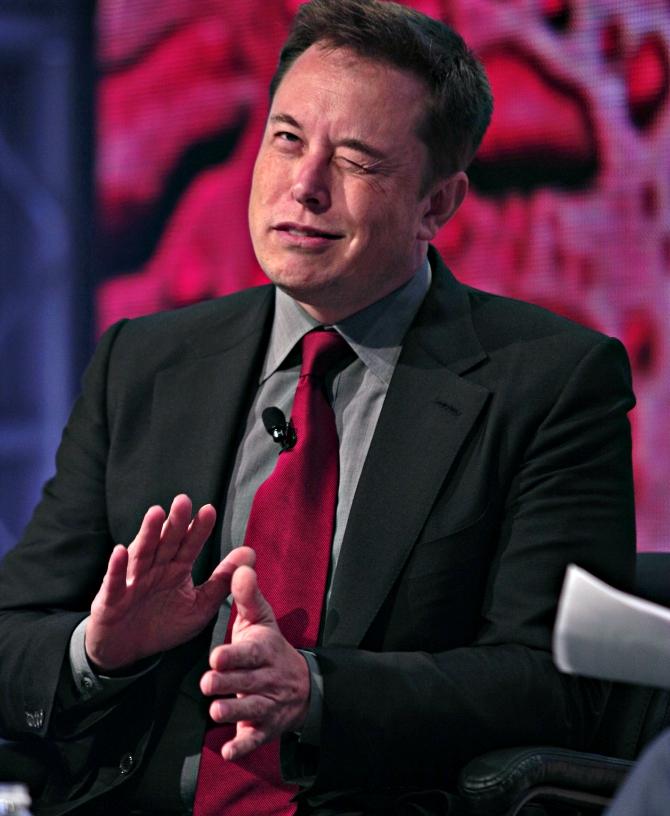 Photograph: Bill Pugliano/Getty Images
In a world where CEOs continue to draw exorbitant salaries -- according to a recent Bloomberg analysis, the gap between their compensation and that of average American workers is wider than in other countries -- Tesla's chief executive officer Elon Musk is blowing people's minds with his salary structure.
Tesla Inc announced this week that Musk would receive no guaranteed compensation of any kind over the next 10 years: 'Elon will receive no guaranteed compensation of any kind -- no salary, no cash bonuses, and no equity that vests simply by the passage of time.'
The compensation, the company statement said, will be based on a combination of market capitalisation and operational milestones.
Decoding the payment structure, The New York Times said, 'It involves Musk hitting two sets of metrics.
'First, Tesla's market capitalization has to reach $650 billion -- more than 10 times its current level and a valuation that would be fourth among today's publicly listed companies behind Apple, Alphabet and Microsoft, and just ahead of Amazon.
'Second, he must turbocharge Tesla's financial performance. That requires either growing annual revenue to $175 billion, almost 15 times 2017's expected top line, or making $14 billion in earnings before interest, taxes, depreciation and amortization, a figure that may come in at just over $500 million for last year.
'There are 12 steps along the route to the maximum payout.'
The NYT noted, 'Musk's new targets are even more ambitious than the 10-year goals from 2012 that he blew through years early.'
Experts have called the plan 'far-fetched' (Vanity Fair) and 'delusional' (Business Insider), considering Tesla's cash burn and repeated production delays.
However, it is still possible that Musk could become the world's richest person without ever getting a paycheck.
Fortune explained, 'The CEO is also Tesla's largest shareholder, and if he hits all 12 performance milestones, the company calculates Musk would own as much as 28.3 per cent of Tesla. With that large a stake of a $650 billion company, Musk's net worth would surge to $184 billion in Tesla stock alone -- potentially making him the richest person in the world.'
To put it in perspective, the current richest person in the world, Amazon's Jeff Bezos, is worth more than $113 billion. Musk is currently worth $20.8 billion.
Interestingly, Musk does not take a salary at the moment.
Tesla has to legally pay him at least minimum wage, and that is what the company does. Musk doesn't cash the minimum wage cheque.
He has also not exercised any of the stock options he collected as part of his previous compensation agreement.
To afford to live, the NYT reported, 'Musk has borrowed against his shares, a practice that some corporate executives have questioned. Musk insists that the loans are such a small portion of his stake in the company that even if Tesla shares were to fall precipitously, it would not impact him or the company.'
Recommended for you: The legend of Elon Musk explained by 10 fans