Here's what makes the former Cap Gemini CEO a sought-after 'turnaround manager'.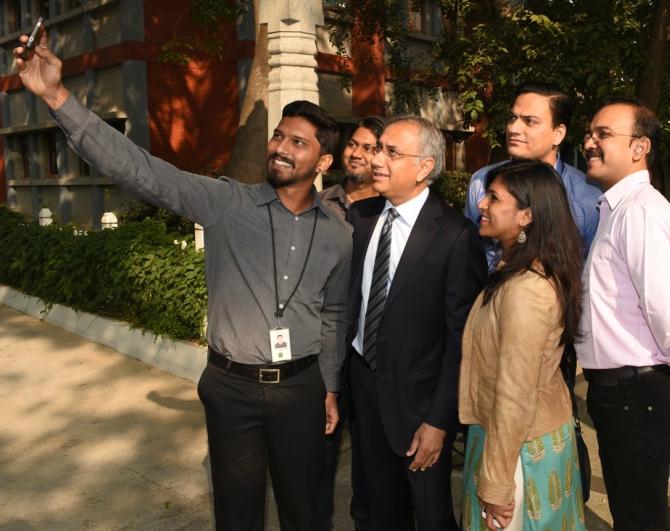 Salil Parekh (front centre) on his first day as Infosys CEO.
Photograph: Courtesy @Infosys/Twitter.
Salil Parekh, who took over as the chief executive officer (CEO) of Infosys this week, is known for his 'stay calm, don't panic' approach to leadership.
Parekh is tasked with steadying a trouble Infosys and getting it back on track. He will also face the challenge of maintaining peace between the founders and the management.
But those who know Parekh consider him just right for the job -- colleagues at Cap Gemini told Bloomberg that Parekh is amiable with strong social skills while others who know him attest to his skills as a 'turnaround manager'.
As Parekh begins his new innings, we revisit some of his management mantras, which he had revealed at a NASSCOM India Leadership Forum.
1: Market discontinuities make leaders -- winners and losers.
2: Look outside, not inside -- spend more time in the market with clients.
3: Be truthful with yourself and your people -- difficult to solve a problem without first acknowledging it.
4: Hire good people, remove non-performing managers.
5: Stay calm, don't panic.