Eruditus offers Ivy League education to working professionals in India.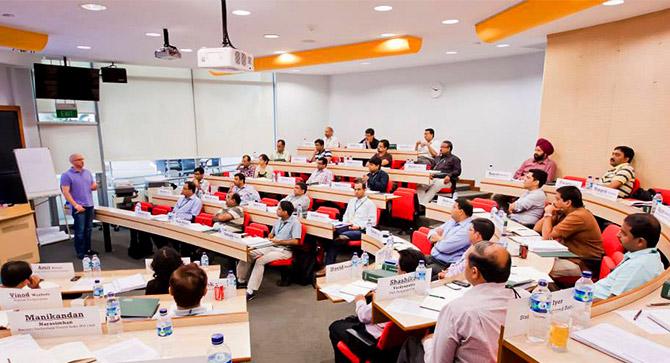 IMAGE: Erudite Learning is founded by Chaitanya Kalipatnapu, an alumnus of INSEAD, and Ashwin Damera who graduated from Harvard.
Photograph: Kind courtesy Erudite Learning

When 40-year-old Rajshree Naik with over 13-years of experience had a choice to make, either acquire leadership skills or be content with her marketing expertise she opted for the former. One year of education at the INSEAD leadership programme for senior executives (ILPSE) caused a "dramatic shift" in her career. From being the head of marketing at De Beers, her "life changed" when she co-founded PING network, a content-generation broadcast network.
Mumbai-based Eruditus Executive Education offers professional development programmes to working professionals in India, Singapore, Dubai and other locations in collaboration with the executive education arms of INSEAD, Harvard Business School, Wharton, MIT Sloan and Columbia Business School. Courses are delivered online or in classrooms located globally. Additionally, it also partners with the Singapore-based Emeritus Institute of Management to provide online courses to middle managers.

Co-founded by Ashwin Damera and Chaitanya Kalipatnapu in 2010, the start-up recently raised $8 million (Rs 52.36 crore) in Series-B funding from Bertelsmann India Investments. The company had earlier raised $1 million in Series-A funding from Angel Investors.

Concept

After co-founder Damera completed his Master of Business Administration (MBA) at Harvard Business School and returned to India, he realised for an average mid-income Indian receiving quality Ivy League education was either unaffordable or unfeasible.
Therefore, using technology and curriculum design innovation, the start-up offer courses from top business schools at a fraction of their cost. For example, a course that would cost $100,000 at Columbia University costs $30,000 at Eruditus. Unlike peers, Eruditus is not a distant-learning programme as it involves enrollees to attend an amalgamation of classes held not only online but at various locations, including Dubai, the US, Singapore and Paris.

The course is strictly for earning professionals, mostly with 15 to 20 years of work experience. The one-year curriculum is designed in a way where one can attend 7-8 weeks of classes and take 25-30 days leave at periodic intervals to attend more classes. On average, the two-semester course, without any examination, requires 300 hours of study.

With rapid change towards digitisation, there exists a need for specific skill development among corporates. Therefore, the courses are shaped for individuals now facing competition from players or those who need to apply digital disruption to their businesses to fulfill their managerial obligations, says Damera.

Opportunity

Eruditus serves as a bridge for people who cannot travel abroad to receive an education and for foreign universities which cannot set their campuses in India. With the US as the most popular destination, Eruditus saw a fourfold enrolment rise to 5,428 participants across 58 countries from 120 participants in 2012 from India. Pegging the global higher education e-learning space at $17 billion, the Asian opportunity is $3.5 billion and the Indian opportunity stands at $200-300 million.

Revenue

Based on different subscription models, Eruditus earns revenue on a sharing basis in alignment with the respective institutions and programmes they deliver. For a two-month online course, mostly for professionals with 5-10 years of work experience, the cost is Rs 25,000 to 30,000. "We have operated on a break-even basis since inception and plan to utilise the investment raised not to plug the burn but rather to scale up faster," says Damera.

Road ahead

Seeing no competition from popular online and distant education courses like Coursera, IGNOU, Eruditus aims to provide Ivy League education globally under one umbrella. The company claims a 30 per cent hike in salaries of approximately 40 per cent applicants who train in Eruditus programmes. There is a 90 per cent completion rate in its online courses and the co-founders aim to expand the portfolio of 28 available programmes.

"There are more than 500 million white collar professionals in India, South-east Asia and China. Most of these professionals have missed out on high-quality education," says Pranjal Kumar, vice-president, Bertelsmann India Investments. "Eruditus has in-depth knowledge of the market need, and helps partner universities design market-relevant programmes, as well as helps them achieve global reach."

Although Eruditus offers no scholarship and placement, its does assist in rebuilding one's portfolio and introducing them into an array of growth networks. Along with expanding geographically, to China, Latin America and Europe, the company plans to grow threefold in the number of applicants to 15,000. As the ratio of male to female candidates is 75:25, it aims to receive active participation from women as well. Scaling up the team strength from 110 to over 200 across five countries, Eruditus will include a chief marketing officers' programme in the near future.


Founded: October 2010
Area of business: Professional development programme
Co-founders: Ashwin Damera and Chaitanya Kalipatnapu
Funding: $1-million in Series-A, $8-million Series-B by Bertelsmann India Investments
Team strength: 110


EXPERT TAKE
Mayank Kumar, MD and co-founder, UpGrad

Eruditus offers management programmes with leading global institutions; its ability to partner with leading brands is a major strength. Its offline executive education division is scaling challenges, hence, offering online courses with global brands has huge potential.

This is not new -- Massive Open Online Courses (MOOCs) aimed at bringing quality programmes to masses. However, MOOCs haven't created that impact the initial euphoria indicated — the focus being accessible content, over learning experience. People attend schools not for the library but the overall experience, and that's why Eruditus (and Emeritus) has kept class sizes small, selective admission (not open) and a paid model for programmes; allowing them to focus on a quality education experience.
However, as they scale, there are some challenges they must overcome.
Education brands are local -- as the company moves beyond India and Southeast Asia, it will have to invest heavily in new marketing channels to capture demand.
For a quality experience (not just content), education will require human intervention (mentoring, grading, delivery) - and as scale increases, processes those make human intervention more efficient will be crucial. Lastly, the company relies on leading brand partnerships- and as they adopt online programmes - creating their own brand becomes important for success.