For students aspiring to study abroad, the visa interview is an important process. These tips will help you can sail through.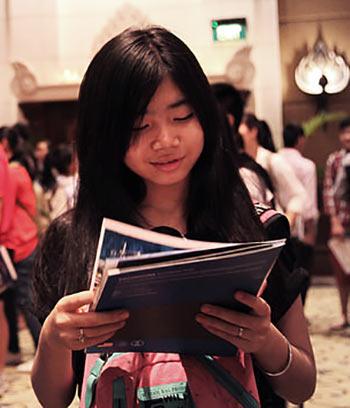 If you wish to study abroad, you need to start preparing well in advance since the application process is time-consuming.
However, one of the biggest challenges that students face during the application process is preparing for the visa interview.
To ensure that your visa interview experience is a good one, here are some preparation tips that will help you breeze through your interview:
Create a good impression
To create a good first impression, be on time and dress appropriately, preferably in formal wear.
The visa officer's decision is based on the impressions they form during the first few minutes of the interview since they have to deal with a vast number of applications received.
Be courteous, friendly and polite throughout the interview so as to create a good impression in front of the visa officer.
Be well prepared
Go through the website and handbook of your university carefully.
You must find out everything about your course contents including course duration, fee, commencement and end date, credits points etc.
It is also advisable to prepare for the interview questions in advance with the help of mock interview sessions, referring to sample visa questions and by researching about questions that are generally asked to aspiring applicants.
Be calm and confident
Be confident as you are the best person to represent yourself.
Also, be ready for any strange questions and don't get nervous.
Such questions are only meant to test your intentions, skills or IQ.
Keep your answers short and to the point
Think carefully before answering a question and if you are not sure, then you can ask them to repeat the question.
The visa officers have to deal with a large number of applications and therefore, they are usually hard pressed for time. So keep your answers short and to the point.
Keep required documentation at hand
Get a copy of all the required documents with you for the interview.
This includes appointment letter, visa fee receipt, photograph, passport, I20 and letter of admission, financial documents, degree transcripts, test scores of GRE/TOEFL/IELTS/GMAT score sheets, work ex. certificate neatly filed in a harmonium folder.
Provide necessary financial documents
To ensure that you clear the visa interview and get your student visa, you may be required to furnish certain financial documents to prove that you have the necessary resources to fund your studies.
You may need to prove that you have the required funding to pay for tuition fees, living expenses, accommodation etc.
If your parents are funding your education, then you may have to submit their liquid asset statements which includes their original bank records and tax returns of the past three years along with their original fixed deposit receipts.
If you have received a scholarship, then you need to provide a confirmation letter and if you have taken a loan then you will have to provide official documents to prove that the loan has been approved.
Explain how your programme matches for your career plans
During the interview, you must explicitly state the reasons that prompted you to choose a particular programme.
You should also be able to explain how studying abroad relates to your future professional career in your home country.
Never sound like a potential immigrant
You must clearly indicate in your answers that you are only planning to study abroad and not immigrate.
Your sole reason for going abroad is for your further studies and not for securing employment.
You must convey to the officer that once your programme is over, you will return to your home country.
Maintain a positive attitude
It is very important to maintain a positive attitude throughout the interview. In case you are denied a student visa, it is advisable to refrain from arguing with the officers.
Instead you can request the officer to provide the reasons for the denial of student visa in writing along with a list of documents that he or she would suggest that you bring next time to ensure that you are granted the student visa.
Image used for representational purposes only. Image: U S Embassy Phnom Penh/Creative Commons

Collegepond is a career guidance company whose aim is to help students achieve their potential, crack the competitive exams and guide them in the application process for various courses across the globe.