"Stop thinking that you are an average student."
"Being a student means a lot of things, not only grades.
"Study, learn, experience. Focus. Understand and internalise the subjects."
Overseas consultant NNS Chandra had these words of advice for students aspiring to study abroad.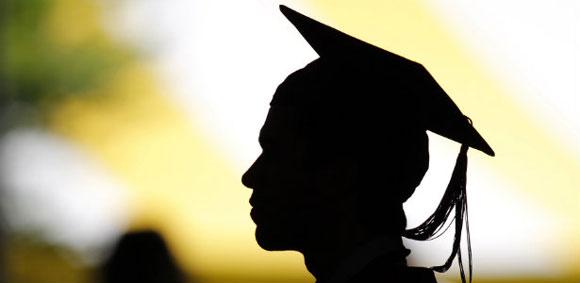 On April 17, 2015, Rediff.com had organised an online chat with overseas education consultant NNS Chandra.
For those who missed the chat, here's the unedited transcript.
---
Megha Nambiar: How many times GMAT exams are conducted in a year?
NNS Chandra: Hi Megha Nambiar - "All-round-the-year. Unlike other exams, you can choose your own date and time for taking the GMAT!
The test is administered in Ahmedabad, Allahabad, Bangalore, Calcutta, Chennai , Hyderabad , Mumbai, Cochin and New Delhi five-days-a-week (Monday through Friday), twice-a-day." taken from http://rediff.ly/4g5t5
---
Shankar Kathurde: Sir, can I get the paper pattern for GMAT?
NNS Chandra: Hi Shankar, GMAT patterns are available all over. Search online. That is the best resource, I can send you several if you send in your email.
---
Gajanan Bose: What is the use of USMLE for ECE ENGG students?
NNS Chandra: Gajanan, I am sorry, I did not get your question. USMLE is a medical licensing exam. For ECE candidates - what I might have missed something here. Please clarify.
---
sudhir prajapati: My daughter will start her X from May 2015 in Gujarat Board. After 12th She wants to join US University for Fashion related study please guide
NNS Chandra: Dear Sudhir -- please send me details, like grades (9th and 10th), where she going to do her 11th and 12th now, which program etc to me. That way I can be more specific.
---
Chinmay Thakur: Sir, is it possible for me to do a PG course in science after doin BBA in India?
NNS Chandra: Absolutely yes Chinmay Thakur.
BBA constitutes your under graduate degree. Switching to sciences and doing a masters you must build your academics by taking additional courses.
There might be several required courses. If you could send me your details I can be more specific.
---
Bimal Kumar Bhattacharjee: One year LL.M course in US. Any chance for an average student ? May I request for list of the University/Colleges offering LL.M?
NNS Chandra: First - Mr Bimal Kumar. Stop thinking that you are an average student.
Means nothing. Being a student means a lot of things, not only grades. And my answer to your question is yes.
College list is a personal choice, based on who you are. If you can send me a note on your full self academics, experiences then I can help you with the list.
---
jesun jesun: Dear Chandra, I am from Chennai. My son just finished his XII th exams in CBSE curriculam.
He wants to join in mechanical eng BE or B.TECH in chennai deemed universities.
After his 4 years course he wants to do MS in US.for that what he needs to improve and how.
NNS Chandra: My Long answer -- Four years. It is a long time. Use every bit of it.
Study, learn, experience. Focus. Understand and internalize the subjects.
Apart from doing those I wrote as short answer (doing it with full commitment), your son can take online courses from American Universities (for e.g. take a look at MIT free online courses)
I would strongly recommend doing some professional development and certifications.
There are several IT certifications available. Microsoft certification. Simple. But improve the profile.
Ask him to plan his years. Make a calendar.
You help him to keep his focus. If required hire a counsellor or a coach. And last but not lease -- encourage him to take college level courses in writing and reading (along with engg. studies).
This is one of the most common challenges I am seeing in Indian engineering students.
---
Vivek: Sir, my daughter is in final year BCom.
What are the available opportunities in abroad for her further studies?
Is she eligible for MS in USA?
What are the tests that she has to qualify for going abroad and what will be the approx. expenditure for MS in USA.
Finally, Pl let me know can she go for MS in Australia/Singapore?
NNS Chandra: Dear Vivek, most of American universities would look for candidates with four years of under graduate education for their master program. And for qualifying for a specific subject MS one must have required credits in that subject.
At least, for competitive and reputable programmes. But there are several ones which would accept a 3 year degree.
She must clear GRE for sure and have good grades in her Bachelors.
To have additional academics would really help her to secure good universities and scholarships, for example, additional challenging courses, professional certifications etc.
The cost varies from schools to school, city to city.
Generally, I would say, you are looking at around 50,000 to 60,000 $. MS in Australia and Singapore should be comparatively more open as their masters, in most case, do not insist on four year honors under graduate degree.
---
Nilesh Naik: I have completed my graduation in commerce background.
I have an experience of around 15 years now with Networking and IT background with reputed company.
I plan to do my MBA in the US.
Do not have good academic marks in commerce.
I plan to stay with my brother in california and do my MBA.
Which universities would you suggest. I am planning to give my GMAT. Am I in the right direction ?
NNS Chandra: Hi Nilesh -- you seem to have made significant achievement in last 15 years. Excellent.
I am not aware of CMP. Is it IT designation?
I would recommend you to consider technology management specialization.
Your under grad grades and three year education will, in most cases, overlooked when you have 15 years of experience. But you must have a great GMAT
And you will be expected to have a killer Statement of purpose.
Consider UCs. Which city in California your brother is put up?
You can come here and do some short courses too, say even online course in Berkeley.
I can suggest several ones, please send me more details. All the best Nilesh.
---
Seema Dutt: Sir I have given my IELTS in General Training Module, Can I apply for Academic course in Australia?
NNS Chandra: It depends, Seema Dutt. Some academic courses might insist for more.
If can be more specific and send me details I can comment at length.
raghunathan: My son who is B tech currently in Australia on deputation. I would like to know pursuing higher studies in US or Australia.
Which is better in terms of employment opportunities as well.
NNS Chandra: Hi Raghunathan -- Does he like Australia? Enjoying there? How many years?
Does he want to work and live in Australia? -- These are the questions you should ask your son. Australia got great universities.
My nephew did his masters from Monash. And now settled in Australia, He loves it there.
Your question on which one (I mean USA or Australia) is better in terms of education is a valid one.
One place to look for answers of that in the rankings.
American universities are always ranked on top whichever way one look at it. But, I would encourage your son to ask different questions and look five years from now or 10 years from now and think about his career and life. And make choices.
Employment opportunities are definitely more in America; it is a much bigger country, larger economy and dynamic job market. And VISA regulations must also be considered.
---
sanjukta bandyopadhyay: I am a finance professional having 7yrs of work experience.
I work as a treasury dealer in a private bank. Want to go for GMAT.
Target top 25 only. Just wanted to know will this help in my career in the long run?
NNS Chandra: Great Sanjukta. I admire your determination. Nothing will stop you from getting into top 25.
Push harder. Of course yes, if your question in full is that you want to do MBA (I assume you are doing GMAT for US B Schools).
A good score would add credibility to your profile and make you qualified.
---
Raju Vohra: Hi sir, What are the exams that are to be taken for getting eligibility to apply in US universities for pg in medicine course?
NNS Chandra: Hi Raju - Answer is simple and bit complicated, unfortunately. The qualifying exams are called USMLEs - United States Medical Licensing Examinations. There are four exams in total -
Step 1, step 2 CK, step 2 CS and step 3.
The first two can be written in all countries but the last two can only be written in US.
Now to second step - US experience qualification for securing a seat in residency.
Use clinical experience -- This is perhaps the most important criteria for getting a seat in residency.
Hence for you to be seriously considered for residency, it is always important that you have had some sort of clinical experience in US.
Do electives, internship, observer ship, research or volunteering in US. And all the best.
Any help, guidance, please feel free to give me a shout. Chandra.
---
Sanjiv Sanghi: Dear Sir, My daughter has done her BSc in Microbiology from Delhi University and currently pursuing MSc in stem cell research from Panjab University.
She would be completing course in May 2016. I would like to know further study options post MSc.
NNS Chandra: I could recommend several schools and programs which would like to have someone with this back ground. All depends on academic rigour she got.
Many in education field have joined the bandwagon to implement and highlight 21st century skills, but experts identify a missing element -- research skill.
Some even predict next decades would be a knowledge based economy like past three decades were mostly that of data and information based.
Studying and learning research as a skill and having knowledge and expertise in an area -- those would be most sort after and highly paid in coming years.
---
Photograph: Reuters
ALSO READ
'Which university should I opt for?'
Have questions for NNS Chandra? Post them here! He'll answer them every Friday between 3 pm and 4 pm IST.
You may also email him on syam.chandra@transwebglobal.com
Based in Boston, USA, Chandra is an engineer by training, an academician by trade and researcher by passion.
He often shuttles between India and the US to coach students in admission related counselling.
He is associated with professional organisations like Study Iowa, NACAC, OCACA, ACA, ASCA to name a few.