We'd asked you, dear readers, to tell us if you've lost your job and what you learned from the experience.
Rediff reader Stephen J, 50 from Chennai shares his story:
Illustration: Dominic Xavier/Rediff.com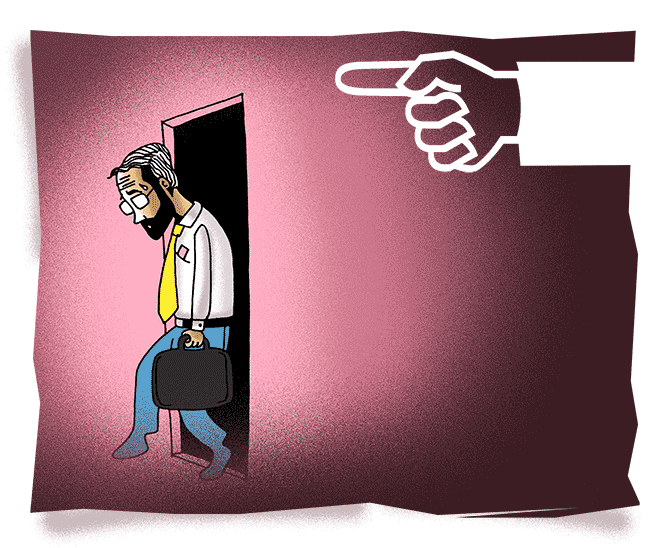 I had worked in India for 17 years in two different companies before moving to the United Arab Emirates in 2007.
I graduated in petroleum engineering and enjoyed working in the oil sector.
After working four years in UAE, I moved to Oman, Saudi Arabia and Kuwait for better prospects.
At one point, I was earning up to Rs 20 lakh a year.
A lot of things changed in the past decade.
While I was working in Saudi Arabia and Kuwait, I started facing problems at work. The salaries were delayed by three to four months.
Two years ago, in June 2018 I moved to Malaysia after being referred to by a friend. I met with a major road accident, but I was unhurt.
The car that was owned by the company was completely destroyed in the accident.
This obviously didn't go down well with the owner and within next two months I was terminated with a month's pay.
In April 2019, I was fired from the job.
I ran pillar to post looking for another job in the city.
Unfortunately, none of my previous employers wanted to hire me for the same salary.
My friends turned their back on me.
The economic recession had its own role to play.
That's when I learnt some of life's greatest lessons in the hardest and crudest ways.
I did some odd jobs to support my family and finally picked up a job offer to return to India.
I am currently working in India as a delivery boy for Big Basket and Amazon earning approximately Rs 15,000 per month.
My advice: Think twice before making big decisions in life like switching your job.
When you are in your late 40s, it's not easy to find a new job.
If you want to survive, you have to be flexible and willing to take up whatever comes in your way.
---
READER INVITE
Did you lose your job? Know someone who has been laid off?
Do tell us how you coped and what you learnt from the experience.
Please write to getahead@rediff.co.in (Subject: Layoff Stories) along with your NAME, AGE, LOCATION. We'll publish the responses on Rediff.com.
---