We'd asked you, dear readers, to tell us if you've lost your job and what you learned from the experience.
Rediff reader Nalini Jagnat Kudalkar from Thane, Mumbai shares her story:
Illustration: Uttam Ghosh/Rediff.com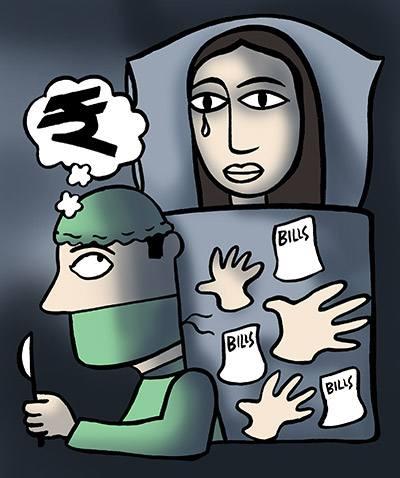 I worked in a law firm named Bright Legal Associates in Thane for 8 months.
After that I was told to discontinue as the markets were down and there were no sales.
While searching for a new job I fell ill and was diagnosed with viral typhoid.
I was under treatment at Pandit Bhimsen Joshi Hospital for 6 months and had to sit at home for 8 months between November 2018 and June 2019.
With no money in hand for treatment and a mounting debt over my head I even thought of committing suicide.
Somehow, my friends helped me stay afloat. I could barely survive.
Meanwhile, I continued searching for a job.
Since I had some experience of working with a law firm, one of my friends suggested I start on my own.
With a help and reference of another friend I started on my own.
I operated out of a small rental counter at a friend's place, doing legal documentation work on my laptop
My advice to readers is: When you lose your job, don't lose your heart, Don't lose your faith in yourself.
Don't get disheartened or frustrated.
Keep searching for the job that suits you.
If you fail to get one (job) explore your talents and keep moving forward.
Try new options that are easy and will give you a side income. This will help you manage your finances.
Prepare yourself to face all situations head on.
---
READER INVITE
Did you lose your job? Know someone who has been laid off?
Do tell us how you coped and what you learnt from the experience.
Please write to getahead@rediff.co.in (Subject: Layoff Stories) along with your NAME, AGE, LOCATION. We'll publish the responses on Rediff.com.
---