"Before you apply, you need to clearly mention why and how your joining will be a win-win situation for the employer."
Award winning blogger and co-founder at Switch Idea, Niranjan Yadav tells us why and how the internship you take up holds the key to your future.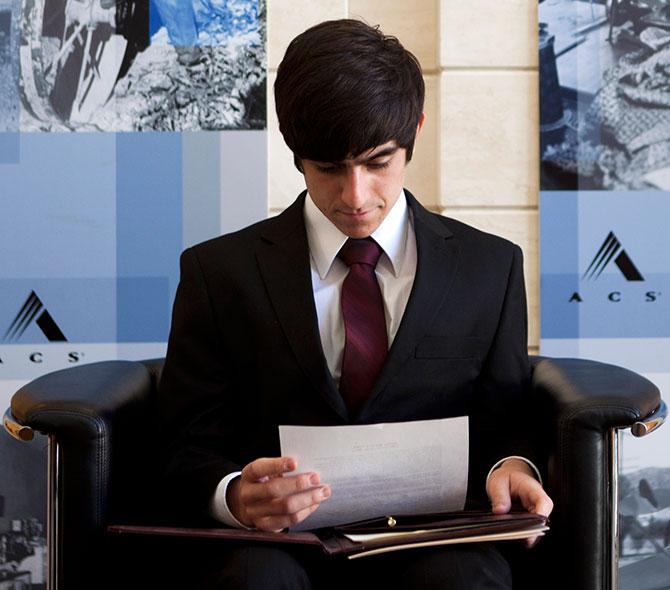 Why internship is really that important?
Competition in the job sector is rising exponentially.
Securing entry-level jobs is getting harder, as the young candidates lack experience and industry skills.
According to a report by NDTV, 50 lakh students graduate every year in India, with a 15 per cent year-over-year growth in the numbers.
The number of jobs available at any given time do not correlate with the number of applicants available.
This is where internships come in.
Doing an internship when you're in college helps you build and develop professional connections, and also gives you a realistic perspective on refining your career goals.
It gives you a complete hands-on experience with an approach which nurtures the students to develop greater understanding of their own strengths and weaknesses.
What if I don't have time for doing an internship?
During the course of graduation, students may feel overwhelmed with coursework, assignments, or co-curricular activities that may keep them extremely engaged while leaving no time to think of doing an internship or an industrial training.
To deal with this challenging part, one should clearly take out specific time slots during their academic course and find extra time to build their experience levels.
For instance, students who find it difficult to dedicate a time span of a month or two for the job, can opt for virtual internships, which are more like 'work-from-home' opportunities.
Others can find internships that align with the course they are already pursuing.
For example: Marketing students can go for social media internships, whereas, students from arts background can go for content writing internships.
Which is a better internship -- Paid or Unpaid?
Having a clear perspective over the financial considerations while looking for an internship can make a big difference in the decision-making process.
Whether an internship is paid or unpaid, there are several parameters that need to be taken into consideration in order to decide if an internship is worthwhile.
Some internships might offer your no compensation but a wide learning experience, whereas others might give you a great compensation with a series of monotonous work.
It is important for you to decide if an internship will ultimately be in your best interests where it meets the requirements when you plan to get a full-time job.
How to land a great internship?
If you are in college and hoping to do an internship which leads you to the industry, you are not alone.
The competition for such slots is bound to be intense, but the good news is that there are certain things that you can implement to enhance your chances of landing a position that will provide you with the skills and experience necessary to succeed in your career.
I have listed the process of getting an internship into three important stages:
Discovery Phase
This is the sourcing stage where you explore through the internet and bookmark internships that matches your interests levels and skills.
You need to be careful during this process, as there might be instantaneous distractions coming along the way as this process requires time and patience.
Here are some of the good platforms you can use for discovering great internships during this stage:
Switchidea.com (Internships across seven Indian cities)
Internships.com (International internships, mostly from US)
Internmatch.com (Elite internships from TechCompanies)
Internlelo.com (Engineering and Management internships)
Hellointern.com (Internships from various backgrounds)
Scooping Phase
Once you are ready with the list of internship opportunities you want to go for, you need to start with the scooping phase.
This part of the process is more of digging out more information about the company or organisation you want to work for.
Knowing every possible detail about the company, their product(s) or services, the team, the culture, the customers, etc will highly increase your chances of getting hired.
Note: The more information you have about your future organisation, the easy it gets to connect with the decision makers out there.
Few tools you can using for getting this information:
LinkedIn
Crunchbase
YourStory Pages
Proposal Phase
This is the last and most important stage which ultimately decides the results.
The reason I call it a 'Proposal' is because ultimately your application (cover letter and resume) is either going to generate an interest amongst the decision makers or it is going to be stacked up somewhere in the files.
So, before you apply to any internship, you need to clearly mention why and how your joining will be a win-win situation for the employer.
In standard terms, your cover letter should strike an interest and your resume should speak for itself.
You can create good cover letters using the following free online tools:
Smart Cover Letter
My Perfect Cover Letter
ResumeBuilder Cover Letter
Cover Letter Now
There are many opportunities out there and your prerogative should be to hunt them down by using the Internet.
Securing your internship is the first step that you take towards building your career and though it seems like a small step, it actually tends to be a great one.
The professional confidence and learning achieved during an internship is a superb asset when you start your first full time job.
Photo: Patrick T Fallon/Reuters
This author Niranjan Yadav is co-founder at Switch Idea, a student opportunity platform helping companies find awesome interns and fresh graduates.