Computer whiz Jefferson Prince, who has built a 70-employee gaming company from scratch, tells S Saraswathi about motivations and challenges of entrepreneurship.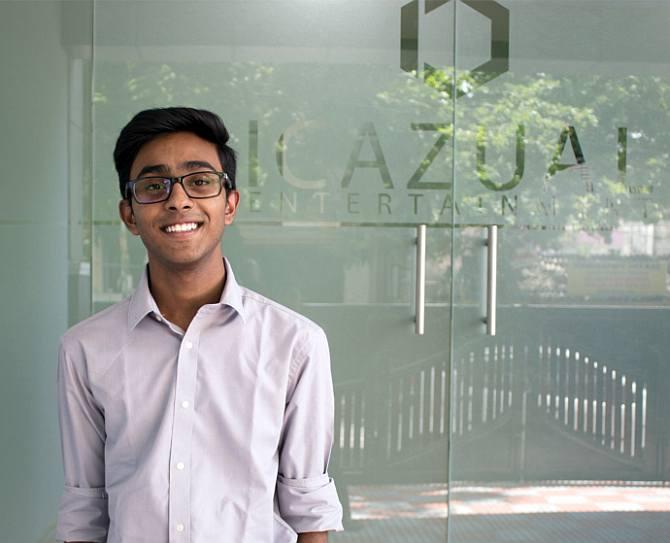 He is just out of high school, but 17-year-old Jefferson Prince is already the CEO of a company that is engaged in developing multi-platform compatible games for the PC and next-gen consoles (Xbox One, PS4).
He was born in Tirunelveli. His family relocated to London when he was three. He returned to India in December 2013 to head his own company, iCazual Entertainment.
The company had its humble beginnings in a small room in East London in 2011. Today it is housed in a four-storey building in Kodambakkam, Chennai, and employs about 70 people.
In this interview with Rediff.com, Prince talks about his interest in computing, his present endeavours and his ambitious plans for the future.
How did you get interested in IT?
I was introduced to technology when I was around four years of age.
Math, physics, computer science and robotics were my favourite subjects in school. I also enjoyed sports, but my greatest passion was working with computers.
Trying to understand the nuances behind the technical aspects of programming and applying them to my own innovations gave me a lot of joy.
My father has a background in computing and engineering.
He introduced me to electronics. Later he bought me a computer. I started pushing buttons and playing around with the applications and it just pulled me in.
I was amazed with what can be achieved with a big box with a screen attached to it!
From that point I started messing around with MS Word and I started to hunger for more knowledge. I started going into the technical side of computing which was programming.
Ninety-nine per cent of the things I know today, I learnt myself.
What were your early projects?
When I was 15, I was asked to take part in two programmes which taught me a lot about business and presentation.
The first programme was for the University of Warwick, for this I created an application that would allow parents to monitor their children at school when they are out of sight.
The second programme was for St Francis Hospice where I created a small game application and raised £1000 (1 lakh INR) without touching the £250 start-up money, within the final week. The team had the opportunity to work with Mr Barry Hearn on this project. This was an amazing experience at school.
What were your early inventions like?
I was amazed with C programming. With that I created my own basic IRC (Internet Relay Chat) network. I used it to chat with friends with a client called mIRC.
I created my own IRC Bots to keep people informed with my social links, information, etc by coding commands into the bot, so when people would say "!website" my bot would answer automatically with my site URL.
I also created my own social media network, something like Facebook. I used it to message my mother downstairs if I wanted anything, such as food or a drink. It was much easier than yelling down two floors.
I built a robotic arm with a small computer. I made it respond to my voice. For example, if I said "Elbow up," the elbow would move. I later made it learn more complex commands and made it store information and repeat it.
I would also mix up a bunch of junk on to a small plastic board and later make it carry out some sort of function. It amazed me because I could give something that looked useless some sort of purpose in life.
What about video games?
The first games I played were the 1980/90s version of Prince of Persia, Age of Empires and later on World of Warcraft and RuneScape.
I used to play for hours. Then I stopped for many years and focused on learning technology and programming. My love for games was once again sparked when my friend asked me to buy an Xbox. I played Halo: Reach with my friend a lot, but I got bored because I couldn't add many things of my own.
But more than Xbox I played RuneScape. It was a private version which I tried to alter a lot. My abilities were so limited that I couldn't add anything 100 per cent new, so I decided to create my own game from scratch for me and three other friends.
Later on I started seeing a business opportunity here and as we progressed, this project turned into something that I wanted to build for the world to see.
What prompted the decision to get into the gaming industry? Did your parents approve of your plans?
When I got into the gaming industry, I had no idea I was doing so. I had little knowledge about the industry. But I slowly got up to speed on how big it is. It's a $70 billion dollar industry.
My parents approved of my plans. They have been really supportive.
You are just 17 years old. How well-equipped are you to handle the challenges of running your own company?
I wasn't equipped at all! I learn new things every day. It's fun!
I was guided by my father and a couple of other people. I've learnt mostly from making a lot of mistakes. It's the best way to learn.
When did you start your company?
This company was registered in 2011 but I've been building its foundations from 2009.
Did you encounter initial failures?
We first built a game trailer without any plan of the game. That was the biggest mistake I have ever made and it was a lesson.
I don't consider it a failure; it's more of a learning experience. I was smart enough to deal with everything else appropriately.
Game developing is not easy. With a staff of about 200, creating, developing and publishing one game could take at least 3 years and would require a huge investment. It is like making an Avatar, just smaller.
So many different technological aspects need to come together. We need a rigging artist,
dynamic artist, lighting artist, visual-effect artist and many more.
Despite offering good salary, there are not many people here for this industry. We find people in Bengaluru, Delhi and Mumbai, but they refuse to come down to Chennai. A lack of staff is our biggest challenge; we have only about 70 employees as yet.
Do they look up to their 17-year-old CEO or do you have problems?
The fact is no one wants a kid telling them what to do. It's a bigchallenge but I have built an excellent rapport with my team and we are a cohesive unit.
Who put up the initial investment?
The initial investment was put up by me as well as my father. He has given me a stepping stone and I have put it to good use.
Why did you move back to India?
I asked my parents if I could move back temporarily to India so I could finish this project as it is impossible to direct something of this scale without being physically present at the centre of it.
My parents also moved back with me until this project was complete. We've made a lot of sacrifices for this and it was a really hard migration. We have already made plans to move back next year.
What is the market for video games in India?
India has a pretty big market for games. Even though most of it is for mobile devices right now, it will soon change.
Next month, iCazual plans to host a convention, wherein we plan to bring in game developers and students from across the globe to participate and talk about the gaming industry. We hope to create an ecosystem for gaming in India.
What are your favourite games?
My favourite games are World of Warcraft, RuneScape, MineCraft, Halo and Age of Empires.
What do you think makes a particular game go viral? And what will be the USP of your product?
A viral game requires multiple addictive elements that keep pulling the user back in. It's hard to explain as there are many different types of games.
I cannot disclose the unique selling point of my product at this time.
But what I can mention is that our title is a futuristic FPS (first person shooter) game based in the future -- 150 years from now. It has a campaign (story mode) as well as multi-player (the main focus).
For the last year and a half, we have been building the elements for the game. Every game is built on an engine. And our game is built on the Unreal Engine 4 (a revolutionary toolset used for building high-quality games) that was launched earlier in March this year.
So it is only since then that we have actually been developing the game, but we are making good progress.
We are the first in the country to be developing a game for the latest next-gen consoles like Xbox One and PS4. iCazual Entertainment is the first company aspiring to not only develop but also publish a Triple A game.
We aim to launch this title in 2015, probably in the third quarter of next year. We still have not decided on the venue, perhaps in the United States or a European destination.
Who are the people who have inspired you?
Elon Musk, Sir Richard Branson, Steve Jobs.
What motivates you?
The feeling of doing something big and different every day; the satisfaction of getting one step closer to my dreams every day at this young age and the prize that waits for me at the end of this journey.
What are your future plans?
My future plans for this business is to expand it into the US (Los Angeles, California).
My academic goal is to enrol at MIT (Massachusetts Institute of Technology), and this way I can strike a balance between business and education.
For my office in India, it's too early to comment. But, yes, I am betting big on India.
After this is done I have some plans for operating in the Robotics and AI (artificial intelligence) industry in the future; this is my ultimate passion.
Image: Jefferson Prince, CEO, iCazual