"Taking a gap year is a big decision. Most of times it might not be a good idea, especially if you are not sure what you want to do."
"I assure you, from my personal experience, any time, any age is good to study."
Overseas consultant NNS Chandra had these words of advice for students aspiring to study abroad.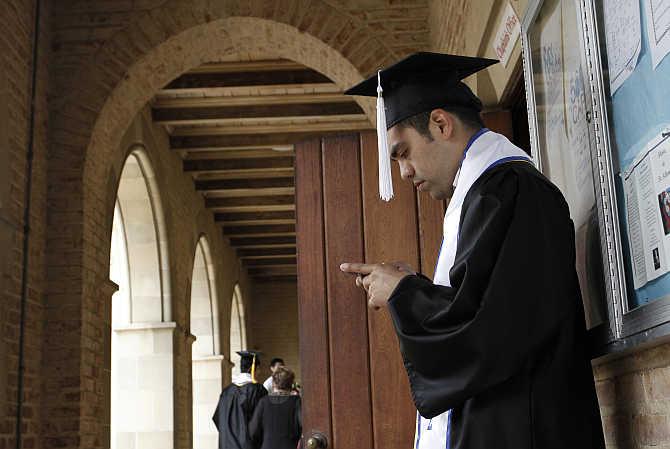 On April 27, 2015, Rediff.com had organised an online chat with overseas education consultant NNS Chandra.
For those who missed the chat, here's the unedited transcript.
---
SATYANARAYANA DEVIREDDI: dear sir, my son is doing his btech in computer science I year at VIT vellore he is very interested to do his masters in us please let me know how to plan in advance.
NNS Chandra: Which year? How is he doing? Ask him to write to me. Other than grades please ask him to work on his experiences (research, work, internship, volunteering) to become a solid candidate.
---
Alphabet Alphabet: With PCB in 10+2 where I can do MBBS abroad ; or,any other course in Science ( I have no maths)
NNS Chandra: You could possibly do MBBS in many locations, I presume.
I know several Indian students are studying in places like China, Ukraine, Russia.
I, unfortunately, cannot recommend anything as I have limited knowledge or course work etc.
USA med schools can be a challenge. But possible. I know of some schools in Caribbeans where one can get good medical training.
---
Subbu: My daughter an MA in PR &Publicity has got admission in DCU for MA in Social Media.Is it worth doing the course?
NNS Chandra: Congrats for her to getting in DCU. Their Social Media Program is relatively new, but as a communication school they are solid and pioneered many ideas in academic world.
I did my masters course work in communication management at New House in Syracuse (a joint program with McMas).
I am not sure of job or research opportunities in UK for social media, but in America there is a huge shortage for trained professionals.
---
Phanikanth: I've completed B.pharm and I am willing to do Medical Biotechnology in USA. please guide me and what can be the total cost.
NNS Chandra: Excellent choice of coursework. If you could send me you grades, experience (work, internships, volunteering etc), I can guide you properly with school selection.
Cost - you must budget 40,000 $ an year. Can vary depending on school, city, location and your life style.
---
Sukesh Ps: Hi, My cousin is passed out of 12th, he has not planned for studying outside India.
He is not aware of the great opportunities available.
Please guide me the direction I can point out, as once he is aware of these opportunities he will surely chase it out.
NNS Chandra: Sukesh - this is a very general question and is a challenge to answer as I have no details on your cousin, his course work, what did he study, IB or local board, scores, his interests etc.
Please do ask him to email me, I would love to guide him in right direction.
---
Parag Vasani: Can BCom or BSc grad student apply for PG in US ,Singapore or Germany etc and how are the prospect after completion of study their in their respective country.
NNS Chandra: In the US, for securing admission for Masters (PG), in most cases you need a four years of college.
There can be waivers, in some schools, for experience/achievements.
Europe one could get in with three year degree, but there can be language requirements etc.
I can confidently say that prospects are good for a graduate in US A right now.
---
Konda Dinesh Reddy: what would be the fees for engineering graduation per year in USA?
NNS Chandra: I would say, one should budget around 40,000 $ to cover studies an year in US university.
It depends too. Depends of city, university (private or public), location North East or Mid West, my experience -- depending on your life style, your cost could vary from 36,000 to 50,000 an year for tuition, living expenses, an year. Then add your travel etc.
---
Rajagopalan Narayanan: Can you please tell me what are the comparing factors in undergraduate international student between US and Canada. Which is better?
NNS Chandra: My friend, I can write minimum three page article answering your question! Very valid one.
I started my career in California and ended up living in Canada while working in Boston:-) Studied in both countries.
Personally experienced both systems, guided 100s of students to both places.
Answering your question -- it depends from person to person.
General one line answer - lots of opportunities in America while Canada is a nice place to live (Ref - World Happiness Report published three days back listed Canada on number 5 while USA at 10th rank. (India at rank 32 I think), Admission, application and study/learning environment are more or less the same for both countries.
---
Anil Kumar: My son completed NTTF i.e. equivalent to 3 years diploma.
Does he have any abroad study opportunity.
He has done NTTF from Dharwad Karnataka and undergoing Industrial Training (completed 10 months and finish in July) in SIEMENS, Aurangabad.
NNS Chandra: If I understand correctly, you are referring to the technical training right?
I am sure some of the credits could be transferred and he could work towards a full college degree. Or a certification/designation or both.
If you can give me more data on your son and his education I can be more specific.
---
Debraj Roy: I am in class X1 I want to study in any European university after class 11 ,please let me know the procedure.
NNS Chandra: Depends Debraj Roy. Where and what you want to study?
Bachelor's degrees in Europe are usually referred to as first cycle study programs in Europe, admission requirement can include an additional language training and certification.
Most engg or technology courses might require interview.
General rules and entry requirements are same -- good grades, good experiences.
---
Kaushik Bhattacharjee: I am in IT industry for almost 10 years.
I am now 40 years of age.
I want to join an MBA school in America.
Is my age going to be a trouble making factor for getting admission to a standard B School there?
NNS Chandra: Hi Kaushik, Trust me, you will be most welcome in any American class room.
Age is of least consequence.
Your experience matters most.
Did you ever watch Larry Crowne (movie by Julia Roberts and Tom Hanks). Watch it. Get inspired.
I assure you, from my personal experience, any time, any age is good to study.
---
R Rizzle: If I want to go abroad for my graduation in Btech( computer engineering) should I drop a year and prepare for sat and get into extra curricular activities for a year?
I don't have too many extra curricular but really good grades.
Should I do a Btech from here and go on for an MBA later?
NNS Chandra: Taking a gap year is a big decision. Most times it might not be a good idea, especially if you are not sure what you want to do.
I have seen students choosing gap year without a plan and proper guidance/coach.
At the same time this can be most beautiful time of year and stepping stone for success and direction for years. Email me, pass your contact, we can talk.
---
Digvijay Nath Tripathi: I am BTech and having 10 years of work experience.
Moving to USA on H4 in next couple of months. Wish to know that whether 1 year MS Program in Electrical engineering is available there.
How much it may be costing? Not interested in short term courses. I need to appear for GRE/TOEFL? Please help!
Yes you need GRE and TOEFL to apply in almost all Universities. Some waivers you could apply based on your experience etc.
---
Asitkumar Ray: I am in 8th sem B tech in Information technology.
I am interested in doing Masters from overseas US/ Canada.
Can you suggest me some reputed universities?
NNS Chandra: Oh Mr Ray, I can suggest tons of schools, from IVY to anything! But can be more specific if I can know your current school, program, your grades, your work experience, research, GRE etc.
Please send me your SOP to begin with, I can guide you more clearly.
---
Pradip Sarkar: My son did BE in Elect & Tele Commn in 2011. He is working in IT consultancy (sales & Mktg) in pune.
His GMAT score 730. He wants to join MBA course in OLIN university/business school Washigton.
Booked seat by paying $1500. Now his company is processing L1 VISA for his transfer to Chicago office. Which is better offer?
NNS Chandra: Dear Pradip,I do not have full details to make a recommendation, but based on your email, I would say, opt for L1 transfer, and come here.
Work. Then also look for a good course. One can achieve better that way I believe.
---
Malaysia: My daughter is in 11th class. In future, I want her to continue her education at Boston School of Medicine. How can I go about the admission and at what stage?
NNS Chandra: I assume you are talking about BU Med program, right?
They do accept international students for their integrated medical program. But a challenge to get accepted.
Where and what your daughter is studying now? IB?
What are her SAT scores? Summer programs, ECs, internships?
Please ask her to get in touch with me with all details and marks I can comment that way.
---
Nikhil Tamhankar: Dear Sir, My son Aditya Tamhankar is studying in First year Engineering (Comp. Science), he earnestly desire to do post graduation from a Good university in U S, Germany,or New Zealand.
How shall he start his preparations right now so that during next 3 years he can do his studies well..PL guide about good universities in U S.
---
Veena: Hello Sir,I am looking forward to study film making in US. Can you please guide me?
NNS Chandra: Ofcourse Veena. I currently work with several professionals and sons and daughters of Bollywood professionals.
Guiding their applications in schools like NYU, NYFA, LeeStrastaburg, USC etc.
Studying cinematic arts and movie making is very good if you have passion and energy for the same.
What exactly are you looking at? Short term or long term courses? Under Grad or Grad or Diploma program?
What is your background? Where are you located? Let us connect over email.
---
Sudarshan: What is the cost of MS in US?can I get a part time job their to support my education?what is the difficult part in doing MS in US?
NNS Chandra: Hi Sudarshan – I would say, one should budget around 40,000 $ to cover studies an year in US university.
It depends too. Depends of city, university (private or public), location North East or Mid West, my experience -- depending on your life style, your cost could vary from 36,000 to 50,000 an year for tuition, living expenses, an year. Then add your travel etc.
You could finish your course work in 18 months.
Yes, you could secure a job in campus or outside. Not easy to support your studies entirely on it.
For me, the most difficult part was adjusting to the learning environment in US universities, challenges could be different for different people.
---
Zafar Khan: Hello Sir,I am interested in doing Aviation Management from reputed institution from where the job will be most guaranteed.
I have completed my BBA. Will you please send me a list of good institutes. Thanks.
NNS Chandra: Dear Zafar Khan, couple of my students are currently studying Aviation management in Perdue.
They are enjoying the course. I know several Universities' (4 year programs) and colleges (2 to 3 years college).
Check out Ohio State, Southern Illinois, Michigan (eastern and Western), Tennessee if you are looking at moderate schools.
Try out colleges like Glendale etc.
---
NNS Chandra: I think I answered all of you. I really hope I did.
Apologize if I missed any question.
Please send it as an email.
Good bye to all. Signing off.
We'll meet again on Friday, May 8, 3 pm.
Thanks to you all. Appreciate your patience.
---
Photograph: Jonathan Alcorn/Reuters
ALSO READ
Study abroad tips: Stop thinking you're an average student
'Which university should I opt for?'
Have questions for NNS Chandra? Post them here! He'll answer them every Friday between 3 pm and 4 pm IST.
You may also email him on syam.chandra@transwebglobal.com
Based in Boston, USA, Chandra is an engineer by training, an academician by trade and researcher by passion.
He often shuttles between India and the US to coach students in admission related counselling.
He is associated with professional organisations like Study Iowa, NACAC, OCACA, ACA, ASCA to name a few.