Infosys founder Narayan Murthy blames rote learning as the reason why India is unable to produce good entrepreneurs. Do you agree?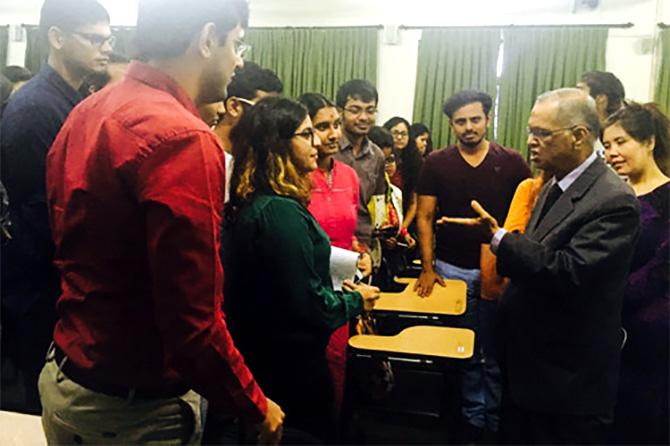 Narayan Murthy isn't an easy man to please. And if you ask him a question, be prepared to deal with his honest (and brutal) response.
The Infosys founder, has in the past, expressed his concern about the quality of IITians and the importance of revising current education at various ocassions.
In his keynote address at the Pan IIT Summit in New York on October 3, Murthy said, "Save the top 20 per cent who crack the tough IIT entrance exam and can stand among the best anywhere in the world, the quality of the remaining 80 per cent of students leaves much to be desired."
The comment had sparked a debate among professors from the IIT.
Recently while interacting with students at the Asian College of Journalism in Chennai, he said: "Most Indian youngsters (about 80 to 85 per cent) are not trained suitably for any job."
"Our education system which focuses on learning by rote is not good for becoming entrepreneurs," chairman emeritus, Infosys Limited added, reported The Hindu.
When asked about the future of entrepreneurship in India, he emphasised the importance of adapting to the times, exchanging ideas and staying humble.
Sharing his insights, he said: "India somehow doesn't seem to encourage exchange of ideas between its citizens and foreigners.
"Currently, there is a theory that we were second to none during Rama's rule…that we had rockets and airplanes. That's not right.
"We have to be measured by what we are today, not what happened 5,000 years ago.
"We have to be humble and open-minded to learn from others. Unless we become an open society with an open mind, I don't think we will be in a position to help our youngsters become better entrepreneurs," he added.
Dear readers, do you think Narayan Murthy is right about India's education system and youth?
Share your views in the poll below: